Cisco Systems Inc. (Nasdaq: CSCO) has unleashed two new linecards that beef up the downstream port densities for its legacy cable modem termination system (CMTS) products and could help pave the way for Docsis 3.0-powered Internet services that support synchronous speeds of up to 100 Mbit/s, or more.

The first of the two is the uBR-MC20x20V, a Docsis 3.0 "Broadband Processing Engine," which packs in 20 upstream and 20 downstream channels per module and snaps into Cisco's flagship CMTS chassis, the uBR10012.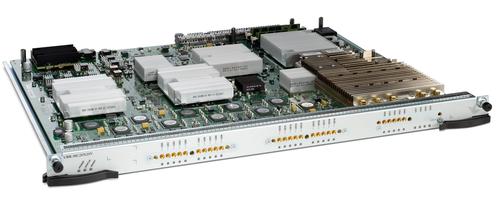 That blade, targeted to Docsis 3.0 deployments that use "integrated" CMTS architectures, quadruples the downstream capacity of an older Cisco-made i-CMTS card for the uBR10012, which supports five downstream and 20 upstream ports. [Ed. note: i-CMTS architectures put the downstream and upstream ports in the same physical CMTS chassis. Cisco also supports a "modular" CMTS platform that places the upstreams in core CMTS chassis, but relies on discrete edge QAMs for the downstreams.]

Each uBR10012 can squeeze in eight linecards, so a box fully equipped with 20x20 blades can support 160 upstream and 160 downstream channels.

Cisco is formally introducing the 20x20 CMTS card roughly three months after Light Reading Cable reported of its existence, noting then that Time Warner Cable Inc. (NYSE: TWC) was already testing the card in its labs. (See Cisco Alters CMTS Vision With '20/20' Card .)

Cisco's other new CMTS linecard (the uBR-MC88V) supports eight upstream and eight downstream channels and is designed to tack on Docsis 3.0 capabilities and help extend the life of the uBR7200 Series CMTS platform, the smaller predecessor of the uBR10012. The older card for the uBR7200 Series supplied eight upstream and just two downstream ports.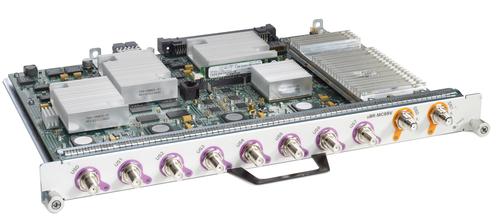 That older series, which includes Cisco's uBR7225 CMTS and VXR routers, can fit up to four linecards. Those boxes are generally being used by small and mid-sized cable systems that don't require the capacities supplied by the uBR10012.

And that blade is partly a move by Cisco to protect its CMTS market share from aggressive rivals. The port densities supported by the new 8x8 card will give MSOs with uBR7200 gear in the field a path to Docsis 3.0 without requiring them to swap it out for a CMTS from a competing vendor, such as Arris Group Inc. (Nasdaq: ARRS), Motorola Inc. (NYSE: MOT), or Casa Systems Inc. (See Arris Beats Cisco in CMTS for '09.)

At least two MSOs -- Canal Digital Denmark and Hong Kong Cable -- have revealed plans to turn up Docsis 3.0 services using Cisco's new 8x8 cards.

Combined, the new cards "round out our Docsis 3.0-capable platforms for both our legacy [CMTS] products," Mark Palazzo, the VP and GM of Cisco's Cable Access business unit, tells Light Reading Cable.

He says the new 20x20 and 8x8 cards have been shipping "for several months." Although most Docsis 3.0 deployments involve the bonding of multiple downstream channels, Palazzo says some undisclosed Cisco MSO customers are already starting to bond upstream channels.

Cisco's flagship CMTS has already obtained "Bronze" level qualification from CableLabs , a designation that includes downstream channel bonding and IPv6 support. Palazzo says Cisco intends to submit its CMTS products for "full" D3 CMTS qualification, which includes the upstream bonding component, but he wouldn't specify a timescale. (See Cisco, Arris & Casa Make the CableLabs Grade.)

— Jeff Baumgartner, Site Editor, Light Reading Cable