Arris Group Inc. (Nasdaq: ARRS)'s new, super-dense cable network access chassis will evolve to become a full Converged Cable Access Platform (CCAP), but the initial release of the E6000 Converged Edge Router will make it perform like a cable modem termination system (CMTS) on steroids. (See Arris E6000 Sets Stage for CCAP.)

This week's Cable-Tec Expo in Orlando will mark the first time Arris will show off the E6000 in public: To date it has kept behind the scenes, with only specially invited VIPs invited for a viewing during recent industry trade shows. (See Signs of CCAP .)

The E6000 will eventually become Arris's chassis for an integrated CCAP, a next-generation architecture that combines the edge QAM (legacy video) and CMTS (Docsis IP) functions in one product and puts cable on a path toward an all-IP future. Arris won't predict when the product will support all of the CCAP specs, but, in the meantime, the company says it can link the E6000 in CMTS/Docsis mode to the Media Services Platform (MSP), its current high-density edge QAM.

"No one is CCAP-compliant at this point," stresses Stan Brovant, Arris's SVP of marketing and business development.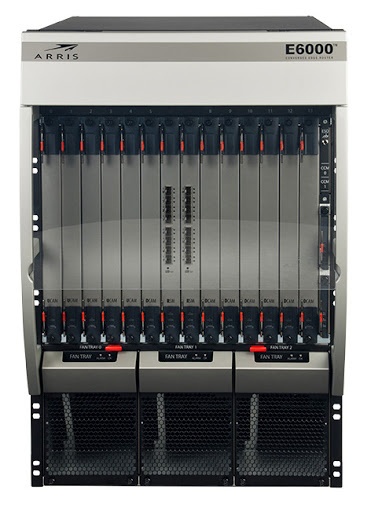 A 'middle step' to CCAP
Arris says the decision to use the E6000 as a massively dense Docsis CMTS represents a "middle step" that addresses the near-term needs of cable operators as they continue to increase downstream capacities and bump the amount of bandwidth per subscriber by shrinking service groups. Running the E6000 in CMTS mode will come in particularly handy when cable operators start to bond as many as 16 downstream channels, says Todd Kessler, the VP of product management for Arris's CMTS platform

That's enough to create a downstream data path that can burst to 640 Mbit/s. Most of today's top line Docsis 3.0 cable modems can bond eight channels. Intel Corp. (Nasdaq: INTC)'s new Puma 6 modem chips, meanwhile, can support 16- or 24-channel downstreams and get cable's downstream within a stone's throw of 1 Gbit/s when it's fully loaded. Arris will demonstrate the E6000 and its legacy flagship CMTS, the C4, bonding 24 channels at the show. They both share the same internal software and network management tools.

But if the C4 can already bond more than eight bonded downstreams, why would an operator upgrade to the E6000?

Arris executives claim the E6000 is more cost-effective when operators bond more than eight downstream channels to a service group. And the product's higher port density and reduced appetite for power lets cable operators punch up capacity in headends and hubs that are already bursting at the seams.

To help represent the density comparison, a C4 can typically fit 256 downstreams, while the E6000 can support more than 1,000 downstreams alongside 500 upstreams, if the MSO opts for a 2:1 downstream-to-upstream ratio.

Kessler says the E6000 is in lab trials with five "Tier 1" cable operators around the world, and that it will be ready to begin field trials later this quarter. Production would start in the first quarter.

Why this matters
The CCAP race is clearly on as Arris gets ready to tangle in this budding market with Cisco Systems Inc. (Nasdaq: CSCO), Harmonic Inc. (Nasdaq: HLIT), Motorola Mobility, Casa Systems Inc. and CommScope Inc.

Arris is getting the E6000 off the ground as cable operators prepare to make the leap beyond eight bonded downstream channels and set the stage for the initial wave of CCAP deployments in 2013 and beyond. Comcast Corp. (Nasdaq: CMCSA, CMCSK) and Time Warner Cable Inc. (NYSE: TWC) -- Arris's two largest customers -- are among the champions for the next-generation access platform. Comcast has already issued a CCAP request for proposal (RFP) and is expected to start some limited CCAP deployments before the end of the year,

But the strategy to phase in features provides a guide to the current market drivers for a denser line of cable access gear, and indicates how much road remains before vendors will be ready to support all of the CCAP specs. Harmonic, for example, is kicking off its CCAP effort by starting with downstream QAM capabilities, and then tacking on the other pieces, including the upstream and other Docsis elements, later on.

For more


— Jeff Baumgartner, Site Editor, Light Reading Cable