Comcast Interactive Capital , the venture arm of Comcast Corp. (Nasdaq: CMCSA, CMCSK), has led a $17 million "strategic" round of funding in BroadLogic Network Technologies Inc. , a startup specializing in wideband modem silicon and chipsets that will power a new home-side device that could factor into cable's digital transition.

Advance/Newhouse, which manages Bright House Networks , the sixth-largest U.S. cable MSO, also participated in the round as a new investor. BroadLogic's legacy investment core, including Time Warner Investments, Cisco Systems Inc. (Nasdaq: CSCO), Rho Ventures , Levensohn Venture Partners LLC , Walden International Investment Group , Presidio Venture Partners LLC , and Intel Capital , also fed the latest infusion.

All told, BroadLogic has raised $49 million, including $32 million in the first two rounds.

BroadLogic, expected to make the funding announcement official on Monday, will use the new round to seed the commercialization of its entire product portfolio and to help build BroadLogic into a "significant mixed signal chip company," according to president and CEO Danial Faizullabhoy. [Ed. note: Faizul... Oh, boy.]

The earlier rounds funded the development of a wideband chip for advanced cable modems that use channel bonding and other techniques found in the CableLabs Docsis 3.0 specification. Cisco is already a customer for that product and has demonstrated a solution that can bond up to eight cable RF channels, advertising shared downstream speeds of 240 Mbit/s.

BroadLogic also tapped into that money to kick off the design of TeraPIX, a "headend on a chip" video processor that, when housed in a cable residential gateway, converts incoming digital signals to analog as they enter the customer's home. As the theory goes, such a device would allow cable operators to reclaim gobs of analog spectrum without having to place a digital set-top at every cable outlet.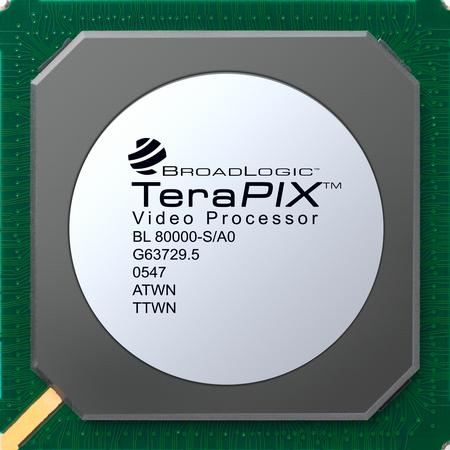 Faizullabhoy did not say exactly how much runway the new round will give BroadLogic. "But we need to make sure this cash lasts us until we have very strong visibility on revenue and profit and/or [the company becomes] profitable," he says.

Comcast Interactive Capital managing director Louis Toth says BroadLogic's bandwidth-enhancing technology is coming along at a time in which cable operators are looking to expand their offerings of high-definition television (HDTV), video-on-demand (VOD), and high-speed data.

"As a result, they're looking for ways to increase the capacity of their plant. We saw the marketing timing and the development of the technology timeframes coinciding with one another," Toth says.

In addition to helping BroadLogic seek out market opportunities for TeraPIX and its wideband chip products, CIC has also joined BroadLogic's board of directors.

San Jose, Calif.-based BroadLogic unveiled TeraPIX last November, claiming the chip can decode more than 80 analog channels and, due to its potential to reclaim analog spectrum, could prevent MSOs from having to upgrade the capacity of their plants. (See BroadLogic's Disruptive Digital Chip.)

Faizullabhoy says TeraPIX has been involved in a couple of trials with parties yet-to-be-named and is "engaged" with a range of device manufacturers. Cisco is certainly among those involved with the latter.

Although CIC is affiliated with Comcast, Toth says the venture arm makes its own decisions on where to make investments. He acknowledged, however, that CIC did consult with the team of Tony Werner, Comcast's chief technology officer, to discuss the application potential BroadLogic brings to the table and how its technology might fit into the cable network.

"I think there's some very compelling market reasons operators want to improve their capacity," Toth says. BroadLogic's approach "is very cost effective, and a relatively non-disruptive solution for doing that."

— Jeff Baumgartner, Site Editor, Cable Digital News