Representatives from worldwide telecom organizations say availability of "last-mile" links from customer sites to carrier Internet services will determine which carriers grow or go, in the near term.

"The last mile will drive demand," said Eric Nelson, VP of global marketing for the Telecommunications Industry Association (TIA) during a presentation at Supercomm last week. The days when voice service revenues helped carriers to pay for data service offerings are long gone, he said. Today, broadband access techniques are being relied on to speed adoption -- and help carriers build up subscriber volumes.

The TIA, a professional group for service providers and equipment suppliers, says $713 billion is expected to come from the sale of telecom services and products in the U.S. this year (which represents about 40 percent of the worldwide total). Of that, about $12.8 billion will come from the sale of xDSL and cable modem connections to the Internet, as well as emerging access techniques like Ethernet and fixed wireless. Overall, high-speed Internet access is the highest-growth area in the telecom market, growing at over 30 percent annually, even though it's still a relatively small contributor to overall revenues.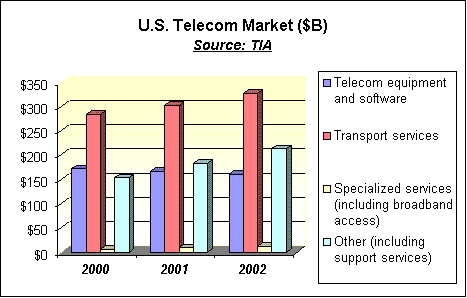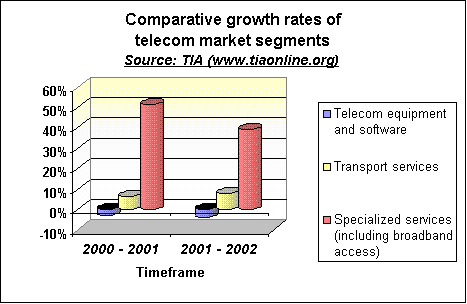 Globally, broadband access is clearly on the rise. According to Karen Edward Onyeije, assistant chief at the Strategic Analysis and Negotiations Division of the Federal Communications Commission (FCC), the number of worldwide subscribers grew 57 percent last year. Leading countries in the access space were S. Korea, Canada, Sweden, and the United States: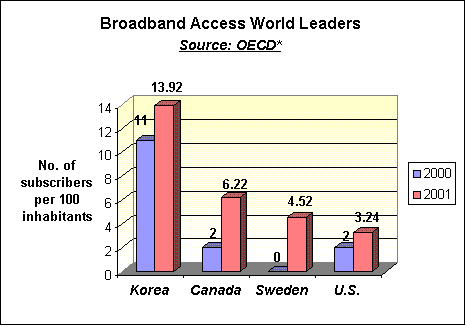 Interestingly, broadband access penetration is still minimal in many places. Despite being in the top four countries in terms of broadband deployment, Canada and the United States have only linked about 20 percent and 10 percent of their inhabitants to high-speed Internet services, respectively, Onyeije said. And in parts of Europe, such as the U.K. and France, the percentages of broadband deployment are much, much lower.

There's also plenty of room for growth in the kinds of access provided. Other than in Sweden, where Ethernet is a key access method, Onyeije reports that penetration is "very small" when it comes to techniques other than xDSL and cable. But sales of dedicated xDSL products have been dwindling, and analysts say carriers are looking more than ever to optical access for future deployment. The hope of worldwide groups is that a combination of regulatory and economic support from governments will help generate more access products and services.

The emphasis on access has been building for months. In April, a report from Optical Oracle, Light Reading's monthly subscription research service, indicated that access is the "last chance" for many telecom providers to build revenue bases for survival (see Optical Oracle: Access is Gold ). And at last week's tradeshow, a range of companies made access the centerpiece in their exhibits (see Access Is In ).

— Mary Jander, Senior Editor, Light Reading
http://www.lightreading.com

Editor's Note: Light Reading is not affiliated with Oracle Corporation.