BBT Preps Its Own CableCARD

Comment (0)
Cable consortium
Beyond Broadband Technology LLC (BBT)
is developing a
CableCARD
that's capable of using BBT's "open" downloadable conditional access system, a decision that could portend future partnerships with
TiVo Inc.
(Nasdaq: TIVO) and others that build set-tops or TVs with slots that can use the security modules.
BBT president Bill Bauer tells
Cable Digital News
that some of the "preliminary designs" on that CableCARD are done, but he doesn't expect an actual product to emerge until sometime next year.
BBT's downloadable platform is designed to use conditional access systems from multiple security vendors. However, the consortium, which includes
WinDBreak Cable
, Buford Media Group, and Tele-Media Broadband among its backers, will start off using an internally developed set-top security platform called "BBT Heavy." (See
BBT Inches Toward DCAS Solution
and
BBT Notches First Install
.)
Once completed, the resulting CableCARD will become a component of the overall BBT digital video security system, which also includes the requisite set-tops and headends, and is targeted to Tier 2 and Tier 3 MSOs -- a market also being served by competitors such as
Evolution Broadband LLC
, and a partnership involving the
Comcast Media Center (CMC)
and
Motorola Inc.
(NYSE: MOT). (See
Evolution Thinks Small
,
MSOs Tap Comcast Unit for Analog Reclaim
, and
Small Cablecos Weigh Digital Options
.)
If BBT is successful in getting
CableLabs
's blessing, it would become the fifth to do so. Motorola,
Cisco Systems Inc.
(Nasdaq: CSCO),
NDS Ltd.
, and, most recently, Evolution, all have obtained qualification for their respective CableCARDs. With approval, BBT's security module could conceivably be used in some TiVo boxes with CableCARD slots. (See
CableLabs Blesses Evolution's CableCARD
.)
"We've had conversations with them," Bauer says of TiVo, but he couldn't say when, or even if, a formal deal might be struck.
TiVo, of course, has been eager to expand into the cable sector through partnerships with major and mid-sized MSOs, including
Comcast Corp.
(Nasdaq: CMCSA, CMCSK),
Cox Communications Inc.
, and
RCN Corp.
. TiVo is also trying to expand its reach into the Tier 2 and Tier 3 cable markets through a partnership with Evolution. (See
RCN Makes TiVo Its Dominant DVR
and
TiVo Covers Its Cable Bases
.)
BBT is still without a DVR-based option. Bauer says BBT has discussed the idea of enabling that kind of application by tethering a storage device, but, for now, it's starting off with an MPEG-4-based box that's capable of feeding in broadcast digital video signals.
First BBT box is production-ready
R.L. Drake LLC
is marketing boxes and headends that use the BBT system under the "Digital Freedom" banner, and at least five beta trials are underway.
STMicroelectronics NV
(NYSE: STM) is the primary chip supplier of those boxes, and
Avail-TVN
is the content supplier for the broader system. (See
Drake Downloads Some Deals
and
Drake Heats Up Digital Strategy
.)
Bauer says the first production boxes that use the BBT security system rolled off the line earlier this month, setting the stage for commercial deployments. A number of boxes from that first batch (about 100 set-top units) are heading to the beta sites, though Drake and BBT expect to put in larger orders as more operators sign up to deploy the Digital Freedom platform.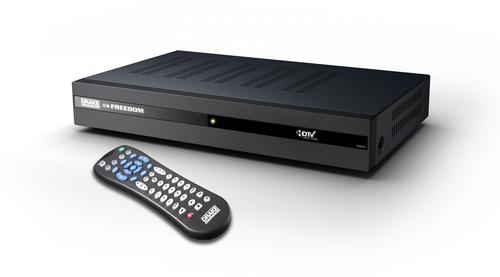 "We're ready to go," Bauer claims, noting that BBT is installing one of its systems at the CableLabs facility in Louisville, Colo., in the coming weeks for testing purposes. CableLabs was not immediately available for comment.
Following "positive results" from the summer field trials, "we're ready to begin commercial deployments with our customers this fall," R.L. Drake president and CEO Jeff Huppertz confirms in a statement to
Cable Digital News
. He said the "majority" of boxes from the first production shipment are earmarked for new cable MSO customers that did not participate in the earlier field trials.
BBT has a couple more set-top makers on board for the downloadable security system, but Bauer declined to identify them.
— Jeff Baumgartner, Site Editor,
Cable Digital News
---
Interested in learning more on this topic? Then come to
TelcoTV 2009
, the telecom industry's premier event for the exploration of a comprehensive entertainment convergence strategy, to be staged in
Orlando, Fla.
,
November 10-12
. For more information, or to register, click
here
.
---
EDUCATIONAL RESOURCES

PARTNER PERSPECTIVES
- content from our sponsors
GUEST PERSPECTIVES
- curated contributions