If ADVA AG Optical Networking's (Frankfurt: ADAG.F) results are any proof, organic growth is apparently as hot in the metro transport market as it is at the vegetable stand. As the 10-year old company reports yet another quarter of profits, the vendor further distinguishes itself from its WDM rivals.

This morning, ADVA announced that its revenues for the fourth quarter of 2003 were €23.4 million (US$28.7 million), compared to revenues of €22.2 million ($27.3 million) in the year-ago period. The company's net income for the fourth quarter was €2.7 million ($3.3 million), or about 10 cents a share.

"This is all organic growth," says Brian McCann, ADVA's chief marketing & strategy officer. "This is in contrast to some companies that are trying to buy their way out of problems."

Of course, that's not to say ADVA will continue to go it alone in the future. McCann reveals that ADVA is considering at least two merger or acquisition opportunities, but he says the company's healthy finances ensure that it is not desperate to make a move. "We don't have to do anything," he says.

For the full year 2003, revenues increased to €90.4 million in 2003 from €88.1 million in 2002.

During the quarter, ADVA, with the help of its reseller partners, won five new carrier customers, bringing its customer total to 85. The five new customers include one incumbent carrier, two communication subsidiaries of utility companies, one storage service provider, and a mobile operator.

Separately, today, ADVA announced that partner Siemens Information and Communications Networks Inc. has extended its reseller agreement to include ADVA's Fiber Service Platform (FSP) 1500 product.

Based on its survey of market researchers, ADVA says it was the number two WDM vendor in the world behind Nortel Networks Corp. (NYSE/Toronto: NT) last year. McCann says about 45 percent of ADVA's revenues in 2003 came from storage market applications, with Ethernet applications accounting for 40 percent.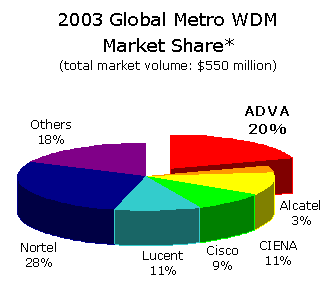 ADVA anticipates revenues of between €22 million and €24 million ($27 million to $30 million) in the first quarter 2004.

— Phil Harvey, News Editor, Light Reading