Upstream demand driven by 'marketing,' not true usage, Charter CEO says
Charter Communications is upgrading its widespread hybrid fiber/coax (HFC) networks to support faster speeds. But the demand for lofty upstream speeds is not being driven by actual customer usage, according to CFO Chris Winfrey.
"The upstream demand today is much more of a marketing campaign as opposed to any real product demand," Winfrey said last week on Charter's fourth quarter earnings call.
Upstream usage soared during the early stages of the pandemic as people worked and schooled from home, but downstream usage still exceeds upstream usage by a wide margin.
However, fiber-to-the-premises (FTTP) competitors have put a heavy emphasis on symmetrical, multi-gigabit speeds. Among recent examples, Frontier Communications announced today it has launched symmetrical 5-Gig speeds across its FTTP footprint, a follow-up to its debut of symmetrical 2-Gig speeds last year.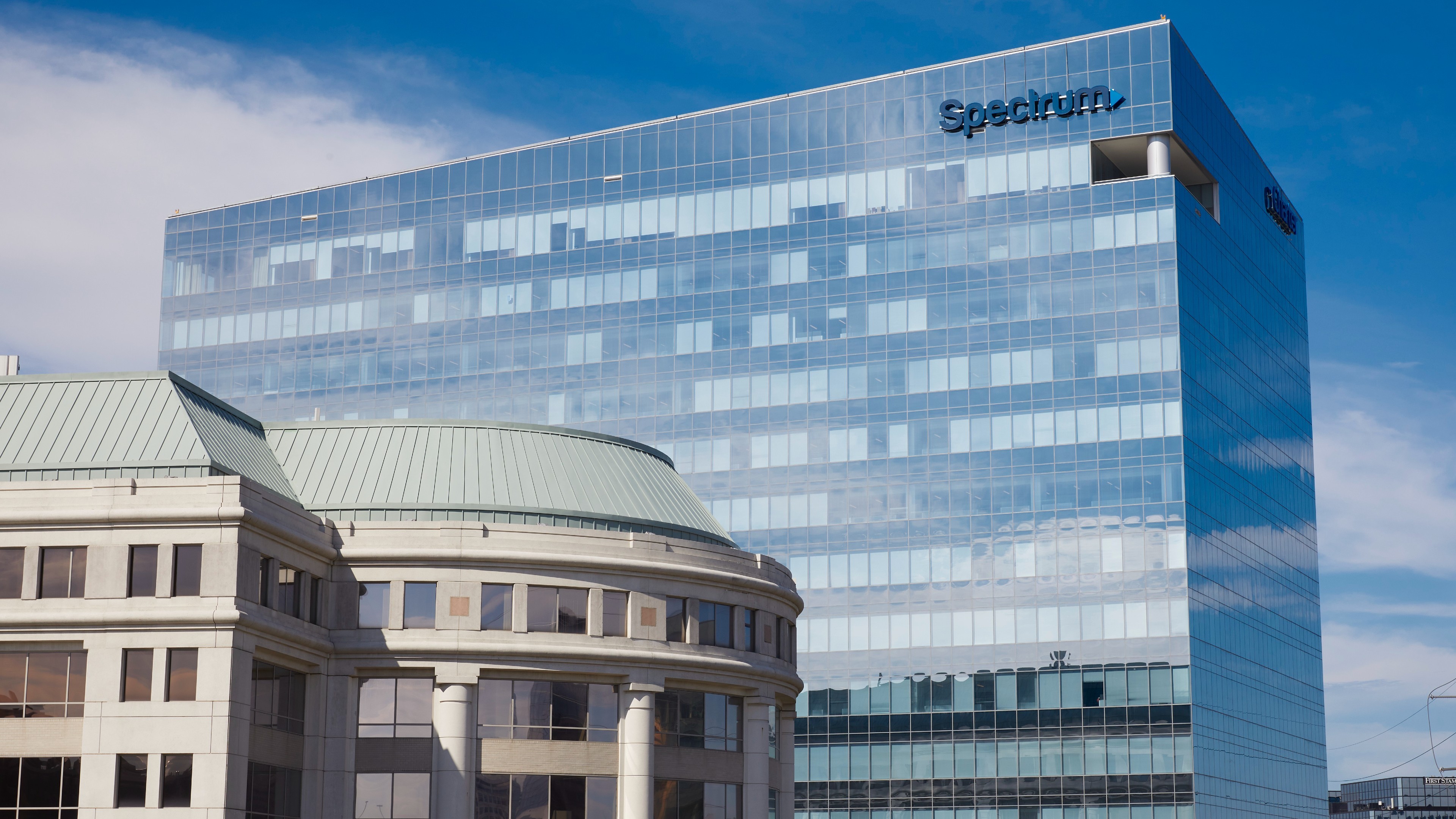 Charter will participate in the delivery and marketing of faster speeds over HFC under a multi-step "network evolution" plan that will provide multi-gigabit downstream speeds across the board alongside an initial focus on symmetrical speeds of 1 Gbit/s. A part of that plan covering 35% of Charter's footprint will focus on an upgrade to DOCSIS 4.0 with 1.8GHz of capacity that will support downstream speeds up to 10 Gbit/s.
Winfrey also noted that Charter's plan puts the operator in position to reallocate and "mix-and-match" upstream and downstream bandwidth resetting the splits. In that scenario, Charter does have the option to provide symmetrical 5-Gig speeds, he said.
Winfrey also noted that Charter will also be able to provide targeted fiber-to-the-premises (FTTP) capabilities by dropping an optical line terminal (OLT) inside its fiber nodes. That, he said, will also put Charter in position to offer symmetrical speeds of 25 Gbit/s and higher as PON technology evolves.
"It gives us the opportunity to do that and market it, at least, in these communities," he said. "We have a lot of flexibility; that's what I think we really like about this plan."
Charter 'winning at convergence'
And though speeds and feeds still play a dominant role in broadband marketing, Charter's broader growth narrative continues to migrate toward wireline/wireless service convergence.
That narrative is front and center with Spectrum One, Charter's relatively new bundle/promo that ties together home broadband, "advanced" Wi-Fi and unlimited mobile lines.
Though the bulk of the record 615,000 mobile lines Charter added in Q4 2022 came from existing home broadband subscribers upgrading to mobile, some of that accelerated mobile activity did come way of the Spectrum One package.
"Charter is winning at convergence," SVB MoffettNathanson analyst Craig Moffett explained in a research note (registration required) issued after Charter's Q4 results. "We might quibble that convergence is often little more than bundled offerings without the requisite cost underpinnings that make convergence real, but one way or the other, the TelCos' growing presence in broadband, and Cable's growing presence in Wireless, are inescapable."
That said, broadband subscribers are slowing in a saturated market. Charter, which hopes to stoke broadband subscriber growth with an aggressive footprint expansion (1 million households were added by the operator in 2022), added a more-than-expected 105,000 broadband subs in Q4.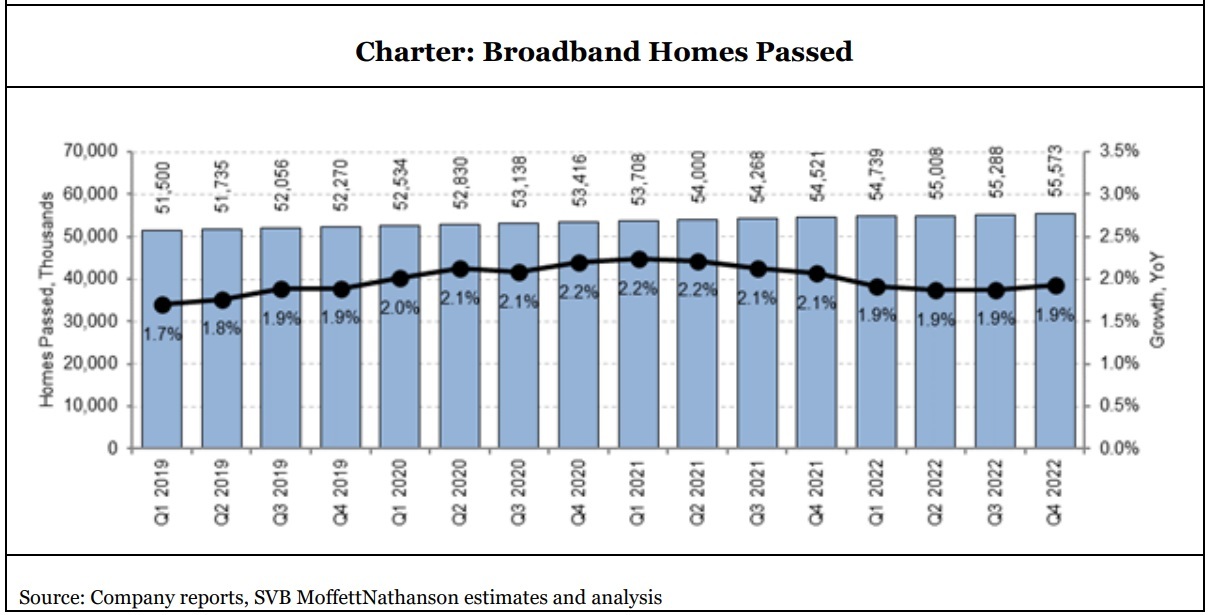 While not a blowout result, "[i]t is best described as slow-but-steady," Moffett explained. "Broadband subscriber growth is no longer a significant driver of total growth."
Moffett agrees with Comcast's view that average revenue per user (ARPU) growth has become a more important metric for cable broadband going forward than sheer subscriber growth. On that, he points out that Charter's residential broadband ARPU grew 2.8% in Q4, reflecting a partial impact on a price hike that took effect in mid-quarter.
Related posts:

— Jeff Baumgartner, Senior Editor, Light Reading
Like what we have to say? Click here to sign up to our daily newsletter
Cable Next-Gen Technologies & Strategies – Making cable faster, broader, deeper, better
If you want to know where the cable tech space is heading, we've got you covered. Join the biggest names in the industry in Denver, CO on March 14 & 15 for the latest edition of Light Reading's Cable Next-Gen Technologies & Strategies conference.
Back for a record 16th consecutive year, Cable Next-Gen is the premier independent conference covering the broadband technology market. This year's edition will tackle all the top tech topics, including 10G, DOCSIS 4.0, Distributed Access Architecture, next-gen PON, fixed wireless access, network virtualization, the Digital Divide and more
Get your free operator pass here.
PARTNER PERSPECTIVES
- content from our sponsors