CommScope gears up for XGS-PON

Comment (0)
Targeting an access market that clearly won't be one-size-fits-all in the coming years, CommScope is preparing a plunge into the XGS-PON market to support blossoming fiber-to-the-premises (FTTP) activity among cable operators as well as telcos.
CommScope, already a player in the GPON and EPON access markets, "is now refocusing those assets and capabilities to bring to market a next-generation XGS-PON solution within the next few months," Ric Johnsen, SVP and segment leader for CommScope's Broadband Networks unit, said Tuesday at a lengthy event focused on CommScope's broader companywide transformation initiative.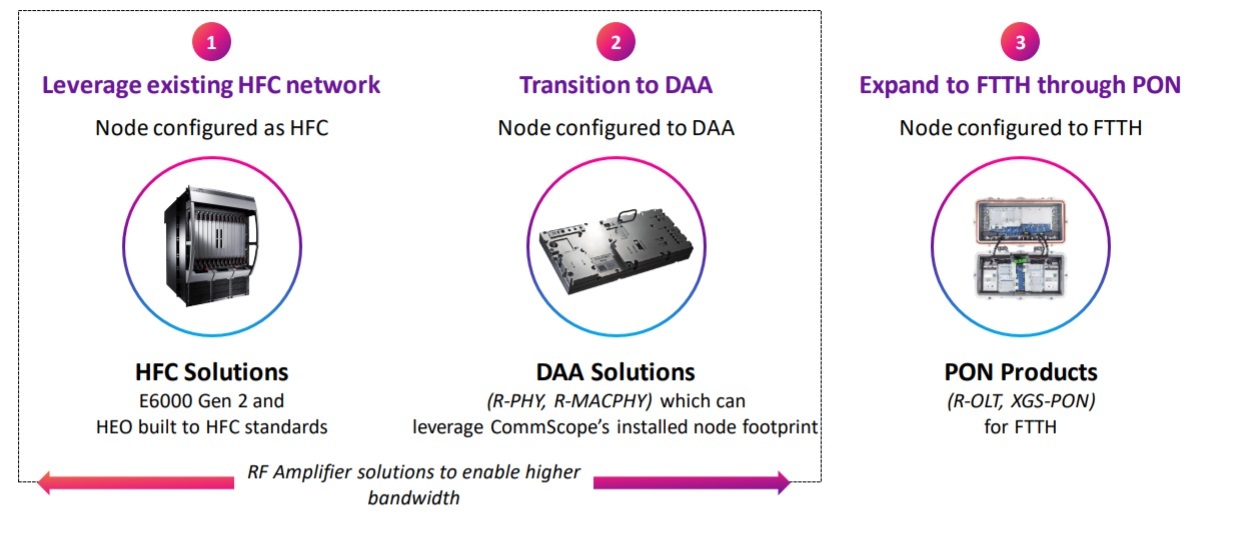 CommScope's coming XGS-PON portfolio should play a role in cable as operators accelerate FTTP deployments in targeted greenfield scenarios and, in some cases, push forward with upgrades or overlays of existing hybrid fiber/coax (HFC) networks. But the company also believes it can be a player in the telco arena as companies upgrade networks, expand to adjacent markets or build new networks tied to government-funded FTTP projects.
"Our strategic evolution into XGS-PON ... will allow CommScope to participate in a truly end-to-end solution for the telcos space as well," Johnsen said.
But CommScope will continue to pursue next-gen HFC and DOCSIS products as operators pursue a distributed access architecture (DAA), and some eventually make the leap to DOCSIS 4.0. On the HFC product front, Johnsen pointed to new amplifiers that will expand bandwidth to 1.8GHz as well as amps that will support Full Duplex DOCSIS (FDX), a flavor of D4.0 largely favored by Comcast that enables both upstream and downstream traffic to run in the same block of spectrum.
Johnsen said it's clear that the future will be a blended network, calling for a product portfolio that spans HFC upgrades (including "mid-split" or "high-split" upgrades that beef up the DOCSIS upstream), transitions to DAA and PON-based fiber network expansions.
"This won't be an either/or choice," Johnsen said.
DAA market a 'bit overstated'
But he reckons that DAA, a prerequisite for DOCSIS 4.0, will move at a measured pace.
DAA "is really a little bit overstated from a market standpoint," Johnsen said, noting that CommScope has one major customer committed to it. "Many of the other customers are still evaluating options and are more in the trial mode of trying to understand the network evolution and how they're going to manage it. I think we'll see customers going slowly to DAA. DOCSIS 4.0 might be a significant player in the inflection point of when we see DAA."
That said, Johnsen said he's seeing much more FTTP investment with cable operators, particularly outside North America. Notably, Virgin Media O2 will largely skip DOCSIS 4.0 to instead fund an ambitious FTTP overlay network plan.
Transformation target on track
The bulk of CommScope's multi-hour presentation focused on the company's strategic transformation plan under CEO Chuck Treadway, who took the helm just over a year ago.
The general financial target under that plan, dubbed "CommScope Next," is to reach annual run-rate EBIDTA of $500 million by 2023. But the final tally could go higher.
"We have line-of-sight to $950 [million]," Kyle Lorentzen, EVP and CFO at CommScope, said. "We have an opportunity to overdrive, but our target for right now is $500 million."
CommScope expects to generate $300 million of that total through growth and pricing initiative, and $200 million to come from cost optimizations.
CommScope will be targeting that goal with a "core" comprised of three business units: Broadband Networks (access networks, video systems and network management systems); Outdoor Wireless Networks (copper and fiber connectivity, basestation and microwave antennas, and metro cells – effectively everything but the radios); and Venue and Campus Networks (inside plant, CBRS, Wi-Fi and LTE small cells and other elements of the Ruckus lineup).
From a product perspective, CommScope expects to see the most upside from its cable and connectivity and private networks and DAS (distributed antenna system) lineup. Meanwhile, the growth trajectory from CommScope's network access technologies and video systems product set is expected to be relatively flat largely due to its position in legacy markets.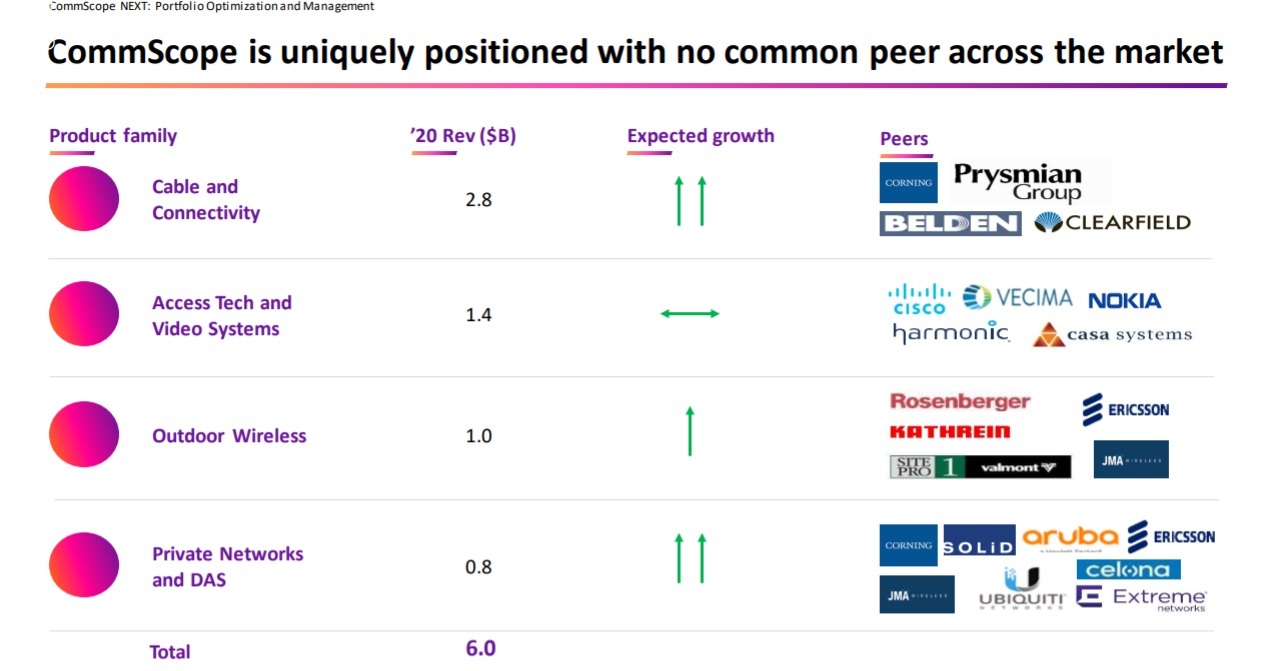 Not coming along for the ride is Home Networks, a unit that makes set-tops, modems, gateways and other consumer premises equipment. CommScope still plans to spin out that unit as a separate public company by Q2 2022.
Treadway noted that CommScope has completed the review of the company's portfolio and had nothing further to announce with respect to additional spin-offs or sales of a particular unit or product category.
To help fuel growth, CommScope has identified several areas, including manufacturing capacity upgrades, a greater focus on international markets and enterprise sales, and lavishing more attention to software product sales.
CommScope has set aside about $80 million to beef up fiber and cable connectivity manufacturing to help support demand coming from projects such as the Rural Digital Opportunity Fund (RDOF). Johnsen said about 85% of that capacity investment should be online by the first half of 2022.
Related posts:

— Jeff Baumgartner, Senior Editor, Light Reading
EDUCATIONAL RESOURCES

PARTNER PERSPECTIVES
- content from our sponsors
GUEST PERSPECTIVES
- curated contributions