Comcast sets mobile record, but Hurricane Ian spins broadband subs into the red
Comcast's growing mobile business set another record in the fourth quarter of 2022, but the effects of Hurricane Ian prevented the cable operator from adding broadband subscribers in the period.
Xfinity Mobile, a service that relies on millions of Wi-Fi hotspots and an MVNO pact with Verizon, added a record 365,000 lines in Q4 2022, extending Comcast's total to 5.31 million lines. Comcast, which added 312,000 mobile lines in the year-ago quarter, tacked on 1.3 million mobile lines for full-year 2022.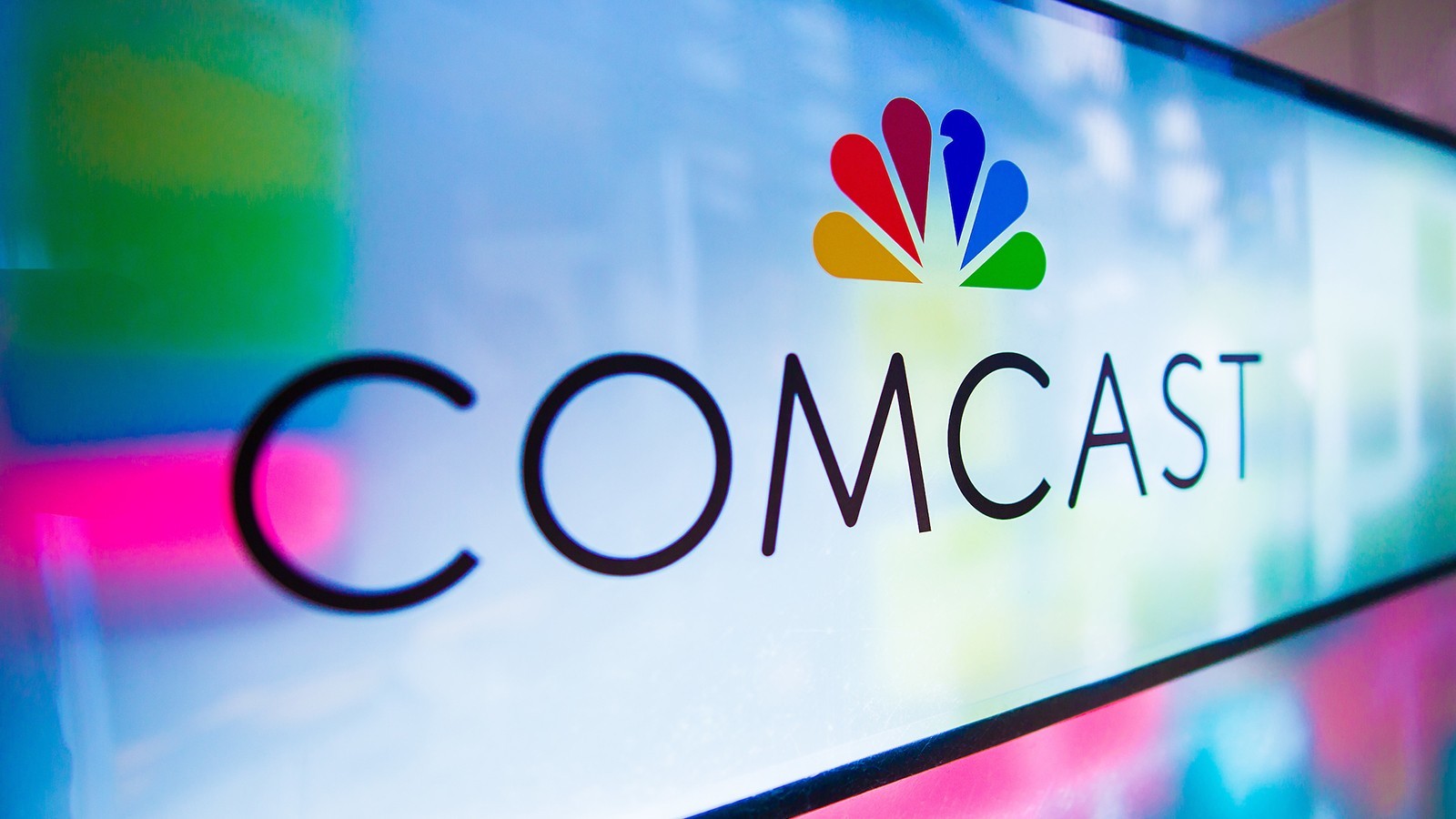 Comcast's wireless business generated Q4 revenues of $883 million, up 24.7% year-over-year. That result again outgained revenues from the company's home phone business, which posted revenues of $716 million, down 13.2%.
Comcast estimates that Xfinity Mobile has penetrated about 9% of its current base of residential broadband customers. "We have plenty of runway ahead and we're just getting started in offering wireless to our commercial segment," Comcast Chairman and CEO Brian Roberts said on today's earnings call.
"When you look at the amount of lines that other competitors do and the lines per relationship, we're talking about an opportunity of around 80 million lines over the long run," said Dave Watson, Comcast Cable's CEO, who reiterated that Xfinity Mobile continues to have a positive impact on home broadband churn. "It's a good runway."
Broadband market remains 'a challenging environment'
Comcast lost 26,000 broadband subscribers (23,000 residential and 3,000 business) in the quarter, better than the -43,000 expected by analysts. Comcast, which ended Q4 with 32.15 million broadband subs, said it would've added 4,000 broadband customers without the impact from Hurricane Ian. Despite the Q4 loss, Comcast posted net adds of 250,000 broadband subs for full-year 2022.
Broadband revenues rose 5.4%, to $6.17 billion.
Watson said broadband growth is still hampered by several macro trends, including lower move activity, increased competition and near-record low churn.
"It remains a challenging environment to add subscribers right now," he said. "But we're driving revenue, EBITDA [earnings before interest, taxes, depreciation and amortization] and cash flow rather than just chasing units."
Comcast also saw gains in broadband ARPU (average revenue per user), a metric for the category that Comcast now considers more important than raw subscriber growth.
Update: Comcast's reported 4.2% broadband ARPU growth for Q4 came in higher than the 3.7% seen in the prior quarter and up from 3.4% in the year-ago period, according to SVB MoffettNathanson.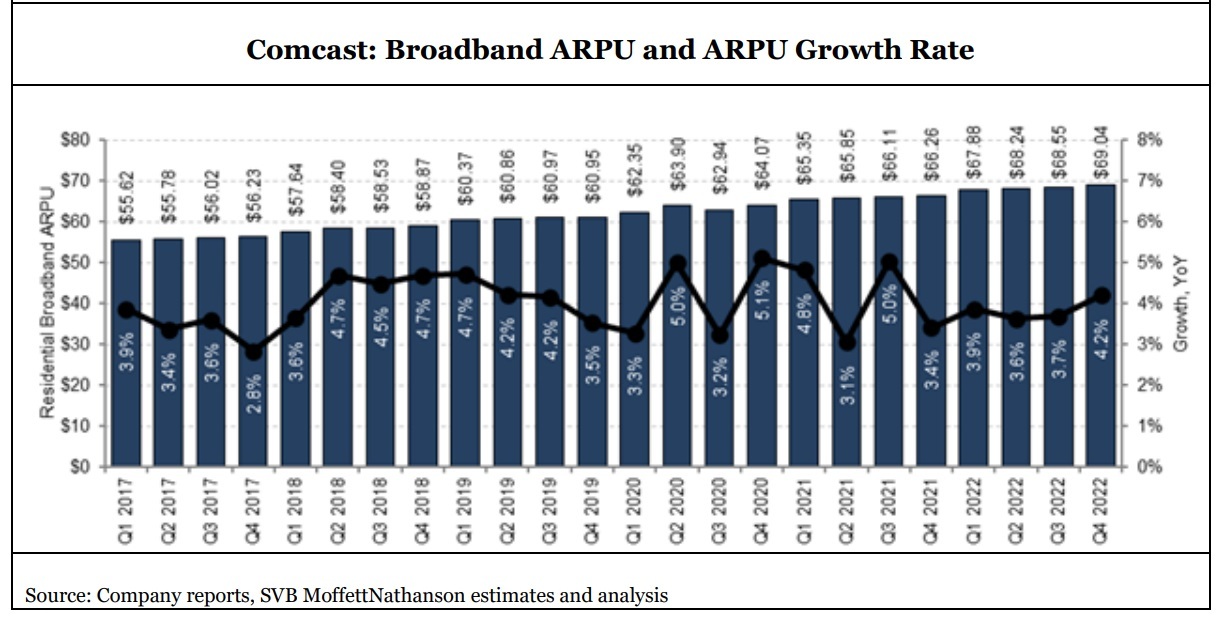 "With flattish subscriber growth but still-strong ARPU growth, Comcast's residential broadband business is still growing nicely, delivering 5.4% aggregate revenue growth on what is now 37% of Comcast's total Cable revenue," SVB MoffettNathanson analyst Craig Moffett explained in a research note.
Comcast is facing broadband subscriber growth headwinds as the company pushes ahead with a DOCSIS 4.0 network upgrade that will start to deliver symmetrical multi-gigabit capabilities before the end of 2023.
Watson said about one-third of Comcast's broadband customers now get speeds of 1 Gbit/s or more, up from just 5% about three years ago.
Targeting 1 million new network passings in 2023
One way Comcast can accelerate broadband subscriber growth is through footprint expansion. And it's a tactic the operator intends to accelerate in 2023.
Comcast added 840,000 network passings in 2022. Roberts said Comcast intends to add about 1 million new passings in 2023 while keeping capex relatively the same. For all of 2022, cable capex rose 9.2% to $7.6 billion, driven by investments in line extensions, infrastructure, support capital and customer premises equipment (CPE).
Most of that expansion will stay in or adjacent to Comcast's existing footprint, with many newer builds focused "edge-outs" in rural areas, Watson said.
Pay-TV losses steep, but better than expected
Pay-TV losses continued, as Comcast shed another 440,000 in the period (419,000 residential and 21,000 business), a loss that was actually better than the -543,000 expected by analysts. Comcast, which lost 2.03 million video subs for full-year 2022, ended Q4 with 15.55 million.
Watson said video losses are primarily being driven by lower attach rates on the front end. But video churn is showing signs of improvement – down 20% since pre-pandemic 2020 levels, he added.
Comcast had no new color to share on Xumo, the brand for the national streaming joint venture with Charter Communications. "It's really early," Watson said. "Early discussions are positive ... with a variety of partners."
Earlier this month, Xumo signed on Element Electronics as its second smart TV partner, adding to an earlier deal with Hisense.
Overall Comcast revenues rose 0.7%, to $30.55 billion.
Execs also referenced a "voluntary retirement" offered across the company last year. It's something Comcast does "periodically" that, in part, ends up giving opportunities to younger talent within the company, President Mike Cavanagh said. "It's behind us."
Related posts:

— Jeff Baumgartner, Senior Editor, Light Reading
Like what we have to say? Click here to sign up to our daily newsletter
Cable Next-Gen Technologies & Strategies – Making cable faster, broader, deeper, better
If you want to know where the cable tech space is heading, we've got you covered. Join the biggest names in the industry in Denver, CO on March 14 & 15 for the latest edition of Light Reading's Cable Next-Gen Technologies & Strategies conference.
Back for a record 16th consecutive year, Cable Next-Gen is the premier independent conference covering the broadband technology market. This year's edition will tackle all the top tech topics, including 10G, DOCSIS 4.0, Distributed Access Architecture, next-gen PON, fixed wireless access, network virtualization, the Digital Divide and more
Get your free operator pass here.
PARTNER PERSPECTIVES
- content from our sponsors