A closer look at how cable can profit in mobile
It's no secret that the US cable industry has mobile aspirations. Comcast and Charter Communications have each been selling mobile smartphone services alongside their cable Internet offerings for years. Today, they collectively count almost 10 million mobile customers.
Comcast and Charter are not alone. In recent months, other cable companies including Altice, Cox Communications, Mediacom and WideOpenWest (WOW) have either signaled an interest in mobile, launched a mobile offering or refreshed their mobile strategy. Indeed, Cox is scheduled to outline the details of its own new mobile program during a media event this week at the CES trade show in Las Vegas. And, thanks to some new efforts at cable trade associations like the NCTC, more of the nation's smaller cable providers will likely enter the mobile industry in the future.
But questions have long surrounded cable's expanding gambit into the US mobile industry. After all, no cable company actually owns its own wireless network. That's no surprise given the eye-watering costs involved in building one: Aside from the necessary cell towers and radios, spectrum alone can cost tens of billions of dollars.
And therein lies the rub. All of the cable companies in the US with mobile aspirations have had to partner with an existing mobile network operator – Verizon, AT&T or T-Mobile – to sell mobile services. And those so-called MVNO partnerships are not cheap. For example, the financial analysts at Wells Fargo estimate that Charter and Comcast pay Verizon $12-$13 per month for each of their mobile customers. Considering Comcast and Charter sell unlimited mobile services for $45 per month – significantly less than what Verizon itself charges – it becomes difficult to imagine how US cable companies can actually make profits from their mobile efforts.
Offloading toward profitability
Comcast, Charter and other US cable companies have been outspoken about their profit strategy in mobile. It centers on "offloading" data from their MVNO network onto another, cheaper wireless network. So far, that offloading has focused on shunting data onto Wi-Fi hotspots (whether in users' homes or across the millions of public Wi-Fi hotspots operated by US cable companies). But in the future, it could also involve offloading cable customer traffic onto small-scale 5G networks owned and operated by the cable companies themselves.
This offloading strategy is already helping to reduce the amount of money cable companies must pay to their MVNO hosts. For example, the financial analysts at MoffettNathanson last year cited data from OpenSignal showing that the average Verizon unlimited data subscriber offloads 77.7% of their data onto Wi-Fi, with 23.3% going to the cellular network. By comparison, Comcast mobile customers offload 93.8% of their data onto Wi-Fi, and just 6.2% goes to Verizon's cellular network. Given that Comcast pays Verizon for MVNO access based on the amount of data Comcast's customers use, such offloading tactics could have a significant impact on cable companies' bottom line.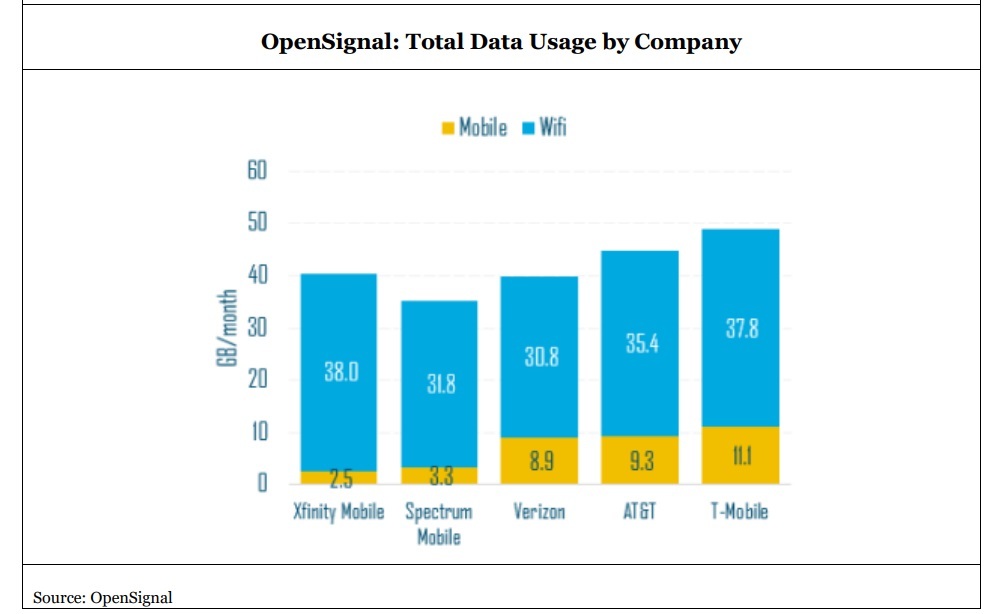 And in the coming years, that offload tactic could expand significantly. Comcast, Charter and Cox were among the companies that purchased 3.5GHz CBRS spectrum. They're expected to use that spectrum to build their own small-scale 5G wireless networks in locations where their customers routinely rely on a cellular network like Verizon's. Along these lines, Comcast has inked an agreement with Samsung to purchase CBRS radios, while Charter has deployed a "commercial-grade" wireless network in one major market using a mix of licensed and unlicensed CBRS spectrum paired with Charter's standalone 5G core and mobile backoffice. Charter is currently running tests on that network to inform a broader rollout.
The financial calculations of mobile
To be clear, cable firms aren't the only companies pursuing MVNO partnerships with mobile network operators. Brands like Consumer Cellular, Mint Mobile and Google Fi are also MVNOs that piggyback atop networks owned by the likes of Verizon, AT&T and T-Mobile. But margins in the MVNO market are famously thin: Just ask MVNO flameouts like Solavei, Disney Mobile and Amp'd Mobile.
Cable companies, though, are hoping to eke out surprisingly solid profits from their own MVNO efforts through a mix of offloading, bundling and plain-old persistence. And the actual financial calculations for those efforts have become clearer following Charter's recent investor day. The company offered a broad corporate update on its overall networking strategy, including its plans to offer what it's calling "Gig-powered wireless." The financial analysts at New Street Research used Charter's presentation to calculate the financial details of the company's mobile strategy.
In a lengthy note to investors, the New Street analysts explained that their estimates could change based on the number of customers Charter gains, the amount of traffic it offloads and the promotional prices it offers. For example, the analysts estimated that, in the third quarter of 2022, Charter's mobile customers generated an average revenue per user (ARPU) of $33, but that it cost the operator around $30 to service each of those customers. That left Charter with just $3 in earnings per customer, or roughly $150 million annually in earnings before interest, taxes, depreciation and amortization (EBITDA) across Charter's 4.5 million mobile customers.
However, the analysts warned that Charter's new promotions, including a free line of mobile service for a year, could completely eliminate those earnings by lowering its ARPU, thus turning the company's mobile business into a loss-making venture.
But they also said those losses can be counteracted by growth in Charter's mobile customer base coupled with other cost-saving efforts, including offloading data onto its own CBRS network. "Charter can achieve profitability without any further scale, while offering a free line and allowing ARPU to fall to $30, by offloading traffic from the MVNO onto CBRS," they wrote.
The analysts estimated Charter could ultimately generate up to $6 in earnings per customer – an EBITDA margin of 21% – if it grows its customer base to 10 million while also embarking on a CBRS offloading strategy.
Pursuing convergence
Although Charter, Comcast and other cable companies appear capable of creating profitable, sustainable mobile business models, few believe that's the companies' end goal. After all, cable companies are currently facing a serious fixed wireless attack mounted by their very own MVNO partners. Verizon and T-Mobile are in the midst of accumulating millions of home Internet customers with fixed wireless access (FWA), which can leapfrog cable Internet connections by beaming Internet connections into homes and offices over a wireless network. Such offerings are packaged with mobile smartphone services at a cheaper price, thereby roping customers into a bundle of services they can't easily escape. By T-Mobile's own calculations, fully half of its FWA customers were stolen from cable companies.
To counter that FWA attack, and to protect their customer base, some cable companies are offering their own inexpensive service bundles. Leading the charge is Charter, which is offering its new Spectrum One bundle that ties together home broadband, advanced Wi-Fi and mobile lines starting at around $50 per month.
Such bundles have been effective in other countries. For example, the analysts at Mobile Experts recently reported that 37% of households in Europe subscribe to broadband through some kind of converged service. That figure is just 8% in the US.
However: "It is important not to conflate bundling and convergence. Anyone can bundle multiple services together into a single offering, at a single price point," wrote the analysts at MoffettNathanson in a recent report to investors. "Real convergence demands either 1) product advantage (i.e., the bundled products simply work better together, or offer unique features together, by virtue of being offered by a single company) or 2) cost advantage. There is no evidence, anywhere in the world, of product advantage arising from bundling wireless and wired broadband together. But there is a clear case to be made for cost advantage."
The analysts also speculated on the positioning of wireless companies offering bundles and cable companies offering bundles.
"Wireless operators have an enormous cost advantage in offering fixed wireless service on preexisting network facilities; the marginal cost of offering FWA is zero if it is simply using excess capacity," they wrote. "Alas, the capacity available for such a strategy is relatively limited, making the strategic leverage of FWA relatively limited as well."
For cable, the calculation is much different: "Cable operators have a smaller, but still significant, cost advantage in offering wireless services that can offload at least some of their traffic onto existing infrastructure," the MoffettNathanson analysts wrote. "And unlike wireless operators offering FWA, their capacity to do so is unlimited. This, in a nutshell, is why we've always argued that cable will ultimately win the convergence wars."
Related posts:

— Mike Dano, Editorial Director, 5G & Mobile Strategies, Light Reading | @mikeddano
EDUCATIONAL RESOURCES

PARTNER PERSPECTIVES
- content from our sponsors