Cox's Hicks: How Not to Skin Your Shins With Virtualization
DENVER -- Cable Next Gen-Technologies & Strategies -- When they seek to design virtualized networks, Cox's David Hicks says operators need to identify not only which services to virtualize, but also when and why, to avoid bruises along the way. Hicks's team leads the MSO's efforts on virtualizing network workloads on private and public clouds.
"The real trick is to find out what workloads and what services you virtualize when and why," says Hicks, VP of engineering and operations for Cox Communications Inc. . "Any service, any workload that's a physical network function, can be virtualized. The question is: 'Does it do anything that helps your business or your customers or your employees?'"
In a fireside chat with Light Reading's Alan Breznick, Hicks explained that when it comes to virtualization, "It's not a bad thing to be patient in this space. There are so many competitive forces at work in this topic and in the industry now."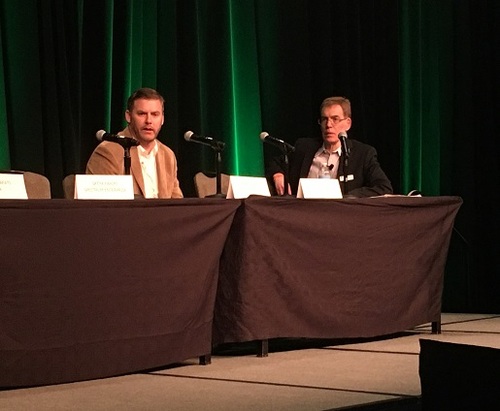 Hicks says Cox has learned a lot in developing its own approach to virtualization by watching the efforts of other operators such as AT&T, which he says "did a lot of great work and banged their shins a lot" regarding the development of ECOMP and other virtualization efforts.
One of Cox's major virtualization efforts began in late 2015 when the cable company started developing its Network Services Platform (NSP), an OpenStack-based cloud platform, Hicks said. By 2016, Cox launched its BroadSoft BroadWorks workload, a virtualized voice application server for Cox's commercial business. Internally, Cox has virtualized its load balancer, routers and firewalls, and now is setting its sights on virtualizing its session border controller by late 2018, he noted.
Last November, Cox also announced plans to trial its own SD-WAN service -- Hicks says the MSO has completed tests in its employees' homes and plans to launch its SD-WAN platform nationwide in Q3 this year. (See Cox Is Trialing SD-WAN Too.)
"We'll take what we've done with our virtual managed router product and stitch it to the SD-WAN services with data center service chaining, security, router services, and the load balancer also has a commercial application in the market. That'll be later in 2018," he said.
---
Light Reading is bringing together all of the key players in the automation revolution for the first time at Automation Everywhere on April 4 in Dallas. Join us as we tackle the business and technology challenges behind driving network automation. The event is free for communications service providers -- register today!
---
Establishing a framework that provides a "consistent, repeatable way to evaluate workloads and whether it makes economic sense to virtualize them" has also been a key step for Cox's virtualization journey, Hicks explained. In addition to the nearly half-dozen virtualized workloads he described, Hicks says Cox is currently examining a total of 14 workloads to virtualize.
While Hicks says "you can virtualize just about anything," that doesn't mean that everything should by default be virtualized. For example, he explained that it doesn't make economic sense for Cox to focus on "white boxing" routers and switches and virtualizing the "high-end, backbone-type telco class equipment in both the optical and router space." Hicks noted that the industry is already very competitive in that space.
In advising other operators on the road to virtualization, Hicks says, "The most important thing I would emphasize is that working on virtualizing workloads for the heck of it is noble but it's probably not a good idea unless there's a compelling triggering event -- an upgrade, an inability to scale, a new market you're entering or defending, trying to gain benefit down market with SD-WAN … Having that trigger is really important; otherwise you're just doing work for the heck of it, which we can't afford."
For more news from Light Reading's Cable Next Gen-Technologies & Strategies Event, click here.
— Kelsey Kusterer Ziser, Senior Editor, Light Reading
PARTNER PERSPECTIVES
- content from our sponsors