DSL Chipsets
DSL Chipsets
The semiconductor developments behind the latest broadband developments * Market drivers * New technologies * Product matrices DSL chipsets are key components in the drive for mass-market broadband. The scene is changing as vendors introduce a new generation of highly integrated devices to meet the needs of new DSL standards, new services, and lower costs.

Semiconductor innovation at both ends of the DSL (digital subscriber line) wire is driving down the total cost of ownership. Recent announcements of highly integrated chipsets for both the central office and customer premises from leading semiconductor vendors such as Texas Instruments are bringing the prospect of lower-cost broadband connections significantly closer.

At the central office, the development of line cards with 64 lines per card and a power consumption significantly below 1W per line is now well advanced. These new line cards will support not only ADSL but also ADSL2 and ADSL2+, delivering bandwidths of 24 Mbit/s and triple-play voice, data, and video services over DSL.

In many homes and small offices the single PC with a 56-kbit/s or broadband connection is being replaced by the home network connected through a DSL gateway. Low-cost systems supporting USB, Ethernet, and Wireless LAN (WiFi) connectivity are rapidly being rolled out, and these devices will soon support ADSL2 and ADSL2+, as well as ADSL.

For an insight into this rapidly developing market take a look into this report, which covers chipsets from leading vendors, including:


Here's a hyperlinked summary of the report:


DSL Market
DSL is now the most popular broadband technology and is growing fast, but DSL's got to get faster, too



DSL Technologies
New standards will take DSL further and faster... but when?



DSL Infrastructure
Higher-value services to more customers at lower costs is the name of the game



ADSL/VDSL Chipset Vendors
Twelve vendors are slugging it out over sixth- and seventh-generation devices



ADSL Central-Office Chipsets
High integration and low power are the big drivers for the central office



ADSL CPE Modems & the Networked Home
ADSL modems are getting much smarter as they become the gateway to the home network...



Integrated ADSL Gateway Devices
...and surprise, surprise – integrated Wireless LAN is now essential


To view the Webinar on which this report is based, click here.

And have a look at the following Light Reading material for background on DSL:


New DSL Network Architectures

Light Reading Insider Report: DSLAM Dynamics (Vol. 3, No. 9 September, 2003)
— Simon Stanley is founder and principal consultant of Earlswood Marketing Ltd. He is also the author of several other Light Reading reports on communications chips, including 10-GigE Transponders: Update,10-Gig Network Processors, Packet Switch Chips, Traffic Manager Chips, 10-Gig Ethernet Transponders, and Next-Gen Sonet Silicon.

DSL is now the most popular broadband technology. It gained 10.7 million subscribers during the first half of 2003, and a further 15 million subscribers are expected to have signed up during the second half. So the number of DSL subscribers is likely to pass 60 million by the end of 2003 – a 33 percent increase in six months over the 46.7 million subscribers reported by Point Topic Ltd. for June 2003 (see Figure 1).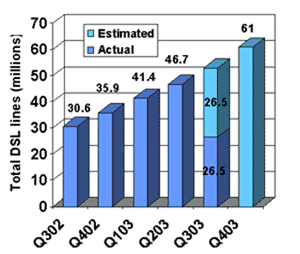 These booming overall figures hide quite a lot of regional and national diversity. Japan has the biggest installed base and the second highest growth rate, taking the Asia/Pacific region to almost a 40 percent market share. Europe comes second, with 28 percent of the installed base. The U.K. had the fastest growth over the first six months of the year; North America, dominated by the U.S., sustained steady growth during the first half.

There are three main applications for DSL technology, and each has different bandwidth requirements:


Internet and email: This is the most developed application and requires a data-only service of 256 kbit/s to 1 Mbit/s downstream and 64 kbit/s to 256 kbit/s upstream.

Peer-to-peer networking: A DSL application with customer-located servers. Strictly, this application needs a symmetric service of 256 kbit/s to 1 Mbit/s, although many users run peer-to-peer file sharing over standard asymmetric DSL links.

Triple play: Delivering data, voice, and video over DSL is expected to produce greater revenues for operators, but it demands significantly greater bandwidths (over 4 Mbit/s) downstream. Some operators, particularly in Japan, are planning to deliver 24 Mbit/s downstream.
In North America services are dominated by data, and service providers are shifting their business strategy away from growth and towards emphasizing profitability.

In Europe there has been a fast infrastructure build-out particularly in France, Germany, and the U.K. Unlike the U.S., where DSL modems are sold directly to the consumer, the small number of operators makes it possible for most European customer-premises equipment (CPE) to be sold through retail channels. Triple-play services over DSL are now becoming available in several European cities.

In Asia and Japan the infrastructure build-out is very rapid, and there is a competitive race to supply the highest-bandwidth services. Many operators also bundle voice with their data services.

"A major difference across Asia is that ADSL is sold more on bandwidth rather than service," says Nick Burd, director of DSL products at Conexant.

"In Korea and Japan they are looking at significantly higher bandwidths using VDSL," notes Piyush Sevalia, director of product marketing at Ikanos. "They talk about delivering 50 Mbit/s downstream."

There are two main DSL Technologies, ADSL (Asymmetric DSL) and VDSL (Very-High-Speed DSL). These have been developed to support broadband services to the home and to small and medium-sized businesses, as summarized in Table 1. Other DSL technologies, such as SDSL (Symmetric DSL) and HDSL (High-Speed DSL), are used to provide services to larger businesses by replacing T1 and E1 connections; they are not covered in this report.

Table 1: ADSL and VDSL Capabilities

Enhanced services, lower power, higher performance and 600ft additional reach

Extends reach by 2 - 3kft

Higher performance than ADSL2: x 2 downstream, x 4.2 upstream

Competing technologies (DMT and CAP/QAM)


ADSL uses standard plain old telephone service (POTS) copper from the central office (CO). ADSL is the most widely deployed DSL technology, and can achieve maximum rates of 8 Mbit/s downstream and 800 kbit/s upstream. The actual rate depends on the distance from the central office and the quality of the line. At 256 kbit/s, the typical maximum reach is 15,000 to 18,000 feet. Longer loops and those including loading coils are unsuitable for ADSL, and this reduces the number of potential subscribers to 70 to 80 percent of total POTS subscribers.

ADSL is compatible with existing POTS and ISDN services, and it's an evolving technology. There are several recent additions to the ADSL standards, focusing on three main areas: extending the reach (and therefore the subscriber base), lowering costs, and increasing the bandwidth and number of services available.

For standard broadband applications ADSL2 defines an enhanced solution that solves most of the issues with current ADSL installations. Key to ADSL2 are reduced framing overheads, low-power modes, and seamless rate adaptation. With standard ADSL the bandwidth is defined when the service is provisioned; so, if the performance degrades because of interference, the service is interrupted. With ADSL2 the CO and customer-premises modems will negotiate the bandwidth based on capabilities and link quality, thereby keeping a live service when interference occurs.

ADSL2 significantly reduces operating costs, having almost zero power consumption when the link is live but not carrying traffic and a low-power mode for lightly used links. ADSL2 also delivers greater flexibility for future services with channelized voice over DSL, an all-digital mode and packet-based service. Reach-Extended ADSL (READSL – Annex L) will drive loops that are 2,000 to 3,000 ft. longer, thereby bringing additional subscribers within reach of the CO.

ADSL2+ will deliver further performance increases of up to 24 Mbit/s downstream and 3.8 Mbit/s upstream. However, the rollout is likely to be slow in Europe and North America."I think we are going to see a transition point from the baseline ADSL to ADSL2+ some time in 2004 in some markets. Other markets will be later than that," says Greg Jones, general manager of TI's DSL Business Unit. "The key issue for ADSL2+ is, how do I make more money out of it?"VDSL relies on fiber to the curb or the neighborhood, and can deliver 52 Mbit/s downstream and 16 Mbit/s upstream.

Two competing technologies are already deployed for VDSL: CAP/QAM and DMT. Each has an industry group promoting it, and this battle is very similar to the earlier one for ADSL, won by the DMT proponents.

CAP/QAM (VDSL Coalition) claims:
DMT (VDSL Alliance) claims:


Greater flexibility for international markets

Integrated ADSL/VDSL silicon available


The CAP/QAM solution has seen the widest deployment so far, but DMT is catching up fast, with over 1 million lines shipped. The American National Standards Institute (ANSI)'s T1E1.4 committee has adopted DMT, but so far no decision has been made within the International Telecommunication Union (ITU), and a dual-technology standard is a possible outcome.

Check out these Light Reading articles on the VDSL line code debate:


QAM vs DMT Battle Lingers On

DMT Chips Win 'VDSL Olympics'

High Noon Arrives in VDSL Battle
Figure 2 shows a typical ADSL network with a DSLAM (digital subscriber line access multiplexer) in the central office and connections to multiple homes or offices via a street cabinet. This network has been designed to take advantage of the existing POTS cabling from the CO to the consumer.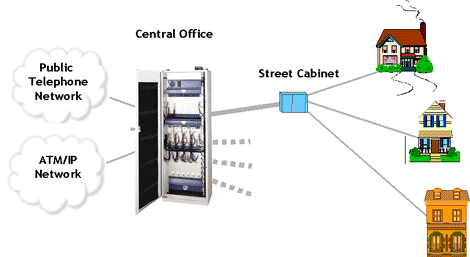 On the service-provider side the DSLAM connects to the public telephone network for voice and to the Internet through an ATM or IP backhaul network. The ADSL link carries data in ATM cells, requiring a segmentation and reassembly (SAR) function at the customer end and, where IP is used for the backhaul, at the CO as well. With ATM well established in this application, it is unlikely there will be a general move to transport IP directly over ADSL. (See the Light Reading report: Upstream of the DSLAM.)

"The link to the CPE will remain ATM no matter what happens to the back haul," notes Cyrus Namazi, senior director of marketing with Infineon.

The typical DSL network is now evolving in many different ways as service providers seek to deliver higher-value services to more customers at lower costs. There are wide regional variations in the rates of change and the particular areas of focus across the world; however, all of these changes require the latest central-office silicon.

A key focus for service providers in the U.S., where long loop lengths and a varied cable plant have left many users with an inconsistent service, is the introduction of ADSL2. The introduction of automated provisioning cuts operating expenses through fewer truck rolls, and reduces churn through improved customer service.

Across all regions, operators are facing significant challenges to reduce the total cost of ownership and thereby increase profitability. The latest DSLAMs support not just ADSL but VDSL and POTS services as well. By deploying DSL from digital loop carriers (DLCs) located nearer to subscribers, operators can extend the range and bandwidths available. Bringing new customers within reach and delivering new services to existing customers makes for higher revenue opportunities, even though the cost of a DSL connection may be coming down.

DSL is becoming a mature technology, with companies introducing their sixth- and seventh-generation ADSL chipsets. The latest ADSL chipsets are highly integrated solutions for either the CO or the CPE. There are now 12 semiconductor vendors (see Table 2) with announced ADSL or VDSL chipsets.

Table 2: DSL Chipset Suppliers



Centillium, Conexant, GlobespanVirata, LSI Logic, and Samsung have integrated CPE solutions for ADSL. Conexant and GlobespanVirata have recently announced plans to merge (see Conexant, Globespan Merge). These companies are working hard to win CPE sockets away from Analog Devices, Broadcom, STMicroelectronics, and Texas Instruments, which all have both CO and CPE chipsets for ADSL.

Although interoperability is no longer an issue for ADSL there is still a perceived advantage in using chipsets from the same source at both ends of the link. This will continue to be an issue until ADSL2 and ADSL2+ has been fully deployed.

"We are active participants at University of New Hampshire interoperability tests [University of New Hampshire InterOperability Laboratory (IOL)] and I'm amazed about the chipsets that are coming out and their maturity," notes John O'Neill, director of marketing for DSL at Broadcom. "If you look back on ADSL only a year ago, there were very few systems that could demonstrate interoperability."

Metalink and Infineon are shipping VDSL chipsets for both CO and CPE that use CAP/QAM technology; Infineon is also shipping an ADSL chipset for the CO only. Ikanos is the first company to announce a dual ADSL/VDSL solution, although there will be others in 2004. Broadcom covers the whole field, with both DMT and CAP/QAM VDSL solutions in addition to ADSL.

During the last two years the number of devices required to build a multiport line card has dropped dramatically, and Table 3 (the Dynamic Table below) lists the main ADSL chipsets available for the central office. The chipsets are listed in ascending order of the number of semiconductor devices required for a 48-port ADSL line card (excluding system interface components and line driver).



Dynamic Table: DSL CO Chipsets

Select fields:
Show All Fields
CompanyChipset NameDSL StandardsNumber of PortsIntegrated Line DriverDevices for a 48-port linecardArea per port, square inchesMaximum Power, W per portSample Availability

The latest chipsets from Texas Instruments, Broadcom, Analog Devices, and Infineon support multiple ADSL standards including ADSL2 and ADSL2+.

"I expect ADSL2 will be deployed as early as the first quarter of 2004, with carriers taking out their old ADSL cards and putting in new ADSL2 cards," says Patrick Kusior, CPE marketing manager for Analog Devices.

Three of these newer devices also support the emerging READSL (shown in parentheses in Table 3). The chipset from Ikanos goes one step further, supporting either eight ports of ADSL or a single port of VDSL. Several other manufacturers will introduce dual ADSL/VDSL chipsets during 2004.

The number of ports supported by ADSL chipsets has been steadily increasing from a single port in 1999, through four ports for the older chipsets in this report, such as the Texas Instruments AC5, to 16 ports for the Texas Instruments AC7 and Analog Devices OptiCOm.

Most ADSL central office chipsets include an integrated line driver. The exceptions are Broadcom, STMicroelectronics, and Infineon. Where multiple chipsets require the same number of semiconductor components, those including the line driver are listed first.

Area per port and power per port are key parameters when choosing a central-office chipset. During 2003 Broadcom led the pack, with its BladeRunner achieving the much-quoted 1 square-inch per port and 1W per port. The announcement of the highly integrated AC7 from Texas Instruments, expected to achieve 750MW per port and a per-port board area of just 0.9 square inches, including the line driver, will raise the bar when the device enters production in 2004.

Not all of these chipsets are currently available, so the status or announced date for customer samples is given in the last column of Table 3.

Many of the first ADSL consumer modems were supplied as PCI cards, and frequently much of the driver software runs on the PC's x86 processor. These PCI cards have proved a cost-effective solution for providing basic ADSL connectivity.

There are a limited number of ADSL/PCI controller chipsets available, and these are listed in Table 4. None of these devices support later ADSL standards such as ADSL2.

Table 4: ADSL/PCI Controllers



The DMT engine is implemented either in hardware or by a digital signal processor (DSP). DSP-based solutions are usually more flexible and can be updated to support minor changes to the specifications. This does not, however, include major upgrades to support ADSL2 and so on. All these devices support the basic ADSL specifications.

Chipsets from Analog Devices, GlobespanVirata, and Samsung integrate a MIPS-based communications processor, thereby reducing the processing overhead on the PC. The Samsung ADSL NIC chipset integrates a PCI/PCMCIA system interface to support both PCI and PC Card NICs.

With most PCs now coming with both Ethernet and USB connectivity, along with a strong, consumer-driven push for wireless connectivity in the home, the ADSL modem is becoming the broadband interface for a home network rather than for just a single PC. Figure 3 shows a basic networked home including multiple PCs and personal appliances with a single ADSL modem.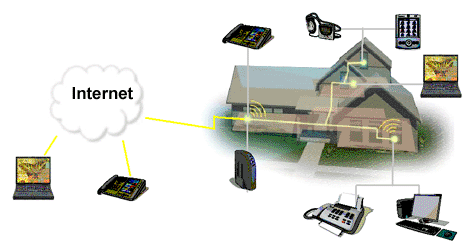 To meet this growing need, manufacturers have introduced ADSL gateways with integrated Ethernet or USB ports, a firewall, and, very recently, a WiFi access point. These new systems are made possible by the introduction of low-cost ADSL modem chipsets that integrate communications processors and various networking interfaces. These are covered in the next section.

Figure 4 shows an integrated ADSL gateway device with the full ADSL modem (DMT engine and analog front end – AFE) and a communications processor. USB and Ethernet connectivity are provided through on-chip interfaces, and some devices, such as the recently announced AR7 from Texas Instruments, integrate the line driver as well. Others, such as the Eagle and Pathfinder from Analog Devices, integrate the AFE and line driver on a separate device.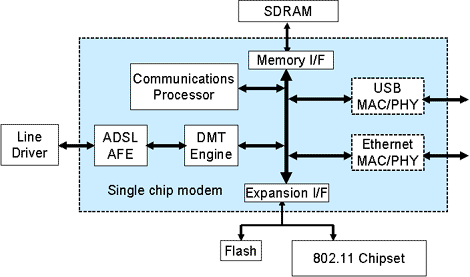 Wireless LAN connectivity is made through the system interface to a separate 802.11 chipset. The Analog Devices Pathfinder II chipset is currently unique in integrating support for 802.11b with the ADSL modem, and this may prove an issue as consumers move to 802.11g.

Table 5 (the Dynamic Table below) shows integrated ADSL gateway devices from eight vendors.



Dynamic Table: Integrated ADSL Gateway Devices

Select fields:
Show All Fields
CompanyChipsetDSL SupportIntegrated AFEIntegrated Line DriverDMT Engine Communications ProcessorAAL2 SARFirewall10/100 ENETUSB 1.1WiFi / System Interface

DSL Support: The latest Pathfinder devices from Analog Devices support ADSL2 in addition to ADSL. The Palladia 220 device from Centillium supports ADSL, ADSL2, and ADSL2+, in addition to a downstream bandwidth and reach beyond current standards of 50 Mbit/s and 22,000 ft, respectively. The recently announced AR7 from Texas Instruments is the first fully integrated ADSL gateway device to support ADSL, ADSL2, ADSL2+, and READSL.

AFE/Line Driver: Unlike the CO chipsets, very few CPE devices include integrated AFE and integrated line driver. The Broadcom BCM6345/6335 devices include an integrated AFE, and the Conexant AccessRunner device and the Texas Instruments AR7 both integrate AFE and line driver.

DMT Engine: The DMT engine on these devices can be either a DSP or a hardware implementation. In theory, a DSP implementation affords more flexibility as standards and operating demands evolve; however, in practice, most changes can be implemented on hardware systems through configuration control.

Communications Processor/SAR: All of these devices include a communications processor, which handles all the packet processing as well as ATM SAR. Most of the devices have either an ARM or MIPS processor core. Devices from Broadcom, Conexant, and LSI Logic include AAL2 SAR to support compressed voice. This is in addition to the AAL5 SAR capability included in all the devices for converting ATM cells received down the link to data packets.

The latest devices all include a firewall function implemented on the communications processor. This is really a requirement for any always-on gateway connected to the Internet, and the integration of this function into the ADSL modem chipset significantly reduces the total cost of system.

Outputs: For connection to the home network these gateway devices support a mixture of Ethernet (10/100 ENET), USB 1.1 and Wireless LAN. Several devices integrate both Ethernet MAC and PHY, but others, such as the Conexant AccessRunner, require an external PHY device. Even those devices with integrated PHY bring out the MII interface so system designers can connect an external four-port hub device. The Texas Instruments AR7 supports two Ethernet interfaces, one with integrated PHY. An issue for consumers will be the real-world performance of these gateways, and this will lead manufacturers to sell gateways on performance as well as cost.

"By providing a priority queue for acknowledgement packets we have the ability to deliver more bandwidth to the house," says Mike Spence, CPE product line manager at Texas Instruments.

To support Wireless LAN applications most of the latest devices include a system interface (WiFi/System Interface). The Analog Devices Pathfinder II device is the only gateway device to integrate 802.11 functionality on-chip. In most cases, the system interface is either a standard PCMCIA interface or a proprietary interface such as the Texas Instruments VLYNQ interface designed to work with its own WiFi chipsets.

"A hot area at the moment is the wireless gateway, with 802.11g and four ports of Ethernet," notes Steve Ellwood, director of DSL product marketing for LSI Logic.

Harvey Lester, U.S. market development manager with STMicroelectronics, concurs: "For the gateway products, if you do not have an 802.11 solution then you're out of date."


Subscribe and receive the latest news from the industry.
Join 62,000+ members. Yes it's completely free.
You May Also Like
---