Carrier Spending: A Look Ahead
Carrier Spending: A Look Ahead
SG Cowen has some optimistic predictions about the future of telecom spending A recent report from SG Cowen Securities Corp. says carrier capital spending may now be in the doldrums, but prospects for growth remain strong. And optical networking will play a key role when carrier spending ramps up again.

According to the report, titled "Optical Networking Industry," the firm projects carrier capital spending will be $94 billion in 2001, compared to $113 billion in 2000 -- a 17 percent decrease. But by 2003, the total amount carriers spend on new equipment should hit $102 billion and will start to climb again, the firm predicts.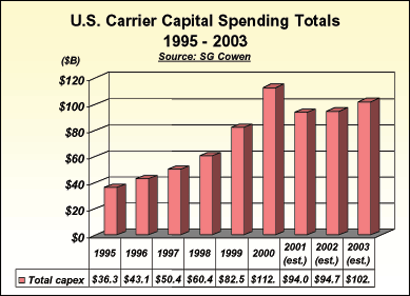 As in the past, IXCs and RBOCs will remain the major consumers of broadband and optical networking gear, the report says. This year, for instance, Cowen says IXCs will account for roughly 58 percent of all carrier capital spending; RBOCs will account for roughly 36 percent; and CLECs for 6 percent.

While the "competitive threat" of CLECs helped drive higher spending by these incumbents in the past, the CLEC capex contributions will be fractional for the foreseeable future. In 2002, the firm estimates CLECs will account for about 4 percent of all carrier capex.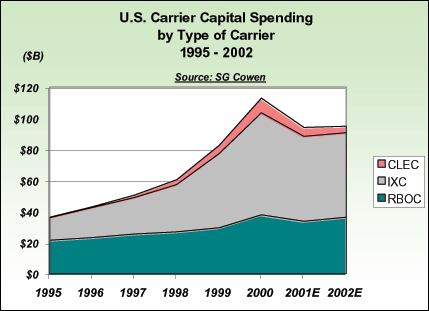 The Cowen report says the current drop in carrier spending occurred for a couple of reasons. In 1999 and 2000, market conditions encouraged carriers to spend lavishly on long-haul network buildouts. This resulted in sizeable "one time" investments and led to inflated valuations for many optical networking companies.

Now that the bubble has burst, Cowen says, carriers are finding it hard to get more funding for new equipment. They're also changing their product focus, which is bound to affect future spending. While demand for bandwidth continues to climb, carriers no longer need to upgrade their long-haul networks. Instead, they're seeking ways to improve the edge of the net and equip it for lucrative new services such as applications hosting, storage area networks (SANs), and broadband access, the report says.

"Growth for long haul optical systems has moderated significantly this year, while demand for optical switching systems and metro optical systems is rising rapidly," the SG Cowen analysts write. "As a result, this transition is creating a significant opportunity for companies exposed to the metro DWDM, optical switching, and MSPP markets."

These transitions in the optical networking market are giving rise to opportunities for a range of companies that make optical switches for metro use, MSPPs, and DWDM gear. According to Cowen, examples of companies with sizeable market opportunities include Ciena Corp. (Nasdaq: CIEN), ONI Systems Inc. (Nasdaq: ONIS), Sorrento Networks Corp. (Nasdaq: FIBR), Sycamore Networks Inc. (Nasdaq: SCMR), Tellabs Inc. (Nasdaq: TLAB; Frankfurt: BTLA), and Tellium Inc. (Nasdaq: TELM).

The suppliers of components for this kit also have an opportunity, Cowen says. This list includes companies like ADC Telecommunications Inc. (Nasdaq: ADCT), Agere Systems (NYSE: AGR), Alliance Fiber Optic Products Inc. (Nasdaq: AFOP), Bookham Technology PLC (Nasdaq: BKHM; London: BHM), Corning Inc. (NYSE: GLW), and JDS Uniphase Inc. (Nasdaq: JDSU; Toronto: JDU).

- Mary Jander, Senior Editor, Light Reading
http://www.lightreading.com
Subscribe and receive the latest news from the industry.
Join 62,000+ members. Yes it's completely free.
You May Also Like
---