Women in the technology industry see the lack of female role models above them as a real challenge, adding to the vicious cycle that starts with a weak pipeline and ends with few women at the top, according to a new Women Who Code survey.
Women Who Code, a non-profit for female technologists, teamed up with online learning company Pluralsight to ask 1,500 women in the industry about their challenges, and a lack of female role models came in high on the list. It's a common problem in the industry -- women are less likely to go into the tech industry when they don't see themselves reflected at the top, but women can't make it to the top if they don't get a foot in the door and stick with it. It's a leaky pipeline at all levels. (See More Women in Tech Is Critically Important.)
Women Who Code CEO Alaina Percival says the representation of females in the industry is definitely improving with the younger generation, who were largely more optimistic about their potential for advancement, but it takes a career to get to the top. (See Employers Not Inspiring Loyalty in Millennial Women.)
"The numbers are slowly but surely getting better, but we need to really see the long-term impact of women staying in their careers in tech throughout the lifetime of the career," she says. "It's 30 years; not something you see overnight."
---
Join Women in Comms in Austin, Texas, on May 23 for a one-day conference and job fair. Register here!
---
Survey respondents cited a lack of opportunities for advancement as their biggest challenge, but this was followed closely by a lack of female role models and mentorship at work. More than 60% thought it would be beneficial to have more women on their teams. (See McKinsey: Women Less Likely to Advance at Work.)
Interestingly, the survey respondents weren't quick to blame the institution, but rather cited a lack of confidence as the biggest thing holding them back in their careers. Male-dominated work environments actually came in second place. Twenty percent of respondents in their 20s and 30s said they aspire to vice president or C-level positions, but more than 50% said they were uncomfortable asking for a raise or promotion.
That said, institutional factors were still a challenge too, especially at the senior level. Nearly 20% of women in leadership reported being held back by male-dominated work environments, compared to only 8% of women in mid-level positions. Half of those age 21 to 49 felt male colleagues were more likely to get promoted than female, and 36% of women in that group feel the pay gap between male colleagues is challenging. (See Happy(?) Equal Pay Day, Ladies.)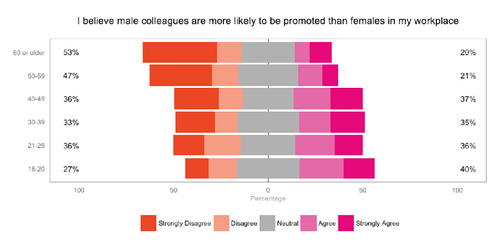 In Percival's opinion, the institutional challenges facing women may actually be easier to fix than the crisis of confidence. She says that the industry just needs a few progressive companies to show the way. "You really just need to capture the industry leaders and get them to create better standards and then the rest of the industry tends to follow," she says.
Percival cited companies like Intel Corp. (Nasdaq: INTC), Google (Nasdaq: GOOG), VMware Inc. (NYSE: VMW), Square Inc. , Capital One and Booz Allen as already leading the charge. (See Intel Closed the Gender Pay Gap in 2015 and Intel Hired 43% Women, Minorities in 2015.)
"Yes, [tech] can get better, but we know it's a wonderful industry for women to be in," Percival adds. "As more women are in it and succeeding in it and leading it, it'll only be better. That's certainly the direction we are going."
— Sarah Thomas,

, Director, Women in Comms