WiCipedia: Small Steps Forward, Big Step Back

11/11/2016

Comment (1)

This week in our WiCipedia roundup: what a Trump presidency means for females; glass ceilings in sight; very slow progress in tech hiring; and more.
---
Interested in joining Women in Comms on our mission to champion change, empower women and redress the gender imbalance in the comms industry? Visit WiC online and get in touch to learn more about how you can become a member!
---
Like much of the country, we here at Women in Comms are still recovering from the shock of this week's presidential election. Rather than celebrating the US's first female president as, frankly, we were certain we would be, women in the US are instead wondering -- and perhaps fearing -- what a Donald Trump presidency means for us. The web is rife with opinions on what it might bring for women, for girls, for feminists; and even what to tell the women and girls in your life about it. A number of female tech leaders also weighed in on the election results and how to best move forward.

In a classy concession speech, Clinton expressed her disappointment, but encouraged women that the glass ceiling is still well within our reach. Regarding breaking through the glass ceiling, she said, "Someday, someone will, and hopefully sooner than we might think right now."
To be fair, we'll note that Trump's (third) campaign manager Kellyanne Conway did break another, lower glass ceiling as she became the first woman to run a successful Republican campaign.
That's about all we want to say about politics today, so let's go back over to the tech and comms world where there is still so much work to be done. Women make up 19.6% of the staff at the top 25 tech companies, according to a new study by HiringSolved. It's a frustratingly low number, but the company says it represents an upswing and the start of slow but steady progress. Many companies like Intel Corp. (Nasdaq: INTC) have recognized the lack of representation and are making a concerted effort to improve their numbers. According to HiringSolved, which used artificial intelligence to scan company databases, Intel went from 26.4% women in 2015 to 26.7% women in 2016. Intel reports having 25.4% women in the US as of the middle of this year, but provides breakdowns by job level and type as part of its Diversity Progress Report. (See Intel Updates on its Diversity Initiatives , Intel Closed the Gender Pay Gap in 2015 and Intel Hired 43% Women, Minorities in 2015.)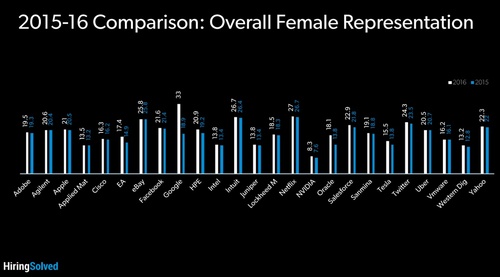 Women start out their careers asking for the same pay as men and still get 7% less than men. Women with two to six years of experience ask for the same amount of pay and get 10% less. It's when women reach more than six years of experience that they seem to stop asking for more pay and, big surprise, they still get less -- 31% less on average. These stats come from a new study from Hired Inc., a US-based job search site. The firm says that the median salary for women in tech in the US is 8% less than men and 9% less in the UK. This, by the way, is better than the overall workforce pay gap, which is at 19% in the US and 14% in the UK. Whether it is because they get sick of not getting what they ask for or they lose confidence along the way, women tend to undervalue themselves when it comes to pay raises. The study suggests that while the pay gap is a persistent problem that requires big changes, women also need to be sure they continue to ask for what they deserve based on defensible market data.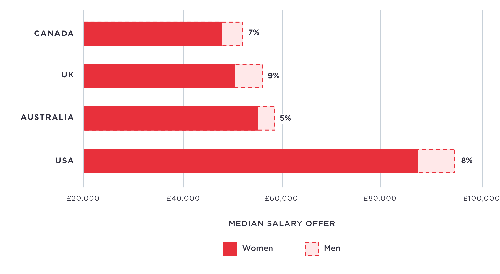 Outside of simply paying women what they deserve -- i.e., the same as men -- simply getting more women into STEM careers, and especially tech roles, will help narrow the gap as well, according to Girls Who Code founder Reshma Saujani. A recent study the group did with Accenture found that tripling the number of women in computing will boost women's cumulative earnings by $299 billion over the next ten years. Increasing the visibility of women in the field and changing perceptions about what it's like will help with recruitment, but retention is equally as important, as an article in the Guardian spells out. That will come through better policies, flexible working arrangements and more support in the workplace. (See Why Women at Work Get Mired in the Middle.)

— Sarah Thomas,

, Director, Women in Comms

(1) |