WiCipedia: Should Men Be Included? & Olympians Face Discrimination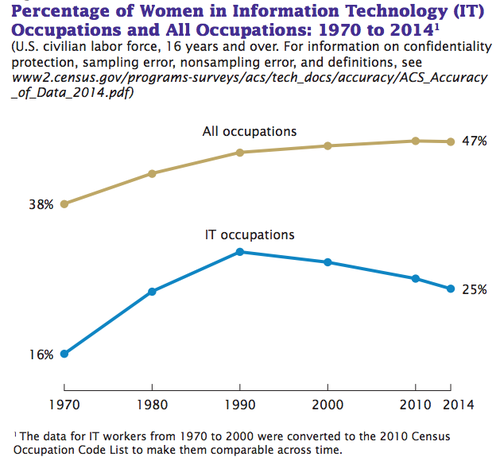 (13) |




Re: Washed out Rags...

It still seems moeny is really the issue. Management wants to get the most bang for the buck and whoever they can hire to do that seems to the be rule, with the emphasis on paying as little as possible. It folks from other countries can be imported at lower cost that's where the money goes.

ErynLeavens,

User Rank: Light Sabre
9/7/2016 | 7:48:20 PM
Re: Women-only Spaces/Conferences

Just saw this interesting post on trans people in tech, and a not so encouraging salary comparison. Still seems that slow progress is being made, especially in the Bay.



Men @ women's conferences

I was uncomfortable when I was first invited to a women's tech conference. It was a BlogHer conference years ago. "But I'm not a 'her!'" I said.

I got over it, and was pleased to represent WiC at an OPNFV event late last year.

ErynLeavens,

User Rank: Light Sabre
8/26/2016 | 8:01:13 PM
Re: Women-only Spaces/Conferences

Hi Heather! We got distracted by National Dog Day. ; )



I'm definitely a proponent for both women-only and everyone welcome events. Living in the Bay Area, I guess I take for granted that trans people are welcome at women-only gatherings, but obviously that isn't the case. Love the gender-neutral bathroom idea. I think it can be difficult in an industry that is relatively male and white to not only be welcoming to women but also to the LGBT community and other minority groups because that might be even more foreign to them. It's certainly the goal though.

Women-only Spaces/Conferences

I felt like this discussion was getting buried as part of the other thread, so I thought I'd start one to focus on it because specifically it's certainly something that's often on my mind, especially as someone who organizes open souce events.

I think the answer is that both provide value, and what you do depends on your specific goals. Women-only spaces do provide a respite and place where women in a male-domnated space can relax and share stores and seek for and give support. They can form networks and bonds that can be useful to them as they navigate the more difficult world outside. Obviously there is value in that.

On the other hand, discrimination is part of larger social reality and creating change in the world does require engaging with everyone. Helping men understand some of the issues we face and working with them to change is obviously key in making a concrete difference.

Someone else said in one of their other responses that both can be ideal. I also think that the current state of a community, what the most pressing needs are, and what problems and successes are the most pressing mean that there's no one-size-fits-all answer, but I'd certainly love to hear others' opinions.

Finally, one thing to keep in mind about women-only events and spaces is that they can have a negative effect on trans and non-binary gender identities, and that's also something I try to keep in mind as well. At LinuxCon this past week, there was a gender-neutral bathroom, which is definitely something I'd like to see more of and you can expect at the next OPNFV Summit.

ErynLeavens,

User Rank: Light Sabre
8/26/2016 | 5:01:50 PM
Re: Oh, the irony

Which is more exciting? At my house = dogs! You would think they could have spread those out a bit though...

TeleWRTRLiz,

User Rank: Lightning
8/26/2016 | 4:26:44 PM
Oh, the irony

I just found out it's also National Dog Day -- in additon to being Women's Equality Day.

ErynLeavens,

User Rank: Light Sabre
8/26/2016 | 3:16:46 PM
Re: Washed out Rags...

Why do any of those things even matter?! That's the silly thing. They've trained long and hard to get there based purely on athletisim and the media is going to focus on hair and makeup?! Something doesn't add up... This isn't just live entertainment, it's the Olympics!

Re: Washed out Rags...

@Eryn In regard to the conference, I hadn't thought about it that way, good point! It'll be interesting to see what they decide to do next year if they host it again.

You hit the nail on the head about the Olympics - I agree, the bigger underlying cultural issue is that many newscasters didn't realize their comments were inappropriate. Gymnast Gabby Douglas can't seem to catch a break - last Olympics her hair was a source of debate and this time people gave her flack for the way she stood during the award ceremony.

ErynLeavens,

User Rank: Light Sabre
8/26/2016 | 1:35:26 PM
Re: Washed out Rags...

Happy Women's Equality Day, Liz! Really amazing. Now we just gotta keep working to make it even better. ; )