WiCipedia: Should Men Be Included? & Olympians Face Discrimination

This week in our Women in Comms roundup: Should men attend women's conferences?; women still minority in finance and advertising; sexism at Rio Olympics; and more.
---
Interested in joining Women in Comms on our mission to champion change, empower women and redress the gender imbalance in the comms industry? Visit WiC online and get in touch to learn more about how you can become a member!
---
At Women in Comms, we're now all about come one, come all policies for our networking events, but everyone doesn't feel quite so inclusionary. Women in Tech Day at Gamescom 2016 in Germany was for women only, with the intention of creating a "safe space" where women felt they could speak freely. A male writer over at DW took this exclusion hard, feeling that he missed out on worthwhile talks and could have benefited from attending. "We need men to engage with this issue, which, like it or not, concerns us all as people in societies. So why would you shut men out as a principle? Don't you risk 'ghettoising' women in tech?" Do you think men should be excluded from women in tech events or should they be part of the discussion? (See WiC: Change Starts With Women, Must Include Men and Join Women in Comms, Intel, XO, Vodafone, Windstream & Zayo for Breakfast in Denver and don't miss our next breakfast in Denver on September 14.)
Ever wonder how the IT field became so male-dominated? The Huffington Post has detailed the evolution of IT careers and explained how there are somehow fewer women in the field than there were in 1970. The confounding, interesting and not so coincidental conclusion is that when women flock to an industry, it falters. "When women enter a field, its perceived value suffers a decline; when men enter a field, it grows in prestige. Gradually, the image of the ideal tech worker has become that of a white guy in a hoodie working nonstop at a computer. Women have become increasingly alienated from that scenario," according to The Huffington Post. The graph below details the decline of women working IT jobs, which appears to be instigated by the tech boom of the early 1990s. Standard Examiner also looked into the low percentage of women in IT roles, and found that presently, many jobs are going to foreign-born, male workers who receive lower pay because of their visa status. (See Intel's Keddy: Move Beyond the 'Comfort Zone', WiCipedia: Rise of the Female CDO & Adidas Flip Flops and WiCipedia: Hogrammers, Cleavage & Finding a Niche.)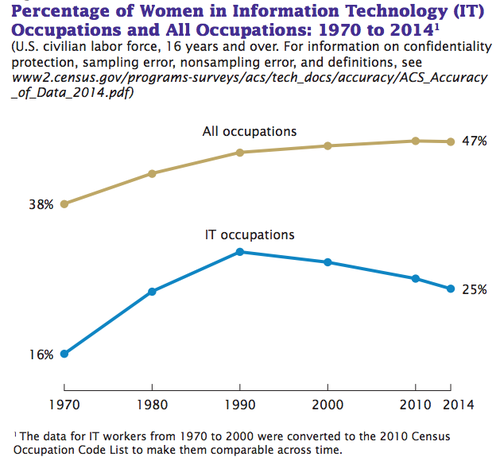 If you thought the sexist and discriminatory experiences of women who work in tech were bad, the stories of women in finance and advertising are sure to alarm. The Financial Times reports that two thirds of women who work in asset management experience sexism at work, and one quarter of women have endured sexual harassment. This mainly comes to a head in the bonding, or "extracurricular" activities, of male employees, which by nature are not geared towards women. Silicon Angle, on the other hand, uncovers that only 11% of creative directors in advertising are women, despite the fact that there "are more young women graduating from portfolio centers than young men." Kat Gordon, an advertising creative director and advocate of getting more women into the field, says that while there are women prepared for careers in advertising, "We hemorrhage them right when they are most valuable ... If two people have the same kind of background, one of them is redundant in the idea-making sessions. So you need that otherness. You need that discomfort." (See WiCipedia: Facebook's LGBT Stats, Broettes & 'Tiny Lady Hands'.)
Tech related or not, we can't close out this WiCipedia without mentioning the Rio Olympics. While most of us have been glued to our TVs watching the seemingly superhuman feats of these superstar athletes, some of those athletes have been battling sexism at the Games. Many online sources, including Fusion and Well + Good, have been closely following the pointedly sexist comments by newscasters. "Fox News panelists debated whether female Olympians should wear makeup or risk looking like 'washed out rags'," Fusion stated, while a judo match was described as a "catfight" and trapshooter Corey Cogdell was referred to not by name but as the "wife of a Bears' lineman." Let's give these incredible athletes the respect they deserve. After all, more women than men competed in this summer's Olympics, according to USA Today. (See Comcast Shows Off Rio in HDR... in Philly and How CSPs Are Competing in Rio.)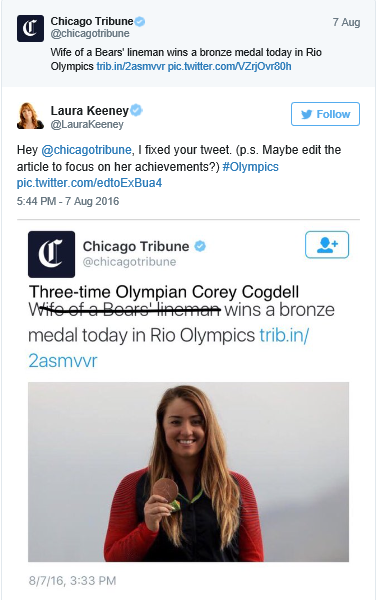 Silicon Valley, that tiny bubble of tech greatness in the southern portion of the San Francisco Bay Area, is somewhat of an enigma for those who aren't entrenched in its sea of coders and hoodies. Hollywood has caught on to the appeal in the last few years with shows such as Bravo's Start-Ups: Silicon Valley, which follows kooky and quirky Valleyites in their quests for career success and love. The show even touches on the different ways that men and women are perceived in the Valley, Bravo reports, albeit in a slightly condescending way. Paste Magazine has weighed in with its analysis of the accuracy of HBO's iteration, also titled Silicon Valley. Regarding the lack of women on the show, Dan O'Keefe, writer and co-executive producer for the show, says, "Women are under represented in tech and it's very unfortunate but the show is a satire of reality. You can't show that when it's not happening, we'd be irresponsible if we did." (See From Ass Kickings in China to Kicking Ass in the Valley and Tales From the Valley: Bias, Sexism & Worse.)

— Eryn Leavens, Special Features & Copy Editor, Light Reading

(13) |