WiCipedia: 'Perceived Gender Bias' & Google/YouTube CEOs on Diversity

This week in our WiCipedia roundup: Federal IT needs women; CEOs under spotlight for views on diversity; "perceived gender bias" in schools; and more.
---
Join Women in Comms for an important morning of networking and discussion at our annual WiC networking breakfast event in Denver on March 22. Let's put an end to sexual harassment in the workplace. There's still time to register for this free event!
---
Equities.com published an article highlighting the pros and cons of working in tech, and since the cons are in the spotlight more than we would like, we sometimes forget about all of those pros. The list was specific to Silicon Valley, because while other tech hubs are quickly popping up around the country, the Valley is still the epicenter. We won't even mention the cons -- you're all too familiar. Yet the pros -- "ability to create real change," generous perks and making way for future generations of women to be able to succeed without gender barriers, sure does make a career in tech worth fighting for if that's where you find your passion. (See WiCipedia: Best Places to Work & Restroom Lines Tell All and WiCipedia: From New Zealand to the Silicon Prairie & Beyond.)

Tell it like it is, sister

(Source: GIPHY)
Women in government tech have been on the decline over the past few years, and recently, concerned techies have stepped up to demand change. Federal Times says, "Between 2012 and 2016, the percentage of women serving in the Senior Executive Service has hovered between 33 to 35 percent," according to a report. While Next Gov reports that in 2017, that number went down to just under 28%, despite the overall number of employees growing. Advocates for women in tech advise women to apply for more positions in government IT, even ones they may not think they're qualified for, and to move around within government divisions once they're in for the widest range of opportunities and experiences. And of course, professional development and continuing education always comes in handy. Check out the chart below for the latest gender breakdown of women in federal IT. (See Trump Commits $200M to Improving STEM in Schools.)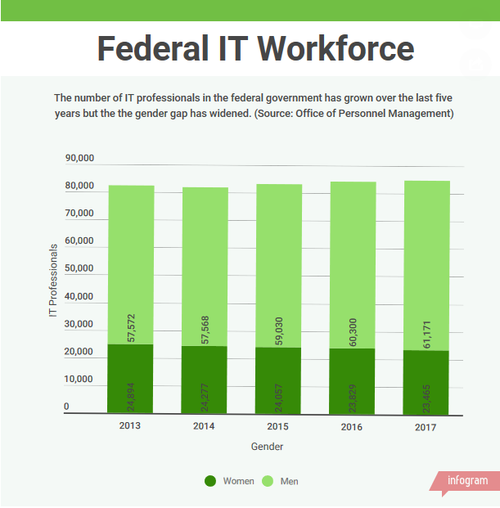 Google (Nasdaq: GOOG) CEO Sundar Pichai stated this week that it's a "moral imperative" for more women to work in tech, The News Minute reports. Pichai also stated that he stands by his decision to fire James Damore, the former Google engineer who wrote an internal memo berating the company for prioritizing its diversity numbers. Pichai called Damore's memo "offensive" and is now dealing with a lawsuit from Damore for discrimination against conservative white men. The CEO isn't stepping down though, Inc. explains. At the World Economic Forum in Davos, Switzerland, Pichai said, "As a company, we support freedom of speech. But you have to understand that in the context of the workplace, the representation of women is very, very low. It is a moral imperative that we create an environ that is more supportive of women." (See WiCipedia: Bots Gone Wild at CES & Another Google Lawsuit, WiCipedia: Dolly Babes, Manifesto Backlash & 'Brotastic' Failures and Google Fires Engineer Over Gender Manifesto.)
Speaking of CEOs, YouTube Inc. CEO Susan Wojcicki was criticized by Mashable for her responses to questions about diversity at a company town hall. Wojcicki, a prominent woman in tech with decades of experience to draw from, seemed to blame men in tech for excluding women with their bro tendencies. When asked about the lack of women in tech, she alluded to it being a "very geeky male industry." Mashable commented, "...her answer to [the question] sounded naive and defeated. She blamed the problem on the public perception of the industry and the pipeline problem for recruiting women from college, rather than addressing the questions of retention and inclusion of women and diverse talent after they're recruited." How do you think Wojcicki answered this question and what would you have said instead? (See WiCipedia: Supergirls, No More Excuses & Media Monitoring.)
A new study from the American Education Research Journal has found that women are unlikely to choose college majors with "perceived gender bias," Education Dive reports. The study was small -- it surveyed 330 undergraduate students across 20 majors at one large southeastern university -- though compiled with data from previous surveys the results are much more comprehensive. Researchers were able to debunk the theory that women and girls are "math-phobic or science-phobic," and that their lack of involvement in these subjects is purely environmental. "Researchers suggested that administrators ought to consider whether the environment around and messages about certain majors or careers are feeding a perception of discrimination, as it's a larger factor in female participation ... research points toward no differences between girls and boys when it comes to aptitude or interest in STEM fields." So while overcoming bias and discrimination is no easy feat, it's good news that these are issues that have the potential to be conquered. (See WiCipedia: Alternative College & Male Separatism.)

— Eryn Leavens, Special Features & Copy Editor, Light Reading