This week in our Women in Comms roundup: DC is the best US city for women in tech, while Nashville is the best for female entrepreneurs; lessons from the Global Women's Forum in Dubai; and more.
---
Women in Comms' first networking breakfast of the year will be taking place on March 10 in Denver. Register here to join!
---
Looking at the gender and pay inequity in Silicon Valley can leave anyone feeling discouraged about the current scene for women in tech, but a new study from SmartAsset suggests things aren't quite as dismal in some other cities across the US. In Washington DC, women hold 40% of tech jobs and earn approximately the same average income as men, making it the best city for women in tech in the US. (See the infographic below for the full breakdown.) The study also found that, in general, the more women there are represented in tech in a city, the more likely there is to be pay equity. (See Mind the Gap: Is Public Shaming the Way to End Pay Inequity? and A Vast Valley: Tech's Inexcusable Gender Gap.)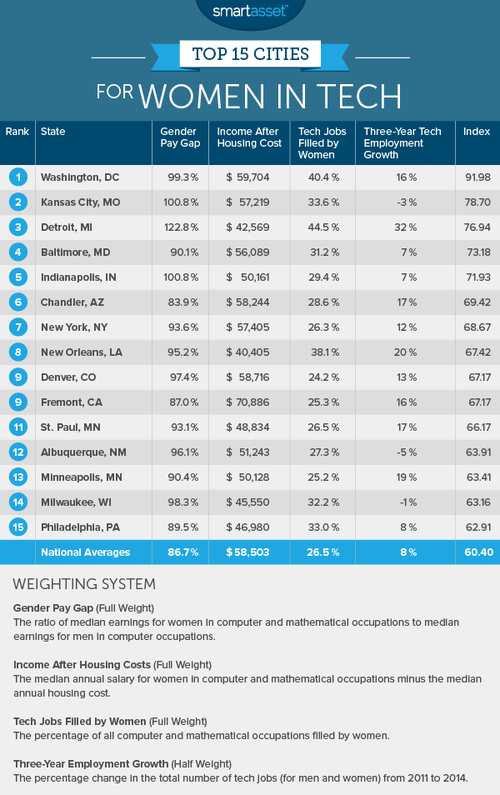 More US cities, including Kansas City, also got accolades this week from WalletHub for being the best places for female entrepreneurs. Two Tennessee cities -- Nashville and Chattanooga -- topped the list.
Remember eBay? Turns out it's one place there isn't gender pay equity, even though it's an anonymous auction site that doesn't explicitly reveal the gender of its sellers! According to a recent study carried out by a sociologist and an economist, women earned 80 cents on every dollar that men earned for 1.1 million eBay auctions between 2009 and 2012, despite having slightly more positive reviews on average. The biggest gender pay gaps came into play for Nintendo Wiis, where women made 270% less than men, folding knives, which brought in 61% less for women and printers, where men made 30% more than women. Barbies were one area women made more -- 16% -- than men selling them. (See Intel Closed the Gender Pay Gap in 2015.)
The Global Women's Forum took place this week in Dubai, bringing together 2,000 people from across the globe to discuss female leadership and empowerment. Gulf Business Review reports on three key lessons learned: one, a country's leader is critical in driving innovation and creating the right environment for gender equality; two, role models can come from all walks of life; three, to break the glass ceiling stand up for yourself and don't be submissive or overly aggressive, then pick a champion in recognition that things don't happen in isolation and, finally, keep those connections and champion for others once you've broken through. (Check out our Mentor Monday series on WiC for more great advice.)
One thing the Chicago Public School system now has going for it is that computer science will be a graduation requirement for all high school students, starting with next year's freshman class. Chicago Mayor Rahm Emanuel announced these plans in 2013, and the school board partnered with Code.org to train teachers on how to build a curriculum around it. President Obama is on a mission to bring computer science to all schools across the country, but -- as it stands now -- it is only offered at 25%. Computer science and associated STEM skills are increasingly seen as key skills and something both boys and girls need more exposure to at a young age. (See WiCipedia: Faulty Feminism, Worthy Women & Peculiar Perks.)
Proving that fashion and tech go together, Intel Corp. (Nasdaq: INTC) teamed up last year with tech-savvy designer Rebecca Minkoff with the goal of generating excitement amongst women for careers in STEM. Minkoff and Intel VP Sandra Lopez held a Reddit AMA this week where they discussed how getting more females into STEM can help change the dynamics of wearables and fashion tech. Check out the entire discussion here. (See Intel Wants to Light Up the IoT Market.)

— Sarah Thomas,

, Editorial Operations Director, Light Reading