This week in our Women in Comms roundup: Women in tech not finding IVF success; Project Include calls the shots; a high-heel ultimatum; and more.
---
Interested in joining Women in Comms on our mission to champion change, empower women and redress the gender imbalance in the comms industry? Visit WiC online and get in touch to learn more about how you can become a member!
---
Women who work in technology and finance have a more difficult time conceiving than women who work in other industries, according to an article in Fortune. The article specifically focused on women who pursue fertility treatments in response to difficulty conceiving naturally, or who have a desire to wait until they are more advanced in their careers to become pregnant. With the high cost ($16,500 per treatment) and low success rate (30%) of in vitro, it might follow that high-earning workers in tech and finance would have higher success rates given they have more income to devote to cycles of treatment.

Yet, unexpectedly, teachers have six times the success rate with IVF as women in other professions. Fortune suggests the reasons behind this reality may come down to benefits that high-paying jobs just can't buy: support, flexibility and lack of stress. Though several tech companies provide the unusual perk of paid egg freezing to employees, it doesn't make up for the more "soft skill" downsides of these intense careers.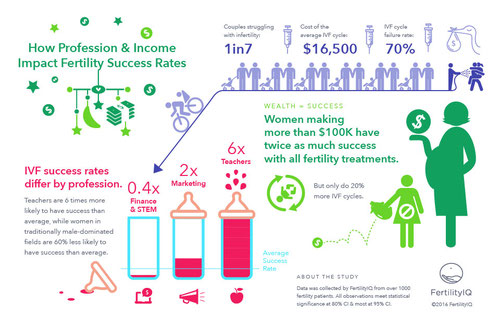 Twenty-five-year-old twins made the headlines this week in Florida as they earned matching degrees in information technology. They intend to further their educations with advanced degrees in computer science with the mutual goal of designing apps and video games in Japan. Shonda and Shalisha Witherspoon are an inspiration as the first two in their family to graduate from college, entering a predominantly white male industry as African American women. The Miami Herald notes that after their return from a college program in Japan, "...the sisters became ambassadors and recruiters for students of color to participate in study-abroad programs."
Several senior-level women in tech have taken this issue into their own hands with the introduction of Project Include, a non-profit aimed at helping startups pinpoint how to implement and retain diversity in their organizations. With an impressive roster of notable female software engineers, investors and execs, Project Include provides a step-by-step plan for helping companies to overhaul their demographics from the top down, focusing on CEOs and management. These trailblazers are certainly taking Microsoft's Dona Sarkar's advice: "The way to change an archetype is to be in it."
Tech isn't the only industry lagging behind inclusion-wise these days; far from it. The financial industry is a historically male-dominated world of free-flowing cash, scantily clad secretaries and plentiful drugs (or maybe that was just The Wolf of Wall Street...). Regardless, according to DailyWorth, "More than 90 percent [of women] feel sold to rather than educated by financial services companies. And 71 percent believe that Wall Street is not in touch with women's financial needs and concerns."

This may have something to do with the fact that the number of senior-level women working in finance is staggeringly low, resulting in only 2% of CEO spots. Startups such as WorthFM and LearnVest are attempting to cater to women who want to take hold of their finances yet don't feel represented by the "no girls allowed" vibe currently on offer.
Women have fought long and hard to not be judged solely by what they look like -- or wear -- which isn't to say that how we present ourselves doesn't matter. The Washington Post polled members of Pay Up, an online community where women can talk about the gender pay gap. Women in the survey discussed what they normally wear to their tech jobs, along with how they feel their clothing choices portray them in primarily male work environments.

Yet one thing that should never happen is men dictating how women dress in the workplace (or anywhere else, for that matter). Finance firm PricewaterhouseCoopers made the London headlines this week when a petition was started by a temp worker, Nicola Thorp, who was forced to wear heels to work. The BBC reports, "When she asked if a man would be expected to do the same shift in heels, she said she was laughed at and told to go home without pay." The temp firm, Portico, has since changed their "appearance guidelines."

— Eryn Leavens, Special Features & Copy Editor, Light Reading