WiCipedia: Internet by Bicycle, Pay Gaps & Misogyny in the Valley

This week in our WiCipedia roundup: Google brings the Internet to rural Indian women; Peter Thiel faces Silicon Valley criticism; the pay gap breakdown by industry; and more.
---
Interested in joining Women in Comms on our mission to champion change, empower women and redress the gender imbalance in the comms industry? Visit WiC online and get in touch to learn more about how you can become a member!
---
New York Magazine posted an interview this week with the founders of the parenting app Winnie, which helps new parents navigate their cities to find places that are appropriate for children and provide kiddo-friendly amenities. Sara Mauskopf and Anne Halsall, both mainstays in the San Francisco Bay Area tech scene, created the app after having children and finding that there wasn't a lot of tech available to make the process of raising them easier. Mauskopf and Halsall provide first-person accounts of starting a company in the article. Some of our favorite advice tidbits are to put your personal values first, create a culture of flexibility, get technical skills and don't hide your gender. They're hiring, ladies! (See WiCipedia: The Women Helping Women Edition and WiCipedia: Hiding Gender to Slip By vs. Flaunting It to Flourish.)
In July 2015, Google (Nasdaq: GOOG) and Tata Trusts launched an initiative to bring the Internet via mobile phones to women in rural India. Today, they have reached 25,000 rural villages, with a goal of 300,000 villages total, and they are achieving that goal at a rapid pace, the Hindustan Times reports. Here's how it works: "The program first chooses a few women and trains them on how to use a mobile phone, shoot photos and videos and the basics of Internet. Then the women are sent out on bicycles with a smartphone and a tablet to teach others in their villages." In a culture where only one in ten women in rural areas has Internet access, the availability of cellphones is a pretty incredible asset, allowing women to purchase items online, research loans for education or businesses or simply read the news. (See From Teddy Bear-Shaped Homes to Cloud RAN.)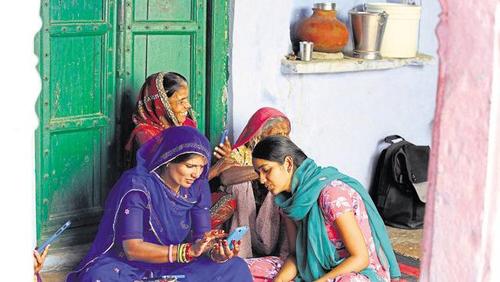 Tech blogs focused heavily this week on Peter Thiel, PayPal co-founder and general venture capitalist around town, and his support of Donald Trump. Thiel said that though he does not support everything the presidential candidate has said, he supports his larger views on business and politics. Backlash ensued in Silicon Valley as many accused Thiel of discrimination. "Keeping Thiel, and others who share the same views, in positions of power, renders any attempts at 'diversity,' 'inclusion' and 'equality' entirely moot," CIO reports. Yet CNBC argues that while Silicon Valley has a problem, it's not just Thiel. "The Valley has a real misogyny problem ... a lot of the people in the Valley who supported Barack Obama have been reluctant to support Hillary Clinton. And I think it is just part of this very deep-seeded misogyny that the Valley has been struggling with for decades," Roger McNamee, co-founder of Elevation Partners, said in the article. (See AT&T Claims Top Ranking for SMB Service.)
Pay gap issues have dominated recent WiCipedia posts, and for a good reason: This is a problem too vast to ignore. Big Think has broken down exactly how large these disparities are in a recent blog, and not just by country or general industry, but also by job. They've also broken down the rare industries in which women make more than men, such as publishing and printing, where women's salaries are 8.7% higher than their male counterparts. The info comes from Paysa, a company that studies technical salaries and disparities between pay. See below for an infographic from Paysa detailing the paycheck differences between men and women in various fields. (See WiCipedia: Parental Progress & Parity Payoffs.)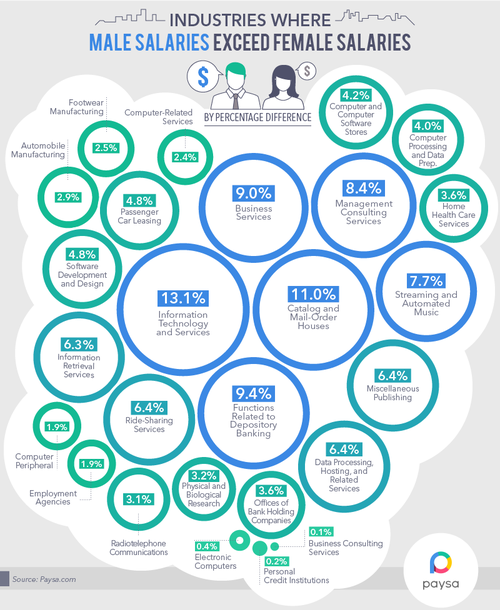 Vodafone Americas has kicked off its ninth annual Wireless Innovation Project (WIP) this week, in search of innovations that will benefit people on a global level. Though the competition is not specifically directed towards women, many inventions that benefit women and children have been submitted and gone on to win in previous years. The press release states that the 2014 winner was "MobileODT's low-cost digital camera attachment for smartphone ... a potential game-changer in reducing cervical cancer." In 2013, the Nexleaf's ColdTrace wireless sensor, which was "designed to help protect children against diseases by remotely monitoring vaccine fridges in order to provide near real-time information on storage temperature and other critical infrastructure issues," took home the award. "In 2016, WIP awarded the $300,000 first place prize to Neopenda, for its affordable wearable newborn vital signs monitor that transmits data to nurses to help provide early detection when a newborn is in distress." WIP will be accepting applications from now until March 6, 2017, and winners will be announced in June 2017. (See Vodafone Americas Foundation Launches 9th Wireless Innovation Project and Vodafone Americas Lays Foundation for Social Change.)

— Eryn Leavens, Special Features & Copy Editor, Light Reading

(3) |