WiCipedia: Icelandic Inequality, Diminishing WiT & Presidential Impact

This week in our WiCipedia roundup: How the US presidency will affect women in tech; Icelandic women protest for gender pay equality; the downward trend of women in tech; and more.
---
Interested in joining Women in Comms on our mission to champion change, empower women and redress the gender imbalance in the comms industry? Visit WiC online and get in touch to learn more about how you can become a member!
---
Girls Who Code and Dell Technologies (Nasdaq: DELL) have banded together in an effort to increase the amount of after-school programs focusing on computer science for girls. The initiative will affect 15,000 girls throughout the US, Healthcare IT News reports. The programs will focus on STEM learning and will include "field trips to expose girls to leading technical organizations and professionals." Dell will be providing resources in the form of "financial, technical and mentorship support." The program's intent is to steer girls in grades six through 12 into the tech economy, where they are desperately needed. (See Dell's Mullen: Leverage Mentors, Find Your Value, Girls Who Code to Host 78 Coding Days in 2016 and WiC Poll: Start Young to Improve the Pipeline.)
It seems unbelievable to us, but somehow there's still a downward trend of women entering into and staying in tech. MarketWatch reports that in ten years, there will be fewer women in IT than there are now, from 24% to 22%. This should serve as a wake-up call, as it's not too late to turn the ship around, according to a report by Girls Who Code and Accenture titled "Cracking the Gender Code." The report stresses that change must start early -- like grade-school early, since, as an article in the SF Chronicle states, "The gender gap in tech ... starts very, very young -- before kindergarten." In order to triple the amount of women in STEM by 2025, instead of losing 2% of the female workforce, 3.9 million girls would have to dedicate themselves to the tech path before graduating college. Girls Who Code Founder Reshma Saujani calls for a cultural shift where we alter perceptions of what girls are good at from the get-go, discarding stereotypes and embracing possibilities. It's only through this cultural revolution that we will be able to increase the percentage of women studying and working in STEM in the near future and beyond. See below for the breakdown. (See Meet the Future Workforce: New Faces, Expectations & Motivations.)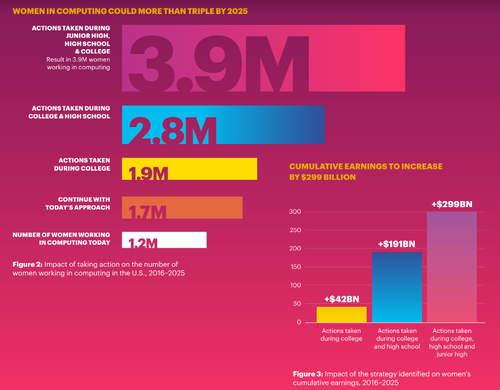 With so much emphasis on the impending US election and the candidates' treatment of and views on women, a look into how either a Trump or Clinton presidency would affect women in the workplace seems in order. Luckily, the political website The Hill has done just that. The article examines how women in tech specifically will be impacted, starting with the candidates' tech agendas. Clinton's plan "clearly emphasizes inclusion and diversity in the tech workforce ... [and] aims to invest in computer science and STEM education ... and increase access to capital for growth-oriented small businesses and startups, with a focus on minority, women and young entrepreneurs," among many other positive changes for women. Trump's plan is far less detailed, leaving much to speculation based on his other comments about women and work. The Hill professes, "...he thinks of women as nothing more than objects and does not value their intellect or ability to be contributing members of society. He seems to discount the potential of over half the workforce." In terms of gender parity, getting more women into STEM and increasing education for minorities, it appears that Clinton has won this particular battle. (See Trump's Telecom Policy? Who Knows? and WiCipedia: Trumpisms, Marriage Penalties & Back-to-School Inspo.)
For women in tech in the US, there's a constant emphasis -- especially on social media -- on the gender pay gap. But what are we really doing about it, and what difference is it making? A movement in Iceland is taking action that physically affects everyone in the tiny country, yet makes a global impact that we can all learn from. Buzzfeed reports that every year in Iceland, women protest work for part of one day. At 2:38 p.m. on Monday, October 24, or Kvennafrí (Women's Day Off), women left their desks (and sometimes schools) and joined together in a formal protest against the country's gender pay gap. This day has been in practice since 1975, and it seems to be working. Iceland currently has an 18% pay gap between men and women; that's in comparison to the average 20% pay gap in the US, reports the American Association of University Women, though the gap varies widely from state to state. While the US pay gap is predicted to remain to some degree until 2152, "Iceland is currently predicted to be the first country to close the gender pay gap. The country's government has pledged to achieve pay equality by 2022," Buzzfeed relays. Check out the video below from @salkadelasol to see the protest in action. (See 2020 Vision Photos: First Light and Happy(?) Equal Pay Day, Ladies.)
Women in Iceland come together to fight for equality, shouting OUT #kvennafrí #womensrights pic.twitter.com/vTPFwfSoVk

— Salka Sól Eyfeld (@salkadelasol) October 24, 2016
A new documentary, She Started It, examines what it's really like to be a female startup founder. CNET tells the story of the film and its directors and producers, tech journalists Insiyah Saeed and Nora Poggi, who followed two founders, Thuy Truong and Stacey Ferreira, for two whole years as they sought funding, battled sexism and advocated for diversity in entrepreneurship. The film was screened at the recent Grace Hopper Celebration of Women in Computing, and Saeed and Poggi have made a goal of showing the film to 1 million women and girls in the next year. Here's info on where to find the inspiring film if you'd like to add yourself to that tally. (See WiCipedia: Grace Hopper Promotes Diversity, Girl Scouts Code & How to Thrive and WiCipedia: Middle Eastern Progress & Founders Fight Exclusion.)

— Eryn Leavens, Special Features & Copy Editor, Light Reading

(3) |