WiCipedia: Edtech Wins, Bitcoin Bros & Looking Towards 2018

This week in our WiCipedia roundup: Women reign in edtech; harassment repercussion laws shift; high hopes for 2018; and more.
---
Interested in joining Women in Comms on our mission to champion change, empower women and redress the gender imbalance in the comms industry? Visit WiC online and get in touch to learn more about how you can become a member!
---
Last week we took a look at cryptocurrency and the lack of women in the industry. This week, another article about bitcoin and women's involvement has emerged from Fortune. The article states that the shortage of women in cryptocurrency stems not from tech but from a lack of investing knowledge: "Why are women so absent from this space? One factor could be that at their core, investments in Bitcoin and other cryptocurrencies are just that: investments. And in every asset class that's been studied so far, men take riskier bets than women -- and cryptocurrency investing is nothing if not risky." This is an important question as Bitcoin hit an all-time high this week with a crazy price surge. As one woman in Bitcoin put it, "There's pervasive gender bias that's in tech in general and that's transferred over to Bitcoin." Yet there's some good news on the financial front. CIO Dive found that out of any industry, the financial sector has the most women in the C-suite -- about 26% compared to the average of 23%. (See WiCipedia: Cryptocurrency & a Sexism Code Word .)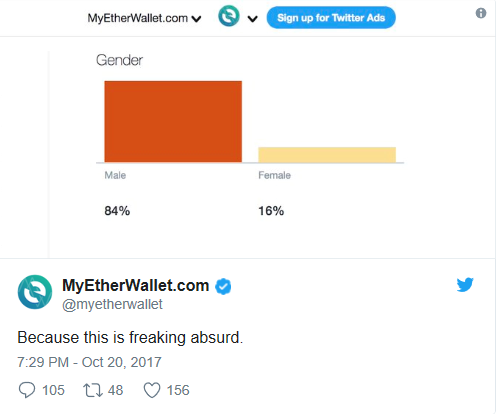 What's one sector of tech where women are doing surprisingly well? Edtech, says this Forbes article. While only 17% of tech companies generally are run by women, edtech -- the marriage of education with technology -- boasts a 34% rate of companies headed by women. This is attributed to the fact that there are more female teachers than male teachers, so the population reflects itself. Dani Pascarella, founder and CEO of Invibed, says, "Edtech ... is one of the quietest multi-billion segments in the technology sector and worth more than $250 billion worldwide. It's also one of the few areas of technology where female entrepreneurs are winning." So far, it's been an under-the-radar sector, but that could change in 2018 as edtech companies gain more funding from accelerator programs. (See Trump Commits $200M to Improving STEM in Schools.)
While tech is no stranger to sexual harassment, the #metoo movement has taken other industries by storm, which is leading some to ask when tech will have its own #metoo moment. Sure, allegations and lawsuits have been swirling for years, but where's the big event that will finally oust the offending men from the industry and give women a fair shot? Vanity Fair asked this very question in a recent article, stating that the harassment in Silicon Valley is different than it is in Hollywood, and that the repercussions -- both for the harassers and the harassees -- will also be different. Though the history of high-powered men silencing accusations with big money and tantrums may resonate with those in the entertainment industry as well, "Silicon Valley has its own unique kind of harassment that in part stems from the fact that many of the people who work in tech have been in male-dominated spaces for so long," says Bloomberg reporter Emily Chang, who is also author of the upcoming book Brotopia: Breaking Up the Boys' Club of Silicon Valley. Hollywood will always need leading ladies to make a movie that people actually pay to see, but does tech technically need women to make a product that people will buy? (See WiCipedia: #MeToo Hits the Valley & WiC Goes to London.)
Speaking of which, Microsoft Corp. (Nasdaq: MSFT) may be the first of the big tech companies to make a substantial change when it comes to how it handles harassment claims, The New York Times reports. The company announced that it had "eliminated forced arbitration agreements with employees who make sexual harassment claims and was also supporting a proposed federal law that would widely ban such agreements." Microsoft is no stranger to lawsuits involving discrimination against women, having recently faced a class-action suit with nearly 9,000 plaintiffs. Politician Kirsten Gillibrand said of the new arbitration policy, "Without the secrecy of mandatory arbitration agreements, serial predators will be less likely to continue climbing the corporate ladder and employees won't be forced to stay quiet about the harassment they have faced at work, which is good for employees and good for business." (See WiCipedia: Momism, Lead With Values & Demand Equality.)
2017 has been a crazy year for women in general, not just in tech. Light Reading is taking the last week of December off to decompress and recharge, and we'll be back on your screen the first week of January. If you're already raring to go for 2018, check out our upcoming Women in Comms Breakfast Workshop held in Denver on March 22, 2018. The topic is "Combating Sexual Harassment in the Workplace," and while we wish this topic weren't so ever-present, it clearly needs all the attention it can get. We can't wait to see you there. Happy holidays! (See WiC Panel: The Upside of Sexism Scandals.)

— Eryn Leavens, Special Features & Copy Editor, Light Reading

(1) |