To recruit more female talent into the next-generation communications space, companies need to look at young candidates -- around age ten, that is.
That doesn't mean seeking out the Doogie Howsers of the tech world, but rather sparking -- and keeping -- young girls' interest in STEM (science, technology, engineering and math), so that they may one day enter the field. According to 31% of respondents to our latest Women in Comms poll, this -- encouraging young girls to study STEM to expand the candidate pool -- will be the most important way we, as an industry, can recruit more female talent into the next-gen comms space. (See Getting More Women Into STEM.)
Other options, which also attracted votes and are not mutually exclusive, include:

Create and advertise family-friendly policies such as flex-time and generous parental leave -- 16%
Fine-tune job descriptions to eliminate bias and be more gender-neutral -- 2%
Institute quotas and make hiring women a mandate for recruiters and managers -- 6%
Look outside traditional STEM degrees and schools to find qualified candidates -- 13%
Make diversity a top-down priority and set public goals without quotas -- 14%
Promote more women internally to create a diverse workforce that appeals to female candidates -- 10%
Here's a look at the breakdown of responses, with the 8% who choose "other" excluded: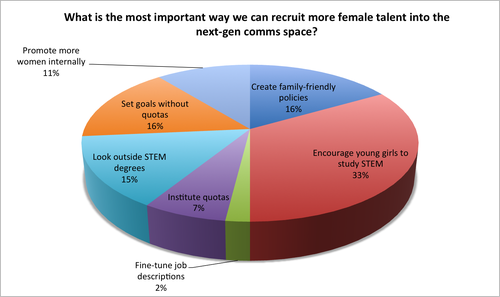 The need to generate excitement around tech, computer science and STEM among young girls is as formidable a challenge as retaining women in the industry. Studies show that their interest in the field tends to drop off as early as middle school, meaning they don't study it in high school and certainly won't pursue a degree in it in college. Even Susan Wojcicki, Google (Nasdaq: GOOG)'s third employee and the head of YouTube Inc. , had to change the mind of her ten-year-old daughter who told her, "I hate computers." (See Grace Hopper: Power to the Pipeline .)
Girls turn away from STEM for several reasons: they see it as a boys' club or nerdy; they're discouraged -- whether consciously or unconsciously -- by their parents and teachers who may reinforce stereotypes like "math is hard;" or they don't see other women in the field who can serve as role models -- just to name a few reasons. (See More Women in Tech Is Critically Important.)
---
Light Reading is launching Women in Comms as a not-for-profit, independent initiative providing information, networking, mentoring, access to jobs and support for women in the next-gen communications industry in 2016. Visit Women in Comms and get in touch to learn more!
---
These are all misconceptions and things our industry has the power to change, however. A number of companies, including Women in Comms members like Nokia, Sprint and AT&T, are doing their bit to reach out to young girls and encourage them to stick with STEM, show them just how cool our industry can be (have you heard about 5G?!) and host code-a-thons that show kids how accessible building the technology of tomorrow can be.
To take a holistic look at the drivers behind the lack of women in comms, you can't ignore the next generation of workers, especially at a time when women in computer science at the collegiate level is falling instead of growing. In the US alone, the industry will need 1.7 million new STEM people in the coming years, and there's no reason why the majority of those can't be women.
— Sarah Thomas,

, Editorial Operations Director, Light Reading