AUSTIN, Texas -- Big Communications Event – In American culture, self-promotion is often frowned upon but it's a very useful tool women can leverage in closing the gender gap, according to Verizon's Srilakshmi Valisammagari, speaking on a Women in Comms workshop panel at the Big Communications Event last week.
As senior technologist and strategist at Verizon Enterprise Solutions in the SDN/NFV Innovation group, Valisammagari is familiar with often being the only female speaker at events. She's also the only female employee in a group of 15 under her line manager. Valisammagari said balancing work and family remains a real challenge for women as they're expected to work long hours and weekends to keep pace with their male colleagues. This expectation puts too much emphasis on hours worked and not enough on actual job performance, which is where self-promotion can give women a leg up, she said.
"All upper management sees is who got the best result and how [employees] get there," she said, adding, "out of 40 hours, only work 36 hours and spend four hours on self-promotion, ladies."
For Valisammagari, self-promotion means actively sharing your successes and finding a network of colleagues that support you.
"I always tell my team to find a smart way of working -- it's not that if you're spending 24-hours on a problem you're going to get rewarded for it. You have to find a quick and efficient solution," said fellow panelist Kaitki Agarwal, co-founder and VP of development for Parallel Wireless Inc. .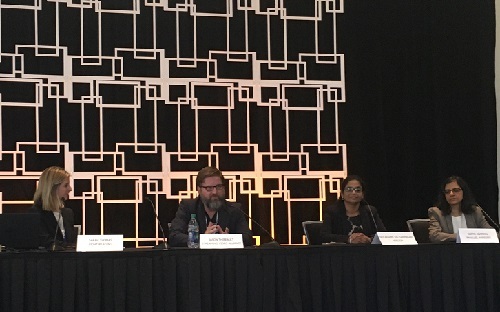 The expectation for employees to work longer and longer hours is indicative that the culture at large needs to change to close the gender gap, said Jason Thibeault, executive director of the Streaming Video Alliance .
"This goes to a bigger problem than a gender gap; this is an American working culture problem -- they don't have this problem in Europe," said Thibeault. "Lots of countries in Europe are pushing toward shorter work weeks, working total less hours, better work-life balance. We suck! We're so focused on being productive, as in 'If I'm not working 24/7, I'm not being productive.'"
Yet cultural change like this will be difficult, said Thibeault. Much can be learned by imitating the more flexible culture of startups and smaller companies, but it could take decades to solve this problem and multiple watershed moments where the "established guard" is continually challenged, he added.
---
Get real-world answers to virtualization challenges from industry leaders. Join us for the NFV & Carrier SDN event in Denver. Register now for this exclusive opportunity to learn from and network with industry experts -- communications service providers get in free!
---
To enact lasting change, the next generation also needs to be involved in this table-stakes conversation, continued Thibeault, and everyone needs to get comfortable with having uncomfortable conversations.
"Be ready to be uncomfortable and embrace it," he said. "This is going to be hard, and these are going to be uncomfortable conversations especially between men and women in the workplace around salary, experience, equality and diversity. It's uncomfortable for me at times to have these conversations in the workplace, but it has to happen. We have to stop shying away from the things we don't like to talk about… no excuses, this conversation needs to happen at every level of every organization if we're going to effect change."
— Kelsey Kusterer Ziser, Senior Editor, Light Reading