DENVER -- Despite numerous very public scandals -- and in some cases because of them -- the technology world is getting better at both attracting women and treating them more fairly, a panel of executives agreed here recently. Speaking at the Women in Communications breakfast at Light Reading's NFV & Carrier SDN event, the group of two women and two men also saw individual action, buttressed by corporate resolve, as key to continuing the progress being made.
Speaking on the topic "What's The Matter With Tech?" Jill Stark, region president of enterprise sales for Sprint Corp. (NYSE: S), said she thinks the tech community "is getting something of a bad rap," because of recent public scandals at well-known tech companies. "There is not a more fun, more fluid place to be than tech," she commented. But when women comprise only 36% of entry-level positions in technology compared to 46% of entry-level positions overall, according to a McKinsey & Co. Women in the Workplace study, that's a problem, Stark added. (See WiCipedia: Endangered Species, 'the Pao Effect' & Bad Actors.)
"It is improving -- for lots of reasons -- and the fact that we are having discussion is good," she commented. "We are continuing the narrative. Scandals that have become public are also good because it shows that there is no tolerance for inaction. If a company chooses not to respond to injustice -- they will face a backlash."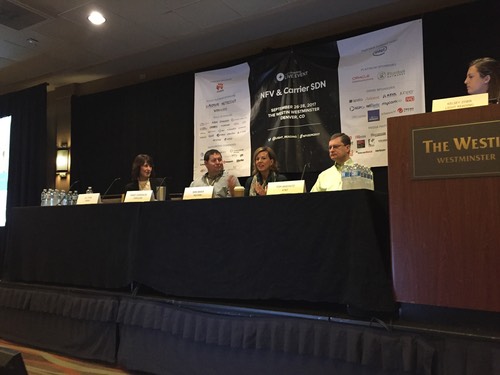 Randy Levensalor, leading member of the network virtualization team at CableLabs , agreed that the bright light public scandals put on bad behavior can be a good thing but also called for more attention to be paid to women in leadership positions. He mentioned Dr. Arianna Hines of CableLabs, a winner of an award for women in the cable industry, as an example.
"You always hear the bad stories, we can use more of the positive," Levensalor commented. "We need to be highlighting those and getting more of those stories out there."
The CableLabs techie also mentioned the importance of individual action on the job -- a comment which became something of a theme for the panelists.
"We don't need to overthink this, if we see something, we need to act upon it, and make sure it's resolved in the amicable way -- a lot of the problem is ignorance," Levensalor said.
There are many smaller things which happen in a discriminatory way but might not seem worthy of formal complaint to a human resources department, said Sara Baack, chief marketing officer for Equinix Inc. (Nasdaq: EQIX). But it is still important to comment on those, in the moment, she added, and women need to develop more confidence in being willing to speak up.
"Women need to be taking ownership to hold others accountable -- people have to be strong enough and confident enough to do that," she said.
---
You're invited to attend Light Reading's Women in Comms Luncheon in London -- a free luncheon collocated at our OSS event on Nov. 1, examining "Why Male Allies Matter" with a distinguished panel.
---
The panelists generally agreed that such action works best when feedback is immediate and offered without overt anger, and possibly even with humor.
"A potentially good approach is see something, say something," said Tom Anschutz, distinguished member of technical staff at AT&T Inc. (NYSE: T). "This works across a whole gamut of discrimination -- if it's a little thing, say something in the moment. If it's a big thing, then you have to take more formal action. Discrimination isn't always sexual harassment -- there is a whole spectrum in between that is deserving of different responses."
Anschutz also said he thinks telecom does a better job than other tech industry sectors, in part to compete with companies that might be seen as more attractive employers. AT&T, for instance, requires managers to undergo training regarding unconscious bias, and those that don't take the training within a given time frame aren't eligible for a raise.
"Sometimes the environment and understanding about inclusion is much more pervasive in telecom as an attractor and something we are trying to use to compete for talent in the marketplace," he said.
The one positive thing about the very public scandals is that they are raising awareness of the problems women can face and also raising the bar for companies that want to avoid public shaming.
Referring to a recent Light Reading WiC survey that showed many women experienced harassment but didn't report it, Stark said that's "there is a long history of sticking your neck out and reporting it and there's retaliation or your career takes a turn or nothing happens," but added that is changing. (See Light Reading's 2017 Survey of Women in Comms.)
"Now -- it can destroy a company overnight," she said. "We are seeing a revolution of intolerance. So now it is the responsibility of us -- when something happens, you have to carry that information forward or you are part of the problem."
— Carol Wilson, Editor-at-Large, Light Reading