AUSTIN, Texas -- WiC at Big Communications Event -- The comms industry still has a long way to go in creating a supportive culture for women to excel, but "if you look holistically, it is getting better," according to Kate Kuehn, the vice president of security for BT in the Americas.
Boingo Wireless Inc. 's Dawn Callahan, Verizon Communications Inc. (NYSE: VZ)'s Heidi Hemmer and Sprint Corp. (NYSE: S)'s Nelly Pitocco joined BT 's Kuehn for a candid discussion on the progress being made for women in comms, company culture and hiring practices during a panel discussion at the Women in Comms conference at BCE last week.
While things are looking up for women in the industry, the panelists agreed that there's still a lot of room for improvement not only in light of recent stories about sexism at companies like Uber, but the panelists also mentioned subtle and overt cases of experiencing unconscious bias in their careers. Lack of diversity in hiring hurts company culture as well as revenue generation, according to the panelists. (See Uber's HR Nightmare: Company Investigates Sexual Harassment Claims.)
"I've read that 85% of technical purchase decisions are made by women," said Hemmer, VP of technology strategy & planning at Verizon. "If we don't have women sitting around the table 'ideating' on new products and services and how we build, we're missing a huge portion of our potential customer base, which really is the bottom line."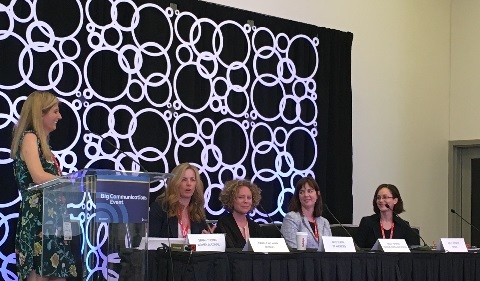 Kuehn also warned against women undermining their own careers by discounting their skill sets -- 80% of women that apply for security jobs don't apply the first time because they don't think they have the skill sets," she said.
Effecting lasting, positive change for women in comms and creating a diverse workforce starts with fostering an inclusive company culture that welcomes and rewards new ideas and mentors future generations. Callahan, Boingo's CMO, described how Boingo's "bring your girls to work day" changed to "bring your kids to work day" -- it's important to expose both boys and girls early to technology career options so they grow up with the understanding that this industry is open to anyone. Kuehn echoed the importance of mentorship, but also the need for apprentice programs and continued education in driving promotions from within. (See How Boingo's Dawn Callahan Swallowed Fear & Tasted Success.)
To drive internal promotions, the panel emphasized the value of establishing a meritocracy that rewards good ideas in addition to a top-down, consistent message on inclusivity. For Sprint, diversity developed organically from the type of talent the company pursued, said Pitocco, the carrier's vice president of enterprise. (See Sprint VP Breaks Down Gender Stereotypes .)
"Diversity and inclusion just came about because we needed to have results-driven people," she said.
The panel also discussed "non-organic" methods for driving diversity such as hiring quotas. However, hiring quotas can be a "double-edged sword," said Kuehn, because encouraging diversity in the workforce is important but employees could question whether they're a good leader or just filling a quota. The panel agreed that quotas are overall less necessary nowadays and have the potential to create divisiveness within in an organization. (See Quotas Wrong Way to Boost WiC – Panel.)
"When you have quotas, you put a question mark over folks that get the job," added Callahan. "'Did she get it because she's a woman or because she's the best person for the job?'"
The panel wrapped with a few audience questions; one audience member asked for advice in navigating not only challenges for women in tech, but polarizing viewpoints from different generations -- millennials and Gen X, for example. The panel agreed that it's important to help educate Gen Xers about the value of collaborating with millennials, who can offer a new perspective. Diversity of opinion across a range of demographics also creates a more cohesive company culture. (See BT's Security Boss: Tech Has No Age.)
"I think it's important to remember that we're all not just a label," said Callahan. "Yes, I'm a woman; I'm a Gen Xer too, but I'm much more than that. At times, we talk about groups of people and can get boxed in by that. The more that we have opportunities where we sit down and [examine] how we look at something … you get to learn a lot about other people, and why you think about them a certain way and why you might be wrong."
— Kelsey Kusterer Ziser, Editor, Upskill U