As SAP's Chief Information Officer and Chief Process Officer, Ingrid-Helen Arnold is in charge of streamlining and rethinking internal processes at the company, making sure they match up with SAP's cloud and platform strategy. It's a huge job considering the company has more than 77,000 employees and offices in more than 130 countries.
But it's also a job description that meshes well with her passion for rethinking internal approaches to diversity and gender equality as well. Improving SAP AG (NYSE/Frankfurt: SAP)'s gender split and recruiting practices isn't in her job description, Arnold says, but it's an undertaking she felt compelled to take on.
And, it's paying off too as SAP makes progress towards its goal of having 25% women in leadership positions by 2017 and was recently recognized for its diversity efforts in the US. (See SAP Tweaks Its Software to Improve Recruiting and SAP Awarded Gender Equality Certification.)
Arnold addressed the crowd at last night's pre-Mobile World Congress Digital Women networking event that it co-hosted with Women in Comms in Barcelona to share how else SAP plans to make diversity an institutionalized part of life at SAP. She caught up with WiC ahead of the show to share her thoughts with us as well.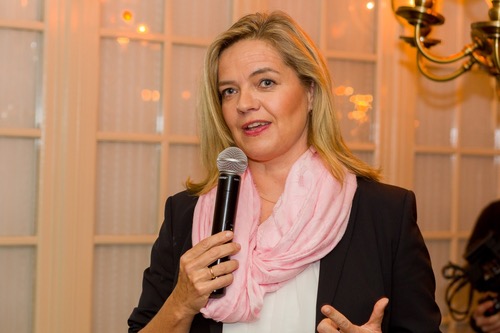 ---
Women in Comms first networking breakfast of the year will be taking place on March 10 in Denver. Register here to join!
---
Women in Comms: Is promoting gender equality and diversity at SAP something you were tasked with as CIO or has it always been a passion of yours?
Helen Arnold: I don't need to be tasked with it. I'm absolutely a believer. I am confronted with gender differences on an everyday perspective. I'm actively promoting women in the next career step. I, unfortunately, sometimes have conversations where I need to talk some of my best, most talented women into taking this next career possibility. I tell them, "I believe in you and everyone will be at your side to make you successful." Sometimes for women, they feel encouraged and step into that role and feel amazingly successful. They always tend to hesitate and see if they are really ready for it, and "What if I were to have my family plans materializing in the next year?" These are thoughts you should put aside and grasp the next great job. Make sure you are passionate and successful. If you then have some time off for your family, that's fine, but you return in a position of strength.
SAP is very flexible. This is where technology comes into play. We enable each individual with virtual technology to make sure they can work from anywhere in the world from anytime and any device. We have home offices already established. You can make sure you have your corporate network in your home to facilitate this. This is part of making sure you can combine both sides -- family and professional, and enjoy both.
WiC: What's your biggest piece of professional advice for women in the next-gen comms industry?
HA: I think it's about raising your voice. Make sure you're going to be heard and you're not uncomfortable about your personal achievements. The males are much more vocal. We need to step up and be very confident. We have a quality level requirement where we always feel we need to be 150% before we present. This doesn't mean you trade quality for time, but very often I feel women are not really building on all the potential they have and collaboration we enable.
WiC: The topic of our upcoming WiC breakfast on March 10 is "building your brand." Why is this so important, and how do you go about doing it?
HA: When you look into branding, we do not even think about our own branding. What do we stand for? What are our strengths, and how can we articulate our strengths, ability and vision to be more crisp? You have to make it understood and heard in a male-dominated world. My advice -- what really is helpful -- is to go through a professional curriculum on branding. There are many facets. I would really recommend to every woman to go to a professional branding workshop. It is very helpful. It's a unique experience. It's also about being authentic. What's your inner drive?
WiC: As a leader at SAP, how do you practice inclusive leadership?
HA: In the digital environment we're living in right now, from a leadership style, what's required is changing. It is the power of community. It's about teamwork, building the bridges, looking into cross-functional team set-ups. It's a company culture to establish. It has to be driven from the top as a core priority into the organization. It's really hard work. Preaching diversity is easy but living it in an everyday perspective is completely different.
It's essential to have a virtual community set up so that women can be part of a team virtually and take part in team meetings. It has to do with technology as well enabling it. It's a comprehensive view to take of diversity. It's not only about gender; it has many facets. How do you do make decisions, what's your belief and team power? How do you communicate that into the organization? Do you believe in it in your ground teams?
WiC: Is the tech industry getting better or worse for women, and what role is technology playing?
HA: I think in our industry, we really made a big step forward. If I think back two years when I first joined the managing board -- yes, there is more awareness and better discussion with the young generation. Having diverse skillsets as well as different cultures are what makes up our success. For my company, I'm absolutely amazed that the percent of women in management is changing in the right direction. Slowly still, but that's really the case.
I also see many more women encouraged to speak up, because there are many events now taking place. The speaking up part is very essential in a male-dominated area -- more so than titles on the business card and hierarchies in an IT world where innovation is a continuous process. When diverse opinions are heard and valued, women tend to feel safer to speak up. That's essential. For our industry, we are on a good path. It's a culture thing too. In Germany, there is still a ways to go.
The general diversity topic is very much culturally related, and society and education play a part. Everything plays together in the end when you are looking for a strong female pipeline that's technology based. Is it sufficient? Of course not. There are many things to get better on.
Overall, I think technology and digitization is changing a lot in favor of gender equality. There are different requirements to be successful, and we do see women succeeding more in this environment. When you look at software design and what makes software successful, it's about customer adoption. Empathy for the customer is playing a major role in laying the foundation for successful software. This is more in our DNA from a female point of view than in men. I'm delighted to see that happening. We'll see an acceleration from that perspective in another year or two.
— Sarah Thomas,

, Editorial Operations Director, Light Reading