It's safe to say that Gabriella Styf, vice president of engineering for Telecom Italia, is an "idea woman." She's only been at the operator since January, but she's already gone through through thousands of ideas that have come across her desk.
That's because she's also in charge of Telecom Italia Lab and Telecom Italia (TIM) 's startup program, which has generated 8,000 ideas since it was launched in 2009. (See Telecom Italia Taps Startups for 8,000 Ideas.)
Since Styf came on board, she has combed through the ideas, identifying innovative startups with potential new business opportunities for the carrier and helped support them from ideation to business development to testing the technology and everything in between. The program has supported 300 startups in six years, even selecting 21 to become suppliers for Telecom Italia.
Styf spoke with Light Reading both about the startup program and her experience as a woman (and an engineer!) in the communications industry, including her work with Women Up, a year-long global leadership development program. Read on for more.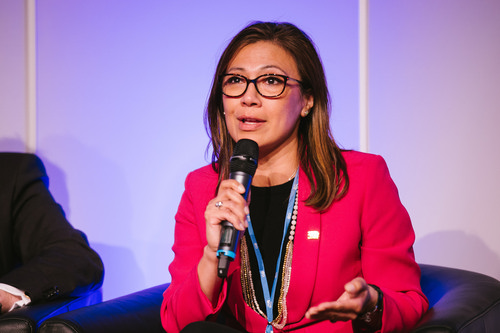 ---
Mentor Mondays will be a regular feature on Light Reading's Women in Comms site here on Light Reading. If you are a female leader in the comms industry who would like to share your perspective, please get in touch!
---
Light Reading: What is the number one challenge for women in comms that is different from the challenges faced by men? What was your biggest hurdle?
Gabriela Styf: One of the biggest differences [between men and women] is how we network. I was a participant of a program called Women Up, a Hillary Clinton initiative initially deployed in 2012 in the US and last year in Sweden. I was a participant through my previous Swedish employer in Sweden where 30 women were selected from different parts of the industry, ranging from CEOs to founders of startups to banking and so on.
The reason it was established, apart from offering an Executive Leadership training led by McKinsey and its Center Leadership program, was to enable the participants to establish a wider network and also external mentor program. It has been identified that one of the biggest challenges women face is that their network is usually not as big as men's, in addition to the fact that the way women network is different from how men network. The fact that we women are few gives us fewer women to network with.
We consider a lunch with another female colleague leisure. A man would see it as business. Usually we say, "I don't have time to have lunch because I have so much to do." You have to remember even going out to the forest to pick berries, if you talk about business, that is a business meeting.
LR: What is the biggest advantage to being a woman in the comms industry?
GS: I think the big advantage is that in a world that is so extremely male dominated, we do bring in diversity and different thinking. I consider myself very lucky in my current situation. I have wonderful colleagues and peers who are very curious and try to leverage on diversity. If you manage to land in an environment where there is curiosity and respect, your diversity will be leveraged.
The biggest value of diversity is when you really believe in it, as believing in it will lead to value creation, creativity and more innovation. To do that you need people curious about other people not like themselves and respect that there are different ways of viewing things and approaching them. It is about listening and taking in other people's ideas.
LR: How can we, as an industry, encourage more young girls to enter -- and stay in -- the comms or STEM space?
GS: It needs to start from school and education... It is interesting how teachers approach what a girl is good at and what a boy is good at, and how we sometimes encourage them. As an industry, we need to go down to middle school. It starts there. How do you encourage girls to be interested in sciences? Make it more fun for them and make them understand and believe in it. I was in schools where people told me, "Science is difficult so girls won't apply." Such a statement already judges that boys can cope with difficult subjects more than girls. If the teacher in early school years already has that mindset, you won't get girls interested in those subjects.
I've been part of many ICT girls' days giving speeches. It's quite interesting the perception they have about our industry. I ask them, "What do you think my job is like?," and they say "It's a lot of men, very rigid; boring." I tell them I travel around the world and have a job that can positively impact how society evolves, by enabling better connectivity between people and businesses. When I tell them that through my job I have had the opportunity to live in eight countries, among them Hong Kong, they get excited. I tell them that sciences is global. Engineering enables traveling and working anywhere. So I go back to my point of how we encourage girls very early on that they can, that it is fun, and that it gives enormous opportunities. It all depends on how you pitch it.
To keep a woman in this industry is a different thing. It has more to do with the corporate culture of our industry than anything else. There are 20 traits of leadership, and there are theories that show that out of these 20, there are seven or eight that are more common in male leaders and others that are more common in female leaders and some common for both. It doesn't say all women are one way or men are the other: It's mostly men; mostly women. In companies where you have few women in leadership, it's not necessarily that they are against women in leadership positions as such, however, the leadership traits that are traditionally stronger in female leaders are not considered important in that corporate culture. In such a company, you will also find few men in leadership positions that possess those traits.
What is most important is to have a culture of diversity. Of course we need more female leaders and females in general in our industry. I'm a great supporter of that. But a good start of the discussion is asking, how much true diversity do you have in your company? One important aspect of diversity is gender, but it can also be backgrounds, nationalities, experiences, ages. There are many things that are criteria that are important for good diversity; women being one of them.
I personally don't believe too much in quotas. Sometimes you have to use brutal force to measure and create change. The drawback with that is you might generate a situation where people say, "She got the job because she's a woman." You are not doing that woman a favor. She probably very likely was the most skilled one, but people are starting to say she got it because she was a woman, not she got it because these are the leadership traits we are looking for and this individual possesses these.
LR: Are there any programs you or your organization are involved with that you'd like to highlight?
GS: At the moment we don't have any particular programs but, personally, I am looking into this and hopefully by the end of the year we will have kicked off a few.
LR: As a leader, what is the number one piece of personal advice you would give to help women achieve their goals in a male-dominated field?
GS: Women need both sponsors and mentors. A mentor is someone who will coach you. They will listen to you and be someone who can say, "I've bumped into a similar situation; this is how I solved it." They won't tell you what to do but rather coach you and help you ask the right questions. A sponsor is someone who says, "Yes, I know [her] and will recommend her for the job." A mentor will not necessarily go in and sponsor you for a job.
What women need is more sponsors beyond their immediate manager. The best sponsor is someone who is above your immediate manager, what often can be called "the grandfather." Here once again comes in the value of networking widely and on all levels, something women usually don't pay too much attention to.
— Sarah Thomas,

, Editorial Operations Director, Light Reading