Promoting Women in Tech is not lip service for AT&T, and it has the numbers to prove it: Of its approximately 250,000 employees, 85,000, or 34%, are women, 20,000 of which work in STEM roles and about 5,000 of which hold patents.
AT&T Inc. (NYSE: T)'s President of Partner Solutions Brooks McCorcle shared these impressive statistics in a recent radio show on the The New IP, as part of a larger talk about her work transforming the way the carrier does business with wholesale and enterprise customers. (See The Collaboration Imperative , The Winds of Change and AT&T Takes 'Startup Mentality' to Wholesale.)
A 24-year AT&T veteran, McCorcle has also been a big advocate for women, helping drive AT&T's programs, both internally and externally. In the following Q&A from the radio show, McCorcle touches on everything from being a recovering perfectionist to the many programs AT&T has to support females of all ages to why it's important to speak up (as she will be doing at our next Women in Comms breakfast breakfast in Dallas next month!).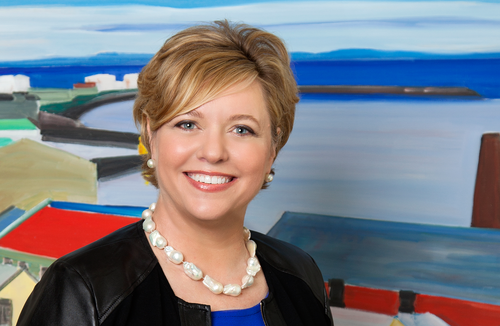 ---
McCorcle will be a keynote speaker at Light Reading's upcoming Women in Comms breakfast ahead of the NFV Everywhere show in Dallas on September 16. If you're a woman in the industry, please join us by registering here!
---
Light Reading: What is the number one challenge for women in comms that is different from the challenges faced by men? What was your biggest hurdle?
Brooks McCorcle: The one thing I see as a barrier for many women is that we feel like we need to be perfect. We have to have all the right skill sets going into something, and we're afraid to raise our hand unless we feel like we have all of that. I'm a recovering perfectionist myself, and as soon as I could let go of that, I realized that I can surround myself with talent, and I am a resourceful person. If I don't have the answer to this, I can go find someone who does. When you can do that, then you feel more confident to raise your hand, and say, "Hey, I'd love that opportunity. I'd love the chance to do that. That sounds scary but really exciting. I can do that." I find that many of my women colleagues talk about this sort of thing a lot, because it's really important for us to be building that next group of women leaders.
LR: What is the biggest advantage to being a woman in the comms industry?
BM: You have the ability to share your experience and tell your story like we will do here in Dallas together and really help inspire that curiosity. People might be surprised at this, but we have about 250,000 people and about 85,000 of those are women, about 20,000 of them work in STEM roles and about 5,000 of them have patents. We actually have a really rich resource of women working in STEM. Just think about the power it brings to the marketplace, to the industry, to future women leaders just to tell that story about how AT&T has invested and is investing in women.
LR: Are there any programs you or your organization is involved with that you'd like to highlight?
BM: We have Girls in Future Technologies that was launched by Women of AT&T, which is the largest Employee Resource Group that AT&T has, and it's really about engaging teen girls in technology. For the Girl Scouts, we have funded "Imagine your STEM Future," which gives them a chance to experience hands-on STEM learning. We have Girls Who Code, which we donated $1 million to. Again, it supports experiential computer science-based learning programs, especially for the underserved girls in New York City. It's a great way to get girls involved and curious about computer science and about technology.
It's not just with girls, but we have founded a program with the Institute for Economic Empowerment for Women that actually helps women get educated about starting their own businesses, specifically focused in Afghanistan and Rwanda. So, when you think about it, it's not just our girls, but girls and women around the world.
Me, personally, I mentor a young woman through Big Brothers and Big Sisters, so it's not just about how my company has gotten engaged and how I get on a stage and educate others, it's also about those one-on-one relationships. We just can't underestimate the power of sharing our stories with each other, advocating for each other and reaching out one on one to support each other. It's a huge way we as women can lead in technology. I'm extremely excited about women moving forward in technology. The sky's the limit. I couldn't be more excited to be in the industry and share my stories and support other women.
LR: As a leader, what is the number one piece of personal advice you would give to help women achieve their goals in a male dominated field?
BM: I don't think of myself as a female leader; I think of myself as a leader. I just happen to be female. It's important to establish your brand early on. What will you be known for? For me, I'm financially driven; I try to communicate crisply, cleanly and persuasively. I try to advocate for others. I think it's important for every woman leader to say, "What do I want people to know me for?" and really stay true to that.
Raise your hand. Don't be afraid you don't have all the answers... Be willing to raise your hand and go for it and recognize you can pull together with your resources what you need to move forward. My advice about going to the customer I think has always served me well. Whenever I feel uncertain about something, I just go ask my customer. "Tell me what you think. What do you want?" It's amazing when you think about the resources at hand. You don't have to have everything perfect on day one.
— Sarah Thomas,

, Editorial Operations Director, Light Reading