Three quarters of all women self-identify as very or extremely ambitious, yet something happens when these women advance in their careers -- the ambition wanes as does the support they receive in the workplace. Many of these highly ambitious women end up opting, or being nudged, out of the workplace.
This is what Bonnie Marcus, a career coach, author and former CEO, found from surveying 615 professional women for the white paper, "Lost Leaders in the Pipeline." She found women tend to get stuck at the middle-management level for personal reasons -- lacking the confidence to put their name in the ring for promotions -- and institutional -- unsupportive work environments, being pushed into support roles and being taken off the fast track when they start families.
In advance of Women in Comms' panel discussion tomorrow in London focused on "the middle-management muddle," Marcus shared her thoughts with us on why things get sticky in the middle and what women can do to take ownership of their career despite the challenges. (See Why Women at Work Get Mired in the Middle.)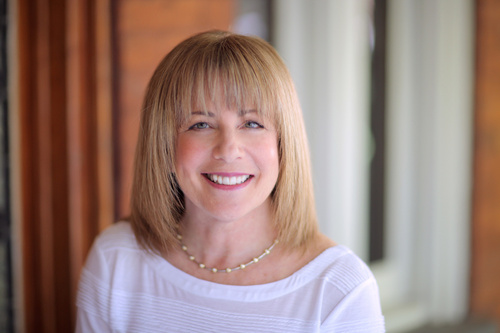 ---
Women in Comms' last networking event of the year is coming up TOMORROW in London at Broadband World Forum. We hope you'll join us! Find out more and register to attend
right here!
---
Women in Comms: Based on your research and experience, do you think it's true women tend to get stuck in, or fail to advance from, middle-management positions?
Bonnie Marcus: I've heard it referred to as the marzipan layer, but women do get stuck there and it becomes a real problem for women who definitely want to reach leadership positions. If you look at where women fall in the pipeline, you'll see the majority fall in middle management. A lot of it has to do with women opting to take staff roles, rather than line jobs, that put them out of the leadership track or having women have their managers channel them that way. There are less opportunities for women to move up to leadership positions. Men are offered the jobs much more quickly and women also hold themselves back because they don't step up and volunteer for them. We tend to think we need to be 150% qualified.
What I think is really important is that high potential women who aspire to be in senior leadership positions should be identified early on and put on a leadership career track, so they don't get lost in that marzipan layer and in the pipeline. When women feel there is a definite career path for them and they can see it and it gives them different experiences across the organization, then they can see that the company is invested in them and can see their way to taking a leadership role. Otherwise, it's left to chance. We change jobs, go from one manager to another and in some ways we need to start all over again and we lose that support and the leadership track.
WiC: How can companies go about identifying and nurturing high-potential women?
BM: I think it needs to happen early. My research shows that if you look at women and the relationship to ambition, you see that they enter the workforce with a great deal of ambition. My research showed that of women across all ages, 74% self-identified as very or extremely ambitious. That's huge. After about five to ten years in the workforce, it begins to diminish -- not because they are having a family, but because they lack the support and encouragement over the course of their career to stay on track. Companies that identify these women early and put them on career leader tracks are less likely to get lost in the pipeline.
WiC: It's not just failing to advance, but women also tend to leave the workforce around the time they reach middle management. Why do you think that is?
BM: Research shows women don't necessarily want to leave the workplace. If they have support and flexibility -- perhaps if their company provided options to work remotely or to ramp on for a short time after they have children but keep them marketable with special assignments -- the women would stay engaged. The premise is we lose future leaders because companies don't know how to retain them and support ambition over the course of their careers. Very often, you bring on high-potential women, they get a lot of attention initially, and then they get lost.
The bigger issue is they are stuck when they come back to work. That is clouded by a lot of false assumptions about what women want and need -- that's pretty pervasive in the workplace. We assume they want to slow down when they have a family; we assume they don't want to take special assignments or want to travel. In my book, I interviewed a lot of women, and one said she was on the fast track before maternity leave in a very competitive industry and company, and when she came back, all of a sudden she didn't get any special assignments. She went to HR, who said they assumed she didn't want to travel now that she had a baby. She had taken a lot of steps to making sure she had coverage and could resume her career as it was before. The real message is those assumptions sabotage a lot of women in the workplace.
WiC: What should companies do to help their employees achieve a work-life balance without counting them out at any point in their careers?
BM: I think companies need to approach it more like work-life integration, not balance, for both women and men. You see more Millennials pushing back on the 24-7 ideal worker stereotype that a lot of corporate environments support as the only way to get ahead. Companies need to drop the "work until you drop" culture and begin to reward employees based on merit and performance. There are a lot of ways companies can adopt innovative career paths and offer much more flexibility and support for women and men who want to stay engaged and in the workplace. Because a lot of women tend to reach middle management at the time they're having a family, it makes it much more of an issue. Women will tend to opt for jobs they don't think would have as much responsibility, but those jobs don't necessarily lead to leadership positions.
WiC: Why should companies make promoting women to the highest levels a priority?
BM: First of all, there are some very strong business cases for why it makes sense for women to be in the higher echelons. It's been proven time and time again that companies increase their profitability, so it pays to have more gender diversity at the upper levels. A lot of companies don't realize the extent to which they need to adopt innovative career paths that would help women stay engaged. The traditional culture of workplaces pushes women out the door. Companies don't understand women and what it takes for a woman to sustain her ambition over time. It's important to have mentors and sponsors and role models. Its important for anyone, but especially for women to see there's a path to be successful at that company. The company is invested in her potential as a future leader. I think companies invest somewhat, but do it almost in the dark because they don't understand what the high-potential women, the future leaders in the organization, need to sustain that ambition they start out with over time.
WiC: Is it a matter of improving the company's culture or creating policies to help?
BM: I've seen both. Some companies pay lip service to diversity. Some start a women's network and think they've checked that box. Why aren't women moving forward? Why isn't that working? Or they'll buy an off-the-shelf program like a leadership program and put some women in it, but that doesn't address all the things women need over the course of their career. It may give them skills, but doesn't help them at different stages of their career.
For a company, I think that if you are committed to advancing women, you need to better understand what the women in your company and industry need to be successful and stop making assumptions and developing programs that may have no impact whatsoever. Start with a custom assessment and maybe some interviews to get a better understanding and then segment that by age and tenure to really look at the data you have when women are leaving. How long they are in certain positions? What is the movement like? When you look at the data and the interviews and results of the assessment, you have a lot of great information to say, "OK, here's what we should do that will be very effective."
WiC: What is your advice for women to stick with it even when things get challenging?
BM: For women, it's important to own your ambition; to self-identify yourself as someone who wants to be on a leadership track, who is invested in staying with that company and is looking for support from that company and their manager to move forward. They are looking for sponsors or mentors. They are looking for networking opportunities with senior management. They are looking for special assignments. Don't be afraid to throw your hat in the ring.
But I think women have a very strange relationship with ambition. I was surprised when I did the research how many said they are ambitious and they have no problem with other women who are ambitious. They don't think it's a negative, but in our society, that's really a strong relationship between the way our society sees an ambitious woman and someone who is a bitch or pushy or way too aggressive. I don't think you need to come across that way to let people know that you are invested in the company and in your career and you want to move forward. It's important to understand the culture in your organization and how you position yourself, but it's still important to own it and demonstrate to the people that make those decisions, that you want to be a leader in that company.
— Sarah Thomas,

, Director, Women in Comms