Ixia CMO Marie Hattar ran into the "glass ceiling" 18 years ago as an engineer, and it ended up causing a career pivot that accelerated her career in a new direction. It worked out for the best for her, but she's hopeful women today either won't hit a ceiling -- or will at least take a hammer straight to the glass if they do.
Hattar grew up traveling the world with her parents, spending a lot of time in war-torn regions where her dad, a doctor, could help the sick and wounded. As a result, she had ample exposure to many languages and cultures and developed an interest in computer engineering along the way. She got her degree in electrical engineering -- one of two women in a class of 100 -- and went on to work in the field for several years.
This is where the glass ceiling came into play. Hattar felt both internal and external pressure to pursue marketing and saw her career plateauing the longer she stayed in engineering. For her, making a shift to product development and marketing did allow her to accelerate her career growth, as well as use her technical know-how to effectively and succinctly communicate marketing messages.
She is now happily the CMO of networking testing and security vendor Ixia (Nasdaq: XXIA), but not without a twinge of regret for exiting engineering, which was her first real passion. Her hope is that other women won't be forced to make a choice.
Hattar, a finalist for Women in Comms' Most Inspiring Woman of the Year, talked to Women in Comms about how the glass ceiling dynamic has changed, what she's learned, how other women can preserve despite challenges that might arise and more. (See WiC Leading Lights Finalists: Most Inspiring Woman in Comms .)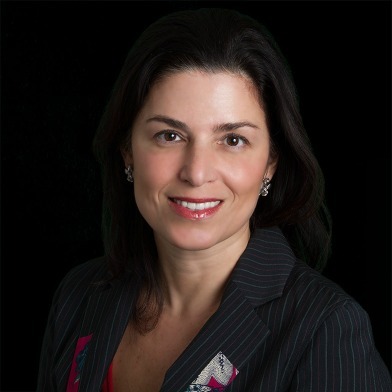 ---
Interested in joining Women in Comms on our mission to champion change, empower women and redress the gender imbalance in the comms industry? Visit WiC online and get in touch to learn more about how you can become a member!
---
Women in Comms: Tell us a bit about how you got to where you are today.
Marie Hattar: When I graduated, I worked as an engineer for a number of years. I hit a glass ceiling at some point where for whatever reason people would ask me if I was in marketing. I thought, "I was top of my class in engineering, why would you ask if I were in marketing?" Essentially, I hit a glass ceiling in engineering. At some point, I thought, "okay I still love my work, but I also want to personally progress," so I shifted over to product management at that point.
It was interesting, because as soon as I shifted to marketing, my career tremendously accelerated. I had been in same position in engineering for eight years and couldn't break through. Shifting to marketing, I was able to work on a lot of different facets of technology. In product management, I was still very close to engineering but as my career progressed, I saw the many facets of product management and marketing. Having that engineering knowledge was really valuable, in general, and I've also had a creative flair. The two together did make me well suited for marketing.
I have to admit, I wish I would've been able to progress up the engineering ranks 15 to 20 years ago, because that was my first passion. I joined multiple companies, went to Cisco and progressed nicely at Cisco from a senior director to a vice president. I enjoyed security so when an opportunity arose at Checkpoint, it was a great move, and when Bethany [Mayer, Ixia CEO] approached me about Ixia, I felt compelled to come here because I always felt Ixia had innovative technology and they were in need of someone who could take their story more public.
WiC: Do you think the glass ceiling you experienced in engineering was a result of the company you worked for or the field of engineering for women, in general?
MH: I would say it was about 18 years ago, so I'm hoping things have shifted and changed. At that point, I exited because I always felt that at the time I wasn't as good at showing off and beating on my chest to say "look at how great my stuff is." I felt someone would realize the great work I was doing and I'd progress. That was naive. As a female in engineering, no one was telling you this was what you should do. There was this subliminal thing that was indoctrinated in you in engineering school that the good work would surface and people would realize you did something great.
Now I look back and realize I could've done with some good coaching from a business mentality to say that, "Yes the good work will surface, but it doesn't hurt for you to showcase it as well." The fault wasn't purely the company. Back then there were no programs to help women advance or give them business coaching or give them ways to lean in. They were at a loss. In today's environment, does that glass ceiling exist? Possibly, but I say there are a lot more tools to help women break through it.
WiC: Since you've joined Ixia, 63% of your new hires have been women. Has this been a conscious effort on your part?
MH: I don't set out to hire women. I always seek to hire the best candidate. I've been fortunate that the best candidates coming forward have been women. It was not by design... If it happens to be a woman, that's great. If it's a man, that's great. I'll always hire the best. I would point out that if you are in that leadership position as a woman, your tendency may be you are much more open-minded to look purely at the skill sets as opposed to if it's a guy or girl. That could sway the hiring more than anything else. It could be the camaraderie that could happen. Again, this is more anecdotal versus something I've seen in evidence. Once I exited engineering, I have not felt anything but total support on the progression of my career.
WiC: How can other companies make recruiting women a priority? What worked for Ixia?
MH: Put more women in leadership positions. When you come to a company and realize you're the only female in a whole room, you want more women there. Make sure you think through your workforce balance and that you are putting women in those leadership roles. I really look to seek out the best candidates, but what happens as a result of me and our CEO being female, we do tend to get a lot more applicants being females.
WiC: What can we also do to improve the pipeline of female candidates for the comms industry?
MH: It depends on the area. Do I think some females struggle in getting some roles? We read book after book about how few boards have women in them and how few there are in leadership. We are going through an ongoing revolution. I get excited to see big companies having women as CEOs, like IBM, HP and Ixia. It's great to see forerunners putting that leadership role in a woman, and it's usually the most deserving candidates as well.
It opens up your purview. We're a society so how we regard things is so often influenced by what we see others doing. My daughter was writing an essay on peer pressure. It doesn't change as you get older; it just shifts a little bit. When you look around and see others doing it, you're much more open to doing it. If you look around and it's all completely a male-dominated environment, you might think twice about introducing a woman. It takes a pioneer to do that. When you see it as more common, that pressure is removed and people start putting the best candidate in the position.
WiC: What advice do you have for women just starting out in their careers?
MH: I would say to make sure you are driving and following the career of doing something you enjoy and find interesting, because that's where you'll shine. Be brave and don't be shy about your accomplishments... I'd also advise them to not let go of the creative elements. The creative aspect can't be commoditized. I encourage them to balance out the technical with the creative facets, because that really provides unique combinations and a unique point of view on what you can offer any company.
When I seek out people I hire, I am looking for smart but also very pragmatic people; someone who can communicate succinctly. Sometimes people want to flood you with data overload and hope you can find the information. I like people who can net it out for you quickly -- have the background data to back it up, but really net it out to three things. These are the type of individuals I seek out in my organization.
— Sarah Thomas,

, Director, Women in Comms