Google is making its salary determination methodology, which it claims to be gender-blind, public to strike back at US Department of Labor allegations that it has an extreme and systematic gender wage gap.
The US Department of Labor 's Office of Federal Contract Compliance Programs claimed last week that Google (Nasdaq: GOOG) systematically underpays its female employees across its entire workforce, just days after Equal Pay Day and a Tweet from Google celebrating that it had closed its gender wage gap globally and its racial pay gap in the US. (See Equal Pay Day: Time to Get Paychecks in Check.)
Google immediately called the allegations false, and expounded on that Monday evening with a blog post from its Vice President of People Operations Eileen Naughton. She writes that Google's scientific and robust annual analysis is more than 95% accurate. Essentially, Google determines its base salaries based on role, job level, location and current and recent performance ratings; gender is not made aware to the hiring manager. The manager can then make a case for an adjustment with legitimate rationale, but salaries of employees in the same job category are then put through a pay equity analysis (see below) to ensure there are no inexplicable discrepancies by gender. Any that come up are adjusted, she says.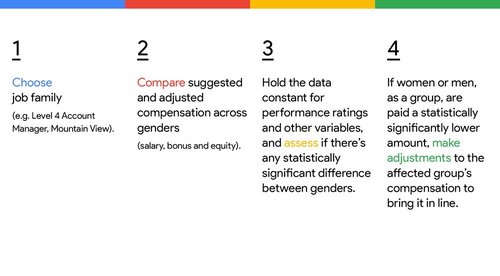 Naughton also reiterated that a late 2016 analysis of Google's pay in 52 major job categories showed no gap in pay by gender. The Department of Labor has yet to publicly respond to Google's analysis nor to provide evidence to back up its initial claims. Prior to Google's post, DoL solicitor Janet Herold told the Guardian, "The investigation is not complete, but at this point the department has received compelling evidence of very significant discrimination against women in the most common positions at Google headquarters." The Department of Labor also sued Oracle Corp. (Nasdaq: ORCL) earlier this year, alleging it pays its male employees more than females. (See US Sues Oracle for Pay, Hiring Discrimination.)
Google and the US Department of Labor have been butting heads for a while now, after Google declined to turn over requested data on employee comp in a September 2015 audit. Google is required to share its data because it is a government contractor, but the search giant said this was a violation of privacy and noted that it had already turned over thousands of documents for 18 different requests.
---
Women in Comms' biggest event of 2017 is coming up on Monday, May 15, ahead of the Big Communications Event in Austin, Texas. Register here to join us for a networking luncheon with top-notch keynoters and panel discussions!
---
The Department of Labor cracking down on perceived wage gaps comes at a time of increased scrutiny of the tech industry's treatment of women in general. Regardless of whether it can prove its case against Google, that the gender wage gap persists has been evidenced across many industries and geographies. The Institute for Women's Policy Research says the gap won't close until 2059, and the onus is on companies to ensure they are paying their workers equitably and increase transparency around the wage and diversity dynamics of their workforces. (See Investors Pressure Tech Firms on Pay Equity, Culture in Crisis: What's Next for Uber & Tech? and A Vast Valley: Tech's Inexcusable Gender Gap.)
— Sarah Thomas,

, Director, Women in Comms