As head of Ericsson Research, Sara Mazur is charged with finding the best and brightest in young PhDs to join the vendor in building technologies that are five to seven years out. She is recruiting researchers who will not only define the future of communications, but also go on to shape other departments within Ericsson.
She's also on a personal mission to find more qualified female researchers and believes there is no reason women aren't well suited for technical positions in the information and communication technologies (ICT) industry.
Mazur, who believes she has the best job in the world, caught up with Light Reading to share more about her work on 5G, as well as her thoughts on recruiting women into what is a highly technical and specialized field. Read on for more about why it's her passion. (See Meet the Force Behind Ericsson's 5G.)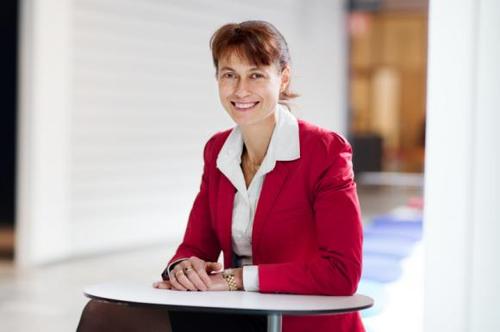 ---
Join Women in Comms in Austin, Texas, on May 23 for a one-day conference with two panel discussions, a jobs fair and a coding workshop. Register here to join!
---
Women in Comms: As someone who manages 650 researchers, what is your approach to recruiting and hiring new talent?
Sara Mazur: We are trying to choose the best person, and around more than half of our researchers have PhDs. Everyone is very technology-oriented, but saying that, we're also very actively looking for young women. We are looking at ensuring that we have the most women in leadership positions. This can be both in management and leadership and also in technical leaders, where you are not a manager but a leader of a technical area.
In my view, we have too few women, but the situation is improving. When we recruit people, the problem for us is where we recruit from the educational sector, and there are still too few women that decide that they want an education in those areas. One of the things we deliver from research to the rest of Ericsson is around 50 people every year that leave research to take on other jobs in Ericsson to deliver confidence to the rest of the company. Then we recruit new people from the education sector with PhDs. We have too few young women who decide they want a PhD in a technical area. We're working actively to promote that. We're looking for the best talent, but actively looking for technical talent.
WiC: What do you think can be done to improve the pipeline of female talent with technical expertise?
SM: I spend a lot of time talking to young women. There are really good opportunities for women in the area of IT technologies. There is no reason a women can't have a good position in ICT technology. There is nothing that makes a man more suitable. We also start at a young age. On Friday morning, we'll have a visitor from Ericsson at Swedish schools to introduce girls to engineering. We talk about the opportunities and jobs for women in technology and engineering. We try to do it for all ages from pretty young to high school up to university students, trying to actively show and promote that there are great opportunities for women in ICT technologies.
WiC: Is it hard to generate interest among young girls for careers in ICT?
SM: I think there is lots of interest. What is good with our technologies is everyone uses them. If you talk to young girls and young boys as well, children, about the technologies we develop, they all use them. Everyone has a smartphone from the age seven, eight or nine when you get your first one. They are all familiar with technology and find it very exciting. They have developed these new technologies and can now do all this and it's not the end. There is more to come. All of this creates great opportunities for young people in the future. There is great interest.
WiC: What is the tech landscape like in Sweden? Are there any unique challenges or opportunities?
SM: There is nothing specific to Sweden. It's just our biggest office, but we also promote all the sites where we are. Sweden has a very good transition when it comes to engineering technology, but that's true for many companies. Many talents we recruit are also international students. We are looking at the number of nationalities; it's a huge number. If I walk around my corridors in Stockholm, we have people from many different countries.
WiC: What is your biggest piece of personal advice for women pursuing careers in the ICT industry?
SM: I think it's really important when you're young; it's very difficult to plan your entire career. I was going to be a physics professor. That's what I thought. So it's very difficult to try to plan everything. What you should do is decide to go for something that's really interesting and then do a great job. Independently of whether you are a man or young woman, it's very important to know you're knowledgeable about what you do. Know your work and also do a good job that creates value. Then it's important -- and more important for women -- to think about what company you work for and pick a company that's suitable to the kind of development you want. And, if it's possible, select your manager. I've been fortunate to have good managers in my 22 years at Ericsson. Then if you have aspirations, if you are looking for a new job, don't be shy to apply for it and tell your manager you want to take on more responsibilities; that you want to be promoted. Managers are not mind readers.
To summarize, pick an area you're interested in. Do a great job. Pick the right company. If possible, pick the right manager. And don't be afraid to tell your manager what you want for the future.
— Sarah Thomas,

, Director, Women in Comms