Cathy Martine's career path at AT&T was far from linear, but it was through embracing change, taking on new roles and learning new skills that she got to where she is today -- one of the carrier's highest-ranking female executives with P&L responsibility.
Martine, the president of National Business at AT&T Business Solutions & International, also attributes her success to mentors who have helped her along the way. That is why, in addition to overseeing 7,000 associates and 3.5 million customers, she has made mentoring other high potential employees at AT&T Inc. (NYSE: T) a priority. She is involved with a number of initiatives for women within the carrier and on her own time, and practices what she preaches in her hiring practices. Women make up 40% of her employee base, and 25% are in sales management.
Martine, a finalist for the Leading Lights award for 2016's Most Inspiring Woman in Comms, tells us more about why embracing change and finding a mentor can be advantageous to your career. (See WiC Leading Lights Finalists: Most Inspiring Woman in Comms .)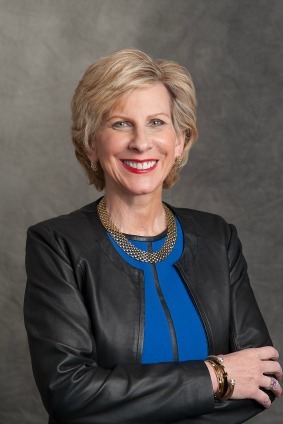 ---
Interested in joining Women in Comms on our mission to champion change, empower women and redress the gender imbalance in the comms industry? Visit WiC online and get in touch to learn more about how you can become a member!
---
Women in Comms: What lesson have you learned over your career that stands out the most?
Cathy Martine: Embrace change as an opportunity to expand business acumen and demonstrate leadership. Every time I assumed a new role, it expanded my understanding of our company and enabled me to evidence leadership and agility in a new area of the business.
WiC: Have you had any unique challenges or opportunities as a female leader in this space?
CM: The unique challenges I experienced were actually advantages. The general management training experience afforded me the opportunity to change functional roles often as I expanded my general management skills. This enabled me to demonstrate intellectual curiosity and become a better listener seeking to understand how a new area of the business operated. I was able to prove my skills in multiple jobs that enhanced my reputation and personal brand.
WiC: Mentoring has been a big emphasis of yours. As a busy female leader, how do you go about doing this -- whether formally or informally -- with women in your company?
CM: I strongly believe in paying it forward and mentoring others since I am where I am in my career due to others mentoring me and taking an interest in my advancement. So I have been an active mentor with a keen ability to identify talent and fast track mentees through sales and marketing rotations to develop their skills and general management capability. I also try to afford them exposure to our senior leaders in small group meetings with our Chairman and Vice Chairman.
WiC: Since you work with enterprises and international companies, you get to see how a lot of other industries and countries operate. When it comes to gender dynamics, is there anything you've learned from others that tech could benefit from?
CM: I have a fabulous role which affords me exposure to every vertical in the US, ranging from fast-growing startups to established Fortune 1000 companies. While each industry is unique, our network, mobility and IoT solutions enable companies to operate more effectively often globally. We are a trusted advisor and strategic partner that is engaged in solving the business challenges our clients present to us as opportunities. As far as gender is concerned, I believe as long as a leader is intellectually curious, humble and sincere in their business relations, and seen as credible and competent, one's reputation is established as a respected leader and value-added strategic partner.
WiC: What advice do you have for women who are new to their careers and want to seek out a mentor?
CM: I recommend everyone seek out potential mentors early in their careers. Diversity of perspective is very helpful to young leaders and having a broad group of sponsors informs perspective. Having a trusted confidante one can ask for guidance is key especially early in a career when one may not have the depth of perspective is essential.
— Sarah Thomas,

, Director, Women in Comms