When Bhaskar Gorti takes the helm at Nokia's newly formed applications and analytics division once its acquisition of Alcatel-Lucent is complete, he'll be bringing with him decades-long experience in OSS/BSS, a strategic focus on NFV and a passion for improving the gender balance in his company and the industry at large.
Gorti, currently the president of IP platforms at Alcatel-Lucent (NYSE: ALU) and soon-to-be the president of Nokia Corp. (NYSE: NOK)'s application and analytics division, has been in the telecom industry for more than 20 years. Prior to joining Alcatel-Lucent, he ran the communications industry unit at Oracle Corp. (Nasdaq: ORCL) for eight years. His time spent in a male-dominated industry, as well as raising a daughter he encouraged to pursue a degree in computer science, has made him passionate about recruiting more women into the comms industry and increasing the profile of women currently in the industry. (See AlcaLu's NFV Boss: Operations Is Key R&D Focus , Nokia Unveils Combined Nokia/AlcaLu Management Team, Gorti to Pull the NFV Strings at Alcatel-Lucent and Confessions of an Oracle Shopaholic: Pt I.)
It's a cause he's been tackling on a formal and informal basis at Oracle and Alcatel-Lucent, and one he plans to bring forward to Nokia -- not just as a one-off initiative, but as a standard practice. It's also made him qualified to be the first man to be featured in WiC's Mentor Monday series. Read on for his thoughts on creating a more equal and diverse workforce in the comms industry.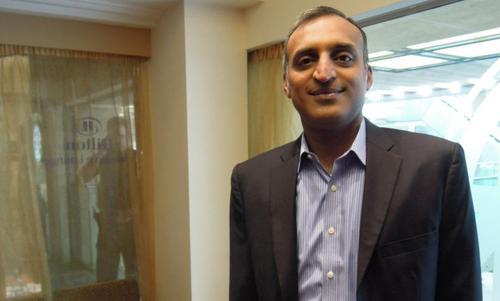 ---
Nokia is a Presenting Partner in Light Reading's Comms non-profit, helping to provide information, networking, mentorship, access to jobs and support for women in the next-gen communications industry in 2016. Visit Women in Comms and get in touch to learn how you can get involved too!
---
Light Reading: As a leader, what are you doing to promote diversity and gender equality in the tech industry?
Bhaskar Gorti: My formal efforts working on women leadership started at Oracle, and I've been doing a lot outside of it, not just for women in comms or leadership, but in education. It's an important cause. I was a member of Oracle Women's Leadership, or OWL. It's a strong program for women with coaching and a lead sponsor. I've spoken at events. It's an eye opening, humbling feeling. I was invited to speak at a women's forum, and -- I've done lots of public speaking in front of thousands of people -- but the anxiety of speaking in front of only women made me very nervous.
LR: How can companies take steps to create a more equal and diverse workforce?
BG: We have such good talent. It's creating the opportunity and giving. I've had arguments with my team -- the PC answer is the best person should get the job. I ask, "How come there are no women in your leadership team?" They say they can't find any. "In this line of work, we can't find them." After some time, I replaced that person [who said that], and I happened to replace him with a strong female executive. Within 12 months, a good portion of the management team was women. Where did she find this skill set her predecessor lacked?
It's about creating opportunities internally also. You can't just say there are leaders out there; you have to grow them and make the investment. My goal is always to go the extra step to find women. I was looking for a technical marketing person. If I looked at the traditional technical IT marketing organization, they were all men. I happened to meet someone in the environmental industry but who had a marketing view of things. She didn't know much about technology, but she was a great athlete, so I brought her over. She's been a very powerful contributor to that organization. It's about going outside the stereotypical of selection.
It is very uncomfortable for people. I have upset quite a few people by going into rooms and saying, "there are no women in the room" or "you're the only one here." We are missing half the brainpower of the organization. Half my customers are not represented in the creation of products for those customers. It doesn't make sense.
We had an event to get people to walk and be healthy. I picked 12 ladies from my organization and formed 12 teams. You come up with a goal and get to know each other; show leadership. We did that. You have to take steps. My personal belief is I want my daughter and my wife to have as many opportunities as me and my son. I need to practice that myself.
LR: What is your biggest piece of personal advice for women in the workplace?
BG: These days I think I don't want to say it's a level playing field, but many times it's less of what the woman should be doing. It's more about what the men around them should be doing. Women are doing many of the right things in terms of showing leadership, initiative, collaboration and a balanced approach to aggressive competitive results. They are doing the right things -- the ones I see in my technology arena. It's the men around them. They have to change their ways in some fashion. People say one thing, but you have to measure them by what they are doing. It's easy to hide behind saying, "in this geography or area or in this segment, there aren't women." I've seen the most senior positions with women executives in countries where women's rights are bad, but top people are women. In the technology industry, it's creating the opportunity and making it happen.
What would I say my daughter should do different -- she's a sophomore in computer science university. "Keep working hard. Get good grades. Don't get in trouble." When I interact with her and the way she's talking and what she's doing, she's part of women in STEM. She does say there aren't many girls in computer science. She's engaged in the same hackathons and networking events and geeky clubs as the men. I don't think I can say anything different to my daughter than anyone I meet here at work.
LR: What is your advice for men in the workplace to help redress the gender imbalance?
BG: I think a lot say they understand it. They say the right words in management meetings, but that is not how they execute. It's time for male managers to stop saying that this is an initiative. It can't be an initiative. I was at an all-hands meeting, and was asked if the diversity initiatives will continue. I didn't know how to answer. Why should it be an initiative? It should be part of life. They should lead more by example, and they should openly talk about it. It's OK to talk about it. It's OK to enter a room of five to six managers and say, "We're only men here. Where are the women?" It's OK to put that on the table. Being explicit helps a lot.
It's time for some of us to say here's what we should be doing as men.
LR: Nokia announced in October its lineup of top-level executives for the company once the acquisition of Alcatel-Lucent is complete, and only two out of 13 were women. Why do you think that is?
BG: I have heard Rajeev [Suri, Nokia CEO] say this is the not what is supposed to happen, but I think the problem is people look at the appointments. The two management teams were picked from the two existing management teams. You had a pool, and you picked from that pool. You can say, "We're going to start a clean slate and look outside," but the Nokia board is not like that. There are a lot of sharp, intelligent women on the board. I am very conscious that if we don't do this at many levels, then you end up with [a situation where] there are no women here, so I only picked the guys. That is the end result. It's more important about the steps to get there.
LR: What else do companies need to focus on to build a diverse workforce?
BG: We have to change the age demographics too. This doesn't happen amongst younger people. They have to be themselves. There are not definitions. A younger workforce helps.
— Sarah Thomas,

, Editorial Operations Director, Light Reading