MEF is expanding its certification process to encompass virtualization and the underlying skills for make communications service providers more agile and able to compete in an increasingly software-driven, IT-centric world. (See MEF Expands Certification to LSO, Virtualization.)
The new Third Network Professional Certification Framework uses MEF's terminology for the future services landscape -- Third Network is its term for network-as-a-service capabilities that are built on but go beyond Carrier Ethernet 2.0. But MEF executives say their certification program is built on extensive input from many other industry organizations and is intended to serve a broader base of participants.
The announcement is the second in two days from a telecom organization intended to rally the industry to move in a common direction. Yesterday, the Linux Foundation issued a white paper that laid out its framework for how open source and standards development organizations come together. MEF is one of the groups with which the foundation is already working. (See Linux Wants to 'Harmonize' Open Source & Standards.)
If anything, these two announcements underscore what has become a very active but sometimes chaotic effort by the telecom industry to get moving forward faster, with less security around whether that motion is going in the right direction. (See Time for a Telecom Reboot.)
Rick Bauer, director of certifications for MEF , comes to that organization from the Open Networking Foundation where, among other things, he developed a software-defined networking (SDN) test and certification program. He tells Light Reading in an interview that MEF worked with 40 different organizations gathering input on what telecom professionals need to know about SDN, NFV, MEF's Lifecycle Services Orchestration and other newer industry basics, including what it means to be agile.
"This comes as a result of collaboration and not MEF coming in with an edict," he says. "The framework we are introducing is the result of, in some cases, years of discussion and over the last few months, very intense discussions with a variety of individuals and organizations."
Part of that collaboration is built on thousands of surveys on what industry experts think people in the telecom carrier space need to know as they move from what was a very hardware-centric, often vendor-driven, world to a more open, software-centric network and service set.
The MEF certification process has three levels: Essential, Professional and Expert, and some of the training sessions won't roll out until next year, but the process itself is well-defined, Bauer says, and builds on MEF's history of training and certification in the Carrier Ethernet space, where it has certified more than 5,000 individuals.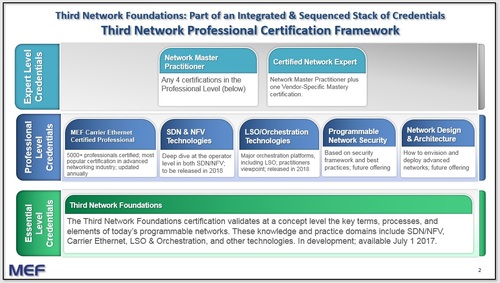 The ongoing development of the certification process will continue to draw on expertise from groups such as ETSI NFV, Linux Foundation and the open source groups, Bauer promises. As importantly, MEF is going to work with vendors to incorporate some aspects of their training specifics into the certification process.
The MEF certifications/training is intended to let a wide range of folks in telecom -- think sales engineers, for example -- learn the lingo and the basics of virtualization and the new era of software-driven applications and services. It can also help hiring managers as they look for skilled people, depending on the level and depth of the training and certification done, Bauer says.
MEF sees this as part of its effort to create a common ecosystem for enabling new services across the service provider landscape, as it has done for Carrier Ethernet, Stan Hubbard, communications director, stresses.
— Carol Wilson, Editor-at-Large, Light Reading
---
CALLING ALL CLOUD, NFV AND SDN COMPANIES: Make sure your company and services are listed free of charge at Virtuapedia, the comprehensive set of searchable databases covering the companies, products, industry organizations and people that are directly involved in defining and shaping the virtualization industry.
---