Whether you're heading off for a luxury break in the Caribbean or going camping in Yosemite, just think what you could afford this holiday season if you featured in this chart of executive pay at some of the world's biggest service providers.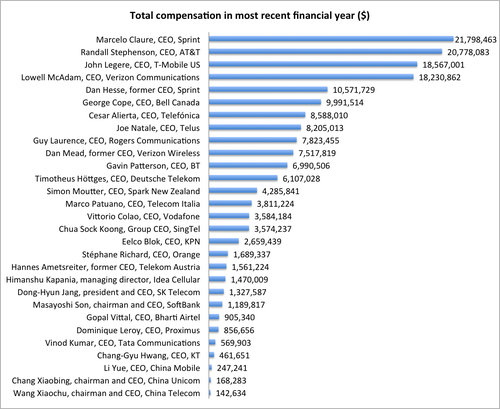 Staggering as it might seem, new-ish Sprint Corp. (NYSE: S) CEO Marcelo Claure received more in total compensation last financial year than any other executive on our list, receiving a package worth nearly $22 million despite not joining Sprint until mid-August (the operator's financial year runs to the end of March).
Has Claure justified his inflated paycheck? We'll not offer judgment on that in this story but it's worth noting that Sprint's share price has fallen by 57% since this time last year, just days before Claure took over.
In Europe, Cesar Alierta, CEO of Spanish incumbent Telefónica , can crack open the cava in celebration, having collected a cool $8.6 million in total compensation, more than any of his regional peers. Indeed, Alierta received about ten times as much as Dominique Leroy, the CEO of Belgium's Proximus and one of only two female CEOs on our list, the other being Chua Sock Koong of Singapore Telecommunications Ltd. (SingTel) (OTC: SGTJY).
Alierta's been head honcho at Telefónica since the Jurassic age of telecom, having taken up his current role in mid-2000, when satellites were all the rage and mobile data meant faxing spreadsheets to your boss. He must be doing something right, but Telefónica's share price has also suffered in the past year, falling by 8.4% over that period on the New York Stock Exchange.
In Asia, meanwhile, Chua Sock Koong was far better compensated than Leroy, receiving a package worth about $3.6 million for her efforts at the Singaporean incumbent, which owns stakes in a number of other service providers across the region.
But the highest earner at the operators we were able to analyze in this region (many companies do not disclose this information) was Simon Moutter, CEO of New Zealand's Spark, whose total compensation last year was about $4.3 million -- more than was paid to Vodafone Group plc (NYSE: VOD) boss Vittorio Colao or Telecom Italia (TIM) head Marco Patuano.
That's not bad considering Spark operates in a market of fewer than 5 million people and has no major overseas subsidiaries.
We've included a few more details about the executives and operators we researched in the tables below. For simplicity's sake, we've used yearly average currency exchange rates from 2014 (based on IRS data), even though some operators' financial years do not mirror the calendar year. We've also relied heavily on annual reports and SEC filings but used Bloomberg and Reuters as data sources in some instances.
Table 1: Executive Compensation in Americas

Executive
Operator
Country
Basic salary ($)
Total compensation ($)
Randall Stephenson, CEO
AT&T Inc
USA
1,691,667
20,778,083
George Cope, CEO
Bell Canada
Canada
4,250,218
9,991,514
Guy Laurence, CEO
Rogers Communications
Canada
2,163,838
7,823,455
Dan Hesse, Former CEO
Sprint Corp
USA
533,850
10,571,729
Marcelo Claure, CEO
Sprint Corp
USA
923,077
21,798,463
Joe Natale, CEO
Telus Corp
Canada
906,232
8,205,013
John Legere, CEO
T-Mobile US
USA
1,250,000
18,567,001
Lowell McAdam, CEO
Verizon Communications
USA
1,580,769
18,230,862
Dan Mead, former CEO
Verizon Wireless
USA
940,385
7,517,819
Sources: Bloomberg, companies, IRS, Reuters, SEC
Table 2: Executive Compensation in Asia-Pacific

Executive
Operator
Country
Basic salary ($)
Total compensation ($)
Gopal Vittal, CEO
Bharti Airtel
India
511,677
905,340
Li Yue, CEO
China Mobile
China
132,300
247,241
Wang Xiaochu, chairman and CEO
China Telecom
China
53,175
142,634
Chang Xiaobing, chairman and CEO
China Unicom
China
46,919
168,283
Himanshu Kapania, managing director
Idea Cellular
India
1,254,600
1,470,009
Chang-Gyu Hwang, CEO
KT Corp
South Korea
390,627
461,651
Chua Sock Koong, Group CEO
SingTel
Singapore
1,249,697
3,574,237
Dong-Hyun Jang, president and CEO
SK Telecom
South Korea
N/A
1,327,587
Masayoshi Son, chairman and CEO
SoftBank
Japan
1,180,734
1,189,817
Simon Moutter, CEO
Spark New Zealand
New Zealand
1,082,658
4,285,841
Vinod Kumar, CEO
Tata Communications
India
109,836
569,903
Sources: Bloomberg, companies, IRS, Reuters, SEC
Table 3: Executive Compensation in Europe

Executive
Operator
Country
Basic salary ($)
Total compensation ($)
Dominique Leroy, CEO
Belgacom
Belgium
616,959
856,656
Gavin Patterson, CEO
BT
UK
1,496,835
6,990,506
Timotheus Höttges, CEO
DT
Germany
1,849,490
6,107,028
Eelco Blok, CEO
KPN
Netherlands
1,094,388
2,659,439
Stéphane Richard, CEO
Orange
France
1,147,959
1,689,337
Marco Patuano, CEO
Telecom Italia
Italy
1,636,480
3,811,224
Cesar Alierta, CEO
Telefónica
Spain
2,845,663
8,588,010
Hannes Ametsreiter, CEO
Telekom Austria
Austria
700,255
1,561,224
Vittorio Colao, CEO
Vodafone
UK
1,454,082
3,584,184
Sources: Bloomberg, companies, IRS, Reuters, SEC
– The Staff, Light Reading