DENVER -- NFV and CARRIER SDN -- Business service providers could learn a thing or two from the design of the iPhone and even the cockpit of a Tesla vehicle.
Though service providers tend to focus on technology and features like speeds and feeds, they'd also be well served by putting a lot more emphasis on the broader and holistic client experience. The latter -- orchestrating and enhancing the customer experience -- has been a primary area of focus the past couple years for Scott Fairchild, VP, client experience at Spectrum Enterprise , the business services-focused unit of Charter Communications Inc.
"As service providers and technologists, we often start with the technology" and the options that are on offer, said Fairchild, a keynoter here on Wednesday. "But I'd suggest we should maybe start in a different place."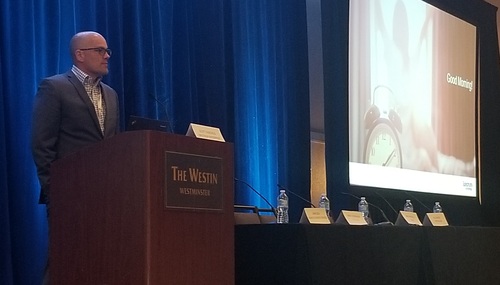 That "place" involves using client feedback to figure out what customers want and need, build that into products and services on an iterative basis and employ Design Thinking processes and principles that are firmly rooted into companies such as Apple Inc. (Nasdaq: AAPL), Tesla and Bose. The general idea is to bridge the expectation gap – the area between what consumers want and what they actually get.
"Brands like these have elevated our expectations," Fairchild said. "We forget that we're not serving nameless, faceless entities; we're serving human beings that are trying to accomplish a job... We owe it to them to be able to close that gap."
He says there's a lot more at stake here than might be realized. When companies get it right, customers are at ease and comfortable. But when companies get it wrong, customers feel discomfort, confusion and anger, causing them to "rarely forget those experiences because of the emotions that [they] bring to the table."
Back to Design Thinking. Fairchild says it starts with empathy, understanding clients and solving the issues they need to solve. And it's about the totality of the situation, not just the customer service experience, the interface or the sales crew, he explained.
And it's an iterative process and obtaining data from clients as products move from being testable, to usable, to downright "lovable."
---
Now entering its second decade, the Future of Cable Business Services event is the premier independent conference focusing on the cable industry's continuing efforts in the commercial services market. Join us on November 15 in New York – all cable operators and other communications service providers get in free!
---
As an example, client data helped Spectrum Enterprise understand what customers wanted in the services portal. Though the company embarked on that project figuring that customers wanted five to six things to be featured in the portal, it turned out that utilization -- knowing what's using the bandwidth on the network -- rose to the top. That, in turn, determined how much space (a lot) that the utilization feature was given on that portal screen, Fairchild said.
— Jeff Baumgartner, Senior Editor, Light Reading