Telecom Italia Renaissance Gathers Pace
Telecom Italia is to invest €11 billion (US$11.8 billion) in its Italian business as part of a new three-year strategic plan, the operator's third in just over two years. (See Telecom Italia Accelerates FTTx, 4G Investments and Telecom Italia to Invest €3B in Fiber to Spur Growth.)
News of the funding, about €5 billion ($5.4 billion) of which is to go on the rollout of "ultra-broadband networks," came at the same time the Italian incumbent heralded a return to growth under the leadership of Flavio Cattaneo, who replaced his under-fire predecessor Marco Patuano in March last year. (See Telecom Italia Names Cattaneo as New CEO.)
Cattaneo has been tasked with making Telecom Italia (TIM) seem less like an ancient Roman attraction -- and with facing off the digital challenge from infrastructure rivals and web players -- and the latest set of earnings do show a marked improvement in several areas. (See Telecom Italia Not Ready to Transform, Admits Exec.)
Fourth-quarter revenues were 5.3% higher than in the last three months of 2015, at about €5.1 billion ($5.5 billion), while earnings (before interest, taxation, depreciation and amortization) were up 55%, to around €2.1 billion ($2.3 billion).
While the organic sales increase was a more modest 0.8%, it ends a negative trend that had lasted for a staggering 18 quarters, according to the operator, and points to improvements in sales and marketing efforts in Italy.
But the boost to profitability was even more impressive. In organic terms, full-year EBITDA rose by 15.4%, indicating that Cattaneo's aggressive cost-cutting strategy is paying off.
Indeed, while the last strategic plan, announced in February 2016 and covering the 2016-18 period, seemed to have been conceived in desperation, with sales, profits and Patuano all under considerable pressure, the latest seems born of greater confidence that Telecom Italia can meet new service demands while delivering financial improvements for investors.
Even so, the new scheme does seem to entail a reduction in spending compared with the previous one, which set out plans to spend €12 billion ($12.9 billion) over the 2016-18 period, including €3.6 billion ($3.9 billion) on fiber-based networks and €1.2 billion ($1.3 billion) on 4G coverage.
Among other things, the aim then was to ensure that 84% of Italians would have access to fiber-based broadband connections and that 98% would be able to make use of 3G or 4G services by the end of 2018.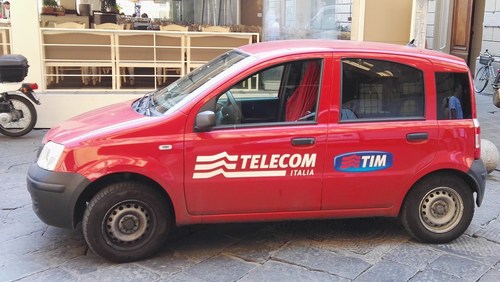 Cattaneo's update obviously moves the timetable ahead and follows one year of spending on network rollout. Instead of breaking out details of spending, Telecom Italia said that €5 billion ($5.4 billion) would go toward ultra-broadband networks -- slightly more than the €4.8 billion ($5.2 billion) earmarked for fiber and 4G in the 2016-18 plan -- and raised its coverage targets.
It now aims to cover 86% of the population with fiber-based networks by 2018, and 95% by 2019. On the mobile side, its new goal is to make 4G services available to 99% of the population by 2018.
According to data in a Telecom Italia presentation, about 60% of the population could access fiber-based services at the end of last year -- against an earlier goal of 56% -- and more than 96% could use either 3G or 4G, compared with a target of 91%.
In terms of annual spending, Telecom Italia's objective is to reduce capital intensity (or capital expenditure as a percentage of revenues) from about 25% in 2016 -- when it invested €3.8 billion ($4.1 billion) in Italy and €4.9 billion ($5.3 billion) across the entire Group -- to less than 20% in 2019.
At the same time, Telecom Italia now reckons it can deliver growth in revenues and EBITDA for the entire duration of the plan, with the latter rising at a "low single-digit rate" over that period.
---
The rollout of gigabit broadband access networks is spreading. Find out what's happening where in our dedicated Gigabit Cities content channel here on Light Reading.
---
This bullishness on profitability is perhaps not surprising given the progress on cost cutting so far, with EBITDA for 2016 up 14.4%, to about €8 billion ($8.6 billion). But annual sales growth would mark a big turnaround, with full-year sales for 2016 down 3.5%, to around €19 billion ($20.4 billion).
The closely watched net-debt-to-EBITDA ratio also appears to be heading in the right direction, dropping from 3.9 in 2015 to 3.1 last year. Telecom Italia is now guiding for a ratio of about 2.7 in 2018 and expects the figure to shrink further in 2019.
Telecom Italia certainly cannot afford to be complacent. Iliad (Euronext: ILD), a low-cost mobile operator that has caused mayhem in France, is poised to enter the Italian market after competition authorities attached conditions to a merger between existing players 3 Italia and Wind Telecomunicazioni SpA . (See Italian Fear of Iliad May Be Overblown.)
It also faces a fixed broadband challenge from Italian energy player Enel SpA , which is pumping funds into a rival fiber-based network. As that project gains traction, Telecom Italia could find itself under new pressure to extend fiber all the way to customer premises (so-called FTTP), instead of continuing to rely on copper for the final drop. The extent to which FTTP figures in Telecom Italia's plans remains unclear. (See Eurobites: Italy's Enel in $2.8B FTTH Plan.)
Investors have taken encouragement from Telecom Italia's latest update, sending the operator's share price up around 4% during morning trading in Milan. But Cattaneo still has a long way to go: The operator's share price still trades about 10.5% lower than in March, when his appointment was first announced.
— Iain Morris,

, News Editor, Light Reading
PARTNER PERSPECTIVES
- content from our sponsors