New York Scores a Big Win for Families

Comment (5)
You would be forgiven if you thought the news was an April's Fools prank last week, but it's no joke: With the signing of a new law, New York will be rolling out the best paid family leave policy in the country.
As part of a budget deal that will also raise the minimum wage to $15 per hour, the city is mandating up to 12 weeks of paid time off for both new mothers and fathers, whether they've just given birth, adopted or fostered a child and for those taking care of gravely ill family members.
The US gives the least protection to new parents of any country, by far. It's pathetic, really. The Family and Medical Leave Act (FMLA) only guarantees job protection after 12 weeks of unpaid time off, and it only applies to those companies with more than 50 employees and to full-time employees that have been working there for at least one year.
New York's bill, while not coming close to those policies mandated in other countries, is still a vast improvement. It covers full and part-time employees -- anyone who has been there at least six months -- and does not exclude small businesses. It's also employee funded with around $1 per week deducted from employee paychecks to pay for it to appease those companies that think paid leave is a big financial burden.
The fine print is that it will initially only cover 50% of a worker's average pay but it will grow to 67% over four years. The program will kick in on January 1, 2018 at which time employees will be eligible for up to eight weeks of leave per year, bumped up to ten weeks in 2019 and 12 weeks in 2021.
---
Join Women in Comms in Austin, Texas, on May 23 for a one-day conference and job fair. Register here!
---
Even though it may seem like just a baby step towards the support new parents and caregivers in the US need, it's nonetheless an important one. It's even revolutionary, according to NYMag.com, which had a great post on why it matters and, interestingly, how it took prominent men getting passionate about the cause to make it happen. This is a win that many thought would never happen. New York is only the fourth state to mandate any type of paid leave, and its policy goes above and beyond the others.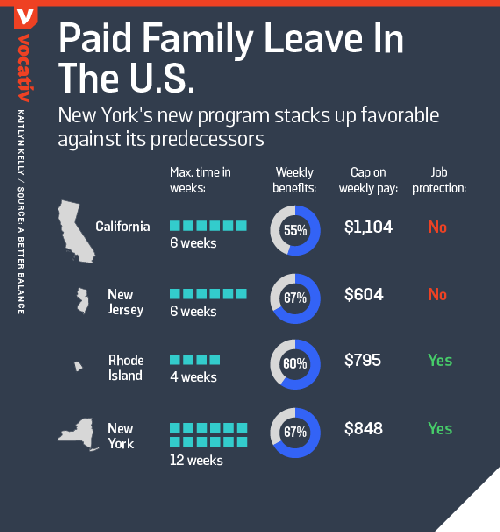 In my opinion, it's embarrassing how little support the US gives to new parents, especially compared to countries across Europe that mandate six months to a year off with positive business outcomes. But, it's also incumbent on employers to do the right thing. By that I don't mean just the right thing for their employees trying to make it all work at the most stressful time in their lives, but also the right thing from a business point of view.
Retaining employees is ultimately less expensive than hiring new ones, especially when you're losing good employees because the lack of support is forcing them to make a choice. Strong parental leave policies don't have to be a trade off with profitability.
The past few years have seen progressive companies like Intel Corp. (Nasdaq: INTC), Facebook and Netflix Inc. (Nasdaq: NFLX) crafting and publicizing policies that support both new mothers and fathers, which -- by the way -- is equally as important to level the playing field. (See Netflix Ups the Ante on Parental Leave and Intel's 2020 Vision for Diversity & Equality.)
New York is setting a great precedent too and will hopefully have the effect of encouraging other states, and the companies in them, to reevaluate how they are supporting parents as well.
— Sarah Thomas,

, Director, Women in Comms