Ericsson Tightens Focus, Warns of $1.7B Q1 Hit
Portfolio pruning
On the strategy side, the decision to quit the media and cloud hardware businesses follows an acquisition spree in the video market that appears to have borne little fruit.
Restated financials published earlier this month showed that revenues at the media business fell by 6.7% last year, to SEK9.7 billion ($1.1 billion), and its operating loss excluding restructuring charges grew by 80%, to SEK1.8 billion ($210 million).
A next step will see the media business split in two, creating separate "broadcast and media services" and "media solutions" units. In its statement, Ericsson said that would create a stronger operational focus, but the move could also help it to maximize the potential, and value, of a sale in the months ahead.
The IT and cloud unit reported even bigger operating losses (excluding restructuring charges) of SEK4 billion ($460 million), twice the level seen in 2015.
As a result, the only profitable part of Ericsson is the large networks business, but here operating income fell by 34%, minus restructuring costs, to SEK19.7 billion ($2.24 billion).
Ekholm said the cloud hardware business that is under "exploration" accounted for a "very small part of revenues."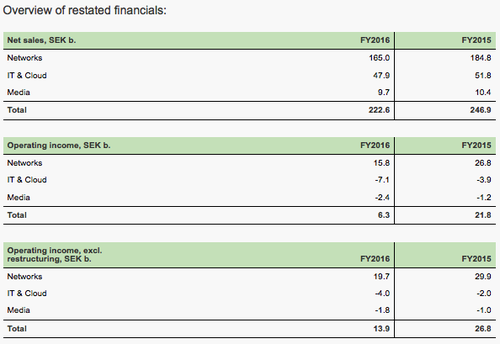 Shedding further light on its new focus, Ericsson said it would concentrate on improving profitability at its mainstream networks business, where it said it was determined to establish a "leading position" in the market for next-generation 5G infrastructure.
However, the company still expects overall sales in this market to decline by 2-6% this year as major customers slash spending on the rollout of 4G networks following several years of heavy investment.
Another priority is to "re-establish" profitability at the digital services unit, which incorporates Ericsson's cloud-based virtualization and OSS/BSS product portfolio.
Analysts queried the decision to retain the OSS/BSS business given its current unprofitability and Huawei's apparent determination to corner this particular sector.
"It is a strategic and important area and we have a strong presence and are a market leader in parts of the BSS stack," said Ekholm in response. "It is [also] strategically important for our customers and it is an area we feel we need to be in to secure our future competitiveness."
Even so, Ekholm acknowledged that Ericsson has been losing "a substantial amount of money" at its digital services division. The plan, he said, was to refocus resources following a portfolio review, as well as to simplify internal procedures by combining the product and systems integration capabilities. "It is a combination of those two that will restore profitability -- we need to reinvest in the parts of the business where there is a strong product offering today."
Resources will largely flow into the development of products addressing the control layer, said Ekholm. "That will be important for the future and that is where we are to invest and grow again," he told analysts.
Other portfolio changes will see Ericsson "refocus" its managed services strategy, placing greater emphasis on "automation" projects that take advantage of the company's scale and OSS capabilities. "We are going through contracts and carrying out a review but that doesn't mean we will leave contracts," said Ekholm when asked which managed services contracts it was looking to exit.
Ericsson had little to say about its IoT plans other than indicating that it would stop focusing on a "systems-integration-led approach" and start implementing a "platform- and solutions-led strategy." That move will allow it to take more advantage of its global scale and industry expertise, it said.
Next page: More restructuring
PARTNER PERSPECTIVES
- content from our sponsors