We're a long way from machine sentience, but Comcast is nonetheless applying the philosophy of Rene Descartes to a new technology system designed to speed up innovation within the company. In Descartes's immortal words, "Cogito, ergo sum." I think, therefore I am. In Comcast's new system, which is named after Descartes, machines learn, therefore machines can help Comcast adapt and grow.
For the last ten months or so, Comcast Corp. (Nasdaq: CMCSA, CMCSK) has been experimenting with its new Descartes system as part of the Comcast Innovation Management Program (CIMP). The theory is that while the company's technology teams are gravitating toward a DevOps approach to service delivery, the company should adopt similar principles of speed and iterative improvement in optimizing its business as a whole. (See Cable Forecast: Cloudy With a Chance of DevOps.)
"Lean and agile go hand in hand," declared James Shaut, director of innovation at Comcast, when unveiling Descartes to the public for the first time at a recent SCTE Cable-Tec Expo workshop session. He added that innovation is the third critical element for successful business evolution.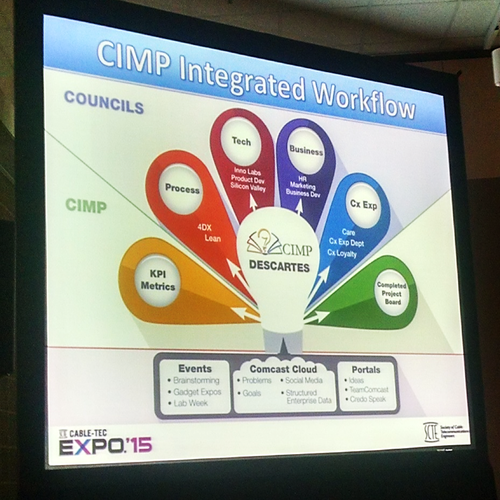 Comcast has multiple processes in place for generating new ideas (hackathons, employee suggestions, sourcing social media feeds, to name a few) and formally putting new ideas into practice. In between the two now sits Descartes.
The Descartes system operates on four tenets. From Shaut's presentation, those tenets are:
Accept as true only when truth cannot be doubted (i.e., my father is older than I)
Divide every question into manageable parts
Begin with the simplest issues and ascend to the more complex
Review frequently enough to retain the whole argument at once
With these tenets as a guide, Descartes uses tools, including natural language processing and data modeling, to sift through incoming ideas and push the promising ones toward implementation. For each idea entered into the system, Descartes assigns a topic category, classifies the type of idea and correlates the idea with any other available information.
---
For more on cable technology trends, visit the dedicated Cable channel here at Light Reading.
---
Feedback is also a big part of the process. Descartes uses feedback from previous idea submissions and deployed projects to learn how new ideas should be filtered and potentially applied.
For example, an employee might suggest offering $5 as a cash-back bonus to loyal customers, or a Twitter follower might recommend adding a fantasy football feature to the X1 video platform. Over time, Descartes should not only be able to channel these ideas toward the appropriate action, but even begin to predict which ones will be successful.
It's still early days for Comcast's machine-learning system, but according to Shaut, Descartes processed 4,500 new ideas in its first six months alone, leading to thousands of hours saved through increased operational efficiency and improving collaboration among employees that otherwise might never have connected. The benefits are similar to those in an open source software development project -- Comcast crowd-sources ideas, learns from the collective knowledge of its community and optimizes itself over time.
So far, Comcast isn't offering details on the new ideas implemented out of Descartes. However, Shaut did say that the majority are process-related, so it might be difficult to spot changes from outside the company. On the other hand, maybe one of the ideas will be the equivalent of the famous FedEx innovation, where a retail sales manager thought to add a mail slot to the back of every FedEx truck... and then made it happen.
The way Descartes works, Comcast can now sort through a slew of new ideas and quickly pare that information down to the most promising innovations. It's not a perfectly automated system, but it does create an effective learning process -- one where both people and machines are doing the thinking.
— Mari Silbey, Senior Editor, Cable/Video, Light Reading