Women are often put in leadership positions during times of crisis when chances of failure are highest. It's a phenomenon called the "glass cliff," but the impetus is often because women are best able to turn that cliff into a mountain of opportunity.
Clearfield Inc. (Nasdaq: CLFD) CEO Cheri Beranek is a perfect example of this. She took over the reigns of Clearfield, which provides fiber-to-the-x technology to broadband service providers, in 2007, from its parent company APA Optics. At the time the company was coming off of about 20 years of losses. Beranek swiftly reversed the company's fortunes -- turning those losses into seven consecutive years of record revenue and profitability.
Clearfield now has a market capitalization of more than $200 million, up from less than $10 million, and an annual rate of return of more than 50%. Beranek also grew shareholder equity by more than 400% over a seven-year time frame.
Driving this kind of turnaround in such a relatively short period of time required overhauling the company's culture and getting the buy-in of all her employees, customers and partners. It was no small task, but Beranek is not your typical CEO. Here she tells WIC more about how she transformed Clearfield's business and managed to scale the glass cliff she was presented with back in 2007.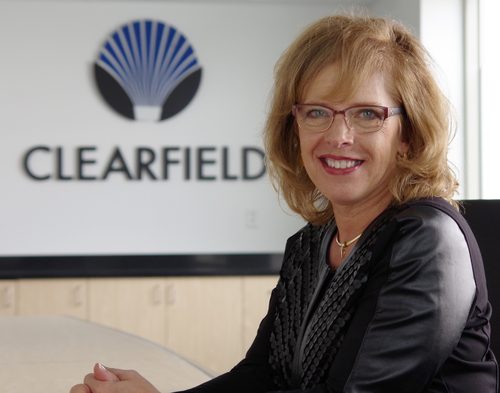 ---
Women in Comms is gearing up for a bigger, better 2017. Join us in our cause to redress the gender imbalance in the comms industry! Visit WiC Online and get in touch to learn more.
---
Women in Comms: Tell us a little about your personal and professional background.
Cheri Beranek: Johnny Hill and I founded Clearfield in 2007 as a breakout subsidiary of a legacy parent company. We were working together since 2001 based on a variety of different ways the company was structured along the way. Our organization, and my role within it, was to take a company that had some cool core architecture associated with the delivery of optical fiber for service providers across North America and do it more cost effectively.
I lead an organization with more than 200 people, and focus on doing things differently by listening to broadband service providers, seeking to recognize and understand what they need, collaborate to make it happen and celebrate it along the way. As the result, we've gone from a startup to revenue of $75 million. We've done it differently than most. We've done it as a public company, the whole time generating a quarterly profit. We've been able to -- over the course of that period of time -- rebuild balance sheet with no debt and are aggressively going after the North American market for the delivery of fiber.
WIC: How did you drive such an impressive turnaround at Clearfield?
CB: The turnaround or change point became January 2, 2008. That is when we could jettison legacy operations of APA Optics. That organization was led by a brilliant PHD physicist, but who couldn't bring a product to market and had a business and management philosophy different than Clearfield. We believe in collaboration and cooperation. We want to build a company on principles and values not about products but about listening to our customers and working together to make it happen. The cornerstone of that is this company had never had a single quarter of operating profit. There wasn't a bonus initiative or a culture of making a difference. I went to the Board when they named me CEO and said I want to change that and create a performance-based culture. We started a bonus program. I wanted to return money to shareholders. After we generated our first million in earnings, I wanted to give 50% of future earnings to all our employees. They said, "Sure, we've never made a dime, so you can offer it after the first $1 million."
Our first year, we distributed half a million in bonuses and more than $1 million to shareholders. It created an environment of turnaround, and we are all in together. Eighteen percent of the company is now owned by the board and employees. We have extremely strong performance compensation and employee contribution. We created a community culture in which employees can do things differently.
Another good example was in 2012, when we were able to set a goal for ourselves that was very aggressive. We were at a $35 million revenue base. The goal was to get to $42 million. We were sitting with the sales team in January in Minnesota -- all you do is work when it's that cold. A sales guy asked, "What do we have to do to get the sales meeting someplace warm?" We said if we do $50 million next year, we'll go someplace warm. Fifty million would be 40% growth for the year. We ended up doing $53 million for the year. I had to put my money where my mouth was, but I don't believe that sales people only should get trips. The entire company made it happen. So that year every person and their spouse, whether they were making $10 an hour or at the top level, went on a four-day cruise out of Florida. We celebrate together. That's our kind of environment. Even if we compete against a $1 billion company, we believe we can make a difference.
WIC: From a personnel and policies perspective, what was the secret to making this new company culture a reality?
CB: I really came down to philosophy and creating a value system about collaboration. There's a difference between policy and practice. Big companies and companies about control have a lot of policies. Policies are the things that can set customers off. There is nothing more frustrating for a customer to make a call with a problem and the service rep says, "It's not our policy to..." Policies are an excuse to stand behind. Policies here are only things that we have no choice on. Everything else is practice. We can establish guiding practices that create opportunities for employees to make decisions. Sometimes those decisions may be reaching and outside of the scope of what we wanted, but they create an opportunity for learning and speed. We learned along the way. The culture of learning and speed creates the opportunity for us to be competitive. Even though our revenues are approaching $75 million, we still operate under the speed of being a small company. We have to go from being a personality to a process-based company to scale, but we can't change the culture under which that is built. That will be the enabling mechanism to move forward.
WIC: Women are often asked to take over at time of crisis for a company and are tasked with running a company when it might fail. Do you believe this glass cliff is true? Why?
CB: When I first took over as president, it was a company that had a huge amount of debt and was looking at bankruptcy. I was sitting across the table from bankruptcy lawyers trying to fix a problem I did not create. I was hearing about how employee PTO was just a liability like anything else, so if company files bankruptcy, the employees lose PTO. This is not the way that businesses should be run. We have to look for an environment where people who put their heads down can make something happen. We are problem solvers, as women. We can quickly assess a situation and create a solution that gets everyone activated to do that. We have an inherent means to look at an environment and want to fix it, maybe too much so. I don't think it's inherent in the industry and don't think it's a limitation. It's a characteristic that women have identified for which to enter into a situation because there is a void. Women who are looking to enhance their position and opportunities need to identify the chasm or void and then capture it, grab on and make that difference. Because we look for those opportunities and have the means to work with them, and it's an important tool we should be embracing.
WIC: How do you work to inspire kids, especially girls, to explore the tech field?
CB: I have two girls and two boys, and three out of four are in technical career paths. One has a PhD in pharmacy, one is pursuing a PhD in physical therapy and another is in nano-tech in chemistry. There is an aptitude all the kids embraced and had a means to walk down the path. We talked about it at home. It was easy for them. The difference is in other school systems from a K-12 standpoint that weren't as big or developed as ours, we didn't see it being fostered or that curiosity being embraced. If you can have that in the home and have parents expanding the curiosity, you give them the opportunity to expand that and use that. As I work with educators and kids, mine or others, it's about the curiosity and how to solve the problem. It's demystifying math or engineering as nothing more than a problem solving opportunity.
My graduate degree is not in technology. My master's is in mass communications. When I started my first job out of grad school, I didn't want a job in numbers or in computers. But yet my first job was accounting software. I screwed it up from the beginning, but found I love the speed and energy that was in the tech space. I got involved with math and science, but even if you are not a math and science person, tech is a way to grow. Non-trained technological people like myself have the unique opportunity to ask questions to make it make sense to others. How can I take optical fiber and bring it to market? How do I make that value prop to make sense to the reader?
Tech is not just for the technical person, but for others. If you surround yourself with like people, and only have technical individuals, you can't get into the layman's view. That is part of Clearfield's value prop and what I always try to create in the companies I lead. If you listen to customers, they aren't always aware of what your product line can do for you. You have to listen to the problem, and apply the product line that addresses the problem in place. Women have that opportunity to do that level of application support, beyond just design engineering. Applying the problem to the products you serve is inherent to really good sales and marketing people. Those are the kids of career path that aren't often recognized as part of the STEM world.
WIC: What advice would you leave women in the comms industry with?
CB: The more you can apply yourself into an environment with an existing void, there is an opportunity by which to get an immediate contribution. One of the opportunities in engineering tech world is that it's very quantifiable. From a career path standpoint, the more you can get yourself into a position where your contribution is easily quantifiable, the faster you can advance. Quantifiable opportunities create that mechanism to demonstrate how to get an A. When you leave college and start a career path, all the sudden the means to determine if you did a good job is a little foreign. Companies aren't often good at that. Career paths that have quantifiable opportunities give women an opportunity to show how they are as good or better than others in the space.
— Sarah Thomas,

, Director, Women in Comms