AUSTIN, Texas -- Big Communications Event -- While CenturyLink has been busy talking up digital transformation for its enterprise customers, which will make up 75% of its revenue when its Level 3 acquisition closes in September, CTO Aamir Hussain gave BCE attendees a glimpse into the telco's own internal transformation -- a still ongoing process -- here today. (See BCE Service Provider Keynote: CenturyLink and CenturyLink Revs Up Enterprise Engine.)
The 80-year-old telco has already gone through several transformations, including every time it made an acquisition, but its purchase of Level 3 coupled with changes in technology and customer expectations necessitates its biggest transformation yet. The third-largest telco will soon also be the second-largest enterprise service provider in the US. (See CenturyLink Splashes $34B on Level 3 Buy.)
Aamir Hussain, executive vice president and chief technology officer at CenturyLink Inc. (NYSE: CTL), joined the company in 2014 with transforming it into an IT-based services company running on the network cloud in mind. He's already deep into it and has been public about goals like virtualizing its IP core and data centers by 2018, but he also admits there are a number of challenges that remain. (See New CenturyLink CTO in Major Overhaul, CenturyLink CTO Hussain Maps Out Virtualization, CenturyLink Sees 100% Virtual IP Net by 2018 and Inside CenturyLink's NFV/SDN Strategy.)
While the carrier had 32 terabytes of un-monetized over-the-top traffic on its network last year, it was at 53 terabytes when he checked last week. The CTO cited the quote, "When the winds of change come, some build walls and others harness the power of wind," noting that, "For us, it's all about harnessing the wind. We have no other option than to embrace this disruption and change."
CenturyLink's transformation revolves around moving from a hardware model to one based on software, migrating to the cloud and better harnessing the power of the data it collects. (See CenturyLink Preps for OTT Plunge.)
Outside of changing its technology, the CTO said it also means transforming its company culture and hiring people based on their skill set and ability to be a change agent for future innovation rather than their track record. And, to switch the internal focus from operations to changing the customer experience -- and quickly. "We don't have the luxury of time," he said. (See CenturyLink: Kill Complexity to Speed NFV.)
For an $18 billion business "with a lot of baggage" like CenturyLink, Hussain said transformation requires tenacity, agility, a change of culture and a completely different attitude.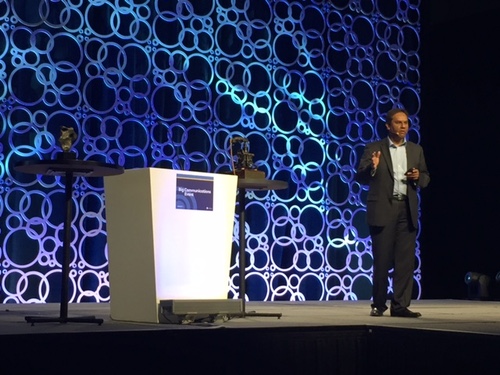 "I tell my teams to always challenge the status quo," Hussain added. "If you've done the same thing for 20 years, something is wrong. Fail fast. Failure is an option; it's not bad, but learn and move on. And, be fiscally responsible. It can't take four years to put a product out... This is the only way for us to continue to move the ball forward, or we'll be left behind."
Hussain said CenturyLink is also working with vendors to change business models and with the Open Compute Project and other projects to change the cost structure. One way it's already done is through its move to the cloud and to programmable networks. (See CenturyLink Joins NetApp Unified Partner Program and CenturyLink Delivers DSL Using CORD Platform.)
"This is a journey. It all ends with a platform where we take Ethernet, MPLS, SDN and NFV on the same platform and allow customers to have their own experience," Hussain said likening it to changing the engine of a plane mid-flight. He stressed that CenturyLink is working with partners to get the right experience, reduce costs, offer better services and go OTT in a much larger market "using the network as a mechanism that's running on the cloud anywhere in the world."
"At the end, it's a journey, not one way of doing things," Hussain concluded. "It's not a means to an end. It will continue to evolve."
After his keynote, Hussain took a few minutes with Light Reading to elaborate on the topics of transformation, open source and the public cloud. Take a look.
— Sarah Thomas,

, Director, Women in Comms