Deutsche Telekom is in a strong position to benefit from buying other European operators in cross-border deals thanks to its all-IP capabilities, according to financial analysts.
The German incumbent has been at the forefront of the industry transition to all-IP networks and launched a trial "pan-European" service in Croatia, Hungary and Slovakia at this year's Mobile World Congress. (See Deutsche Telekom Turns On Pan-European IP.)
Designed partly to reduce costs and improve efficiency, such moves could boost Deutsche Telekom AG (NYSE: DT)'s interest in buying network assets in Europe, according to Kohulan Paramaguru, an analyst with Exane BNP Paribas.
Taking advantage of all-IP technologies, including SDN and NFV, Deutsche Telekom has already outlined plans to run operations across a number of European markets from a single location.
That means it could potentially bulk up its business and fatten its margins by acquiring operators and then removing a lot of the systems and staff it would have needed in the pre-all-IP world.
Tim Boddy, an analyst at Goldman Sachs & Co. , also believes that Deutsche Telekom may ultimately have its sights set on buying operators in other parts of Europe, even though it appeared to dismiss the possibility of any "out-of-market M&A" during its capital markets day in February.
"The all-IP platform it is creating could provide a financial rationale to pursue cross-border M&A as one potential route to realizing its ambitions," said Boddy in a recent research note.
Paramaguru says similar considerations have been behind other mooted takeover activity involving different players.
"When you go back to the idea of AT&T chasing Vodafone, one of the ideas there was to run a lot of the support functions from one location," he says, referring to speculation last year that AT&T Inc. (NYSE: T) was considering a move for Vodafone Group plc (NYSE: VOD). "All-IP synergies are hard to quantify today but it does finally offer tangible cost savings in theory."
Deutsche Telekom has already been linked with a possible move for Dutch incumbent KPN Telecom NV (NYSE: KPN), and Paramaguru says it "would be small enough for Deutsche Telekom to buy."
The problem, he notes, is the German operator's high level of net debt, which had risen to about 2.6 times annual EBITDA in March -- outside the operator's comfort-zone ratio of 2-2.5 -- and could rule out any big deals until Deutsche Telekom has managed to sell its T-Mobile US Inc. business. (See Deutsche Telekom Buoyed by US Growth.)
US regulators have stymied previous attempts to sell T-Mobile but Deutsche Telekom CEO Timotheus Höttges was earlier today reported by Reuters to have expressed interest in finding a "partner" for the US operator during a shareholder meeting in Cologne.
From a synergies perspective, Paramaguru thinks either satellite TV company Dish Network LLC (Nasdaq: DISH) or cable operator Comcast Corp. (Nasdaq: CMCSA, CMCSK) would "make the most sense" as buyers of T-Mobile now that authorities have ruled out a takeover by another mobile operator.
"Post a T-Mobile sale we would expect Deutsche Telekom to purchase assets in Europe," he says.
Deals of this nature, however, may be hard to execute because they would entail making dramatic cuts to employee numbers to phase out duplicate teams.
Deutsche Telekom highlighted the importance of its all-IP networks vision at today's shareholder meeting, claiming it could now set up an international corporate network for business customers in just 15 minutes.
That process used to take about 30 days after the customer had first placed an order, said the operator.
---
Want to know more about the emerging SDN market? Check out our dedicated SDN content channel here on Light Reading.
---
According to a new white paper from management consultancy Arthur D. Little and Alcatel-Lucent (NYSE: ALU) R&D arm Bell Labs , the use of SDN and NFV technologies by European Union telcos could lead to operational cost savings of about €14 billion ($15.6 billion) annually -- or about 10% of total industry opex. (See Will Investing in SDN & NFV Be Worth It?)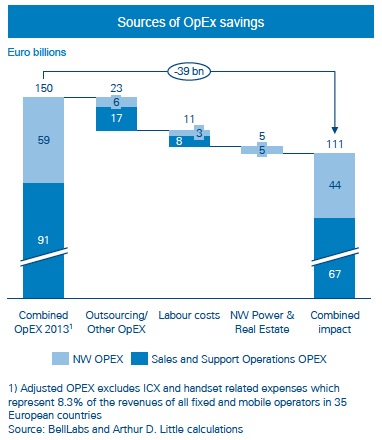 The report authors say the industry could save another €25 billion ($27.8 billion) annually in non-network opex from changes to the operating model related to the use of SDN and NFV technologies.
Deutsche Telekom said it did not comment on speculation when approached by Light Reading for this story but insisted that it was not planning any major acquisitions outside its footprint.
Besides Germany, the operator's major European markets include Austria, Croatia, the Czech Republic, Greece (through its stake in incumbent OTE), Hungary, the Netherlands, Poland, Romania and Slovakia.
But the completion of a UK merger between BT Group plc (NYSE: BT; London: BTA) and EE -- which has yet to be approved by competition authorities -- would also leave Deutsche Telekom with a 12% stake in the combined entity, making it the new-look operator's biggest shareholder.
BT is paying £12.5 billion ($13.9 billion) in cash and shares to buy EE from existing shareholders Deutsche Telekom and Orange (NYSE: FTE).
— Iain Morris,

, News Editor, Light Reading