The COVID pandemic has changed the way we work, live and educate. More capacity, higher data speeds and better online access is the new normal. But without the right network or infrastructure in place, this can be harder to achieve than imagined. To help, operators and new builders are working at breakneck speeds to upgrade or install new fiber broadband networks that are capable of delivering the Gigabit speeds their customers want.
But fiber rollout programs require high initial investment which is linked to building the infrastructure and to physically connecting customers. The challenge with fiber upgrade programs lies in the risk of delay or budget overrun due to inefficiencies and unexpected hurdles with planning and implementation.
Let's look at how to overcome them.
Accelerate your fiber rollout
Core to fiber infrastructure is the design and installation of an outside plant; the physical guts of the network that serves as a connecting point between the central office and the subscriber. Building an outside plant, however, can be complicated and pose several challenges for even the most experienced operators in the market.
Once the fiber business case gets the green light, permits and right of ways are arranged, a successful rollout starts with the right design of the fiber passive network. Precise documentation is needed for the physical network rollout. Outside plant design and engineering services produce accurate and cost-effective bill of quantities and network designs that are ready to build. Any errors made during the deployment due to improper planning and design can have a huge impact on the costs, timeline and overall business case. So, ensuring it's done right first time is critical for operators.
Different operator and subcontractor teams then need to work together efficiently to build the network—both passive and active—from the central office all the way up to the customer. Any inefficiencies in planning and communication or simply lack of data sharing will lead to delays, introduce errors and increase project costs.
A centralized and automated control of the network rollout end-to-end and an easily accessible central datastore where all teams can share relevant information is needed. This approach breaks silos between active and passive network builds to speed up the end-to-end build process. It also monitors the quality of delivered services by testing and certifying optical paths end-to-end to ensure homes passed are ready for sale.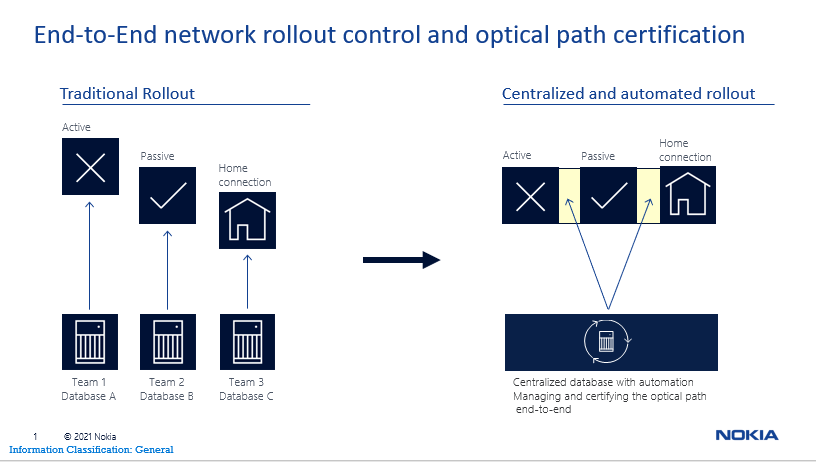 On projects where we have applied this approach, customers achieved a reduction in rollout costs up to 30% and were able to accelerate rollout by up to 25%.
Connect fiber customers faster and at lower cost
Finally, the network is in place. It's time to turn your fiber investment into a revenue stream. Today's multi-step and error-prone ONT activation process prevents operators from turning their fiber network build quickly into a billable service. Turning the multi-step ONT activation process into an automated process helps. Through ONT-self-activation via a smartphone app, customers can start the process which then runs automatically in the background.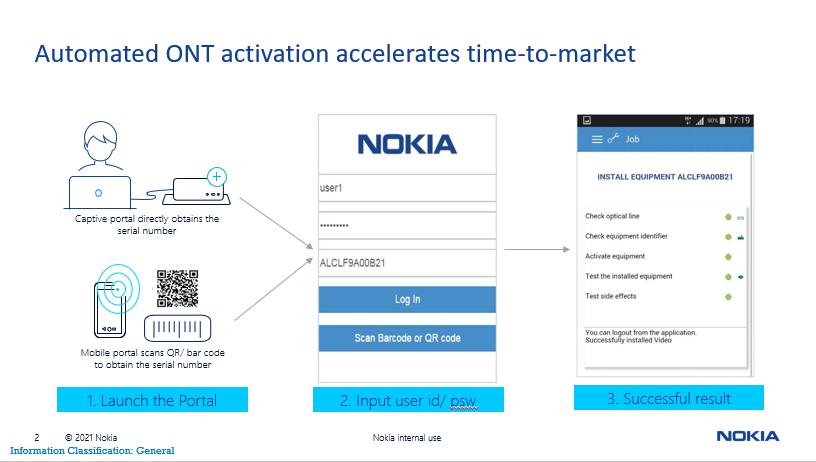 Alternatively, a field technician can use the same ONT self-activation capabilities to reduce time on site and make their work less error prone. With this approach, our customers have seen significantly improved connection times and reduced activation costs up to 50%.
Fully exploit your fiber investment
Now your fiber services are up and running, how do you protect your fiber revenues and keep your customers loyal?
Through the many network assessment and health check projects we have performed, we've found that 20% of optical power budgets on optical paths are low, which is problematic for network performance. Network optimization tools and services help. They make use of advanced analytics to analyze network data and apply best practices to provide the insights you need to continuously improve your fiber network performance. Important, though, is to look at the right set of network KPIs—amongst thousands of network parameters—which help to tell you if the network is maximizing its potential or frustrating customers.
Additionally, a proactive approach to network operations helps to improve network availability and cut network OPEX. Core to this are predictive analytics applying powerful artificial intelligence and machine learning algorithms to your network data and leverage unique knowledge databases to identify and solve network problems before they impact your customers. Operators using our Predictive Care service have enjoyed a faster resolution of network issues of up to 30% and a reduction in outage duration of up to 63%.
How we can help
To help you accelerate your Gigabit fiber rollout, we have invested significantly in world-class fiber access solutions and digital fiber deployment and care services portfolio and capabilities. Our services capabilities help operators across the network lifecycle from planning, designing, implementing and operating these networks to help you build fiber networks that last. From working with more than 270 fiber customers worldwide we have centralized and industrialized learnings and assets to apply them globally, complemented by local skills close to the customer. In this way we can enhance your skills and your capabilities where it matters most.
If you want to accelerate your fiber network rollout and make sure your fiber infrastructure investment supports competitive broadband services for many years to come, then reach out to us.
This content is sponsored by Nokia.