WildBlue Makes Stimulus Pitch
DENVER --
WildBlue Communications
wants a slice of the U.S. government's $7.2 billion broadband stimulus package to develop a new satellite-based platform that can deliver downstream speeds in excess of 18 Mbit/s to rural areas in need of a high-speed boost.
The
Liberty Media Corp.
(NYSE: LMC)-backed company set up a service demonstration near the Colorado State Capitol Building on Wednesday to demonstrate its system's potential, showing how its current-generation system could be reconfigured to produce such lofty speeds.
Although the demo showed off what kind of speeds are attainable with satellite broadband, the techniques used with the company's existing technology can't scale to support a large number of customers. (Click on the image below to start a brief slideshow of what WildBlue showed off.)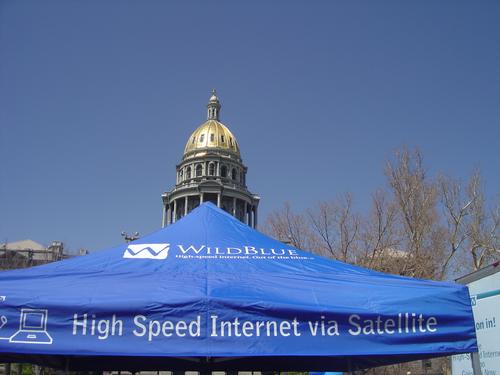 "It is not something we can offer to customers today," WildBlue EVP and chief technology officer Erwin Hudson pointed out to
Cable Digital News
. "But the point is that it's quite doable. You just need to build a satellite with more bandwidth and more capacity to support it on a large scale."
WildBlue executives said the take-rate of its current service has reached a point where it's starting to experience capacity constraints. The company serves 400,000 customers, with its top-end "Pro" tier providing speeds of up to 1.5 Mbit/s downstream and 256 kbit/s upstream -- a far cry from what it wants to deliver.
WildBlue estimates there are about 15 million homes and businesses in the rural, underserved, and unserved areas it's targeting. Of course, WildBlue will be far from alone there -- for example, small and mid-sized MSOs also believe they deserve a portion of the stimulus funds to extend their reach. (See
ACA: Small MSOs Deserve Big Stimulus Share
.)
"We're reaching the guy who's still on dialup. We need to bring out a new satellite in order to continue to meet that demand. That takes a lot of money and a lot of time," says WildBlue CEO David Leonard.
WildBlue is trying to obtain stimulus funds to develop and launch WildBlue 3, a new satellite that will provide enough bandwidth capacity to push downstream speeds towards 18 Mbit/s, or even beyond. Leonard estimates it will cost about $300 million to build and launch that satellite. WildBlue is also seeking additional funds for more R&D work and a customer premises equipment (CPE) subsidization program that will help consumers pay for the modems and satellite dishes required to run the service.
But why does WildBlue, a company with hundreds of thousands of subscribers, need help from the government to achieve all this? "We don't have sufficient cash on hand to launch our own satellite," Leonard acknowledges, noting that the capital markets remain relatively frozen. "We are cashflow positive… but we're not building sufficient cash to build that satellite platform."
Although WildBlue doesn't have the cash for the next-gen platform, the company hopes its track record in creating a sustainable business will curry some favor when funds are meted out. "We're not a PowerPoint presentation that's out there trying an unproven concept," Leonard says. He contends WildBlue's stimulus project is "shovel-ready." However, the process itself -- getting the new technology built and deployed, and then offering those "next-gen" satellite broadband services to live customers -- will take about three years.
That lengthy time period requirement could spell doom as the government starts to make funding decisions later this year. But if the Greenwood Village, Colo.-based company is indeed successful in getting the money it says it needs, WildBlue 3 will become at least the fourth satellite in the company's fleet.
Today, the company delivers services via two satellites, WildBlue 1 and Anik F2, which have enough capacity to serve about 750,000 subscribers at WildBlue's current service/speed levels. It's also in the process of taking some capacity on the
EchoStar Corp. LLC
(Nasdaq: SATS) AMC-15 satellite, a move that will allow it to support as many as 75,000 additional subscribers, and give it some fresh capacity to serve some areas that have the heaviest demand for its services –- East Texas, Louisiana, Alabama, and portions of Kentucky and Tennessee.
Although a faster, capacity-rich platform is at least three years away, WildBlue does plan to speed up Web page load times for its current subs in the interim, using a proprietary, software-based upgrade. Those updates are in the beta stage now but are set to go live to all customers sometime this summer.
— Jeff Baumgartner, Site Editor,
Cable Digital News
PARTNER PERSPECTIVES
- content from our sponsors