Verizon adds 379K FWA subs in Q4 but faces capacity questions
Verizon's fixed wireless access (FWA) business made solid gains in the fourth quarter of 2022 as the company added a better-than-expected 379,000 residential and business customers, extending its grand FWA total to 1.45 million. Analysts were expecting Verizon to add 350,000 FWA subs.
Broken down by segment, Verizon added 262,000 residential FWA customers in Q4, up from +38,000 in the year-ago period, to end 2022 with 884,000 residential FWA subscribers. The company also signed on 117,000 business FWA subs in the quarter, up from +40,000 in the year-ago period, ending 2022 with 568,000 business FWA customers.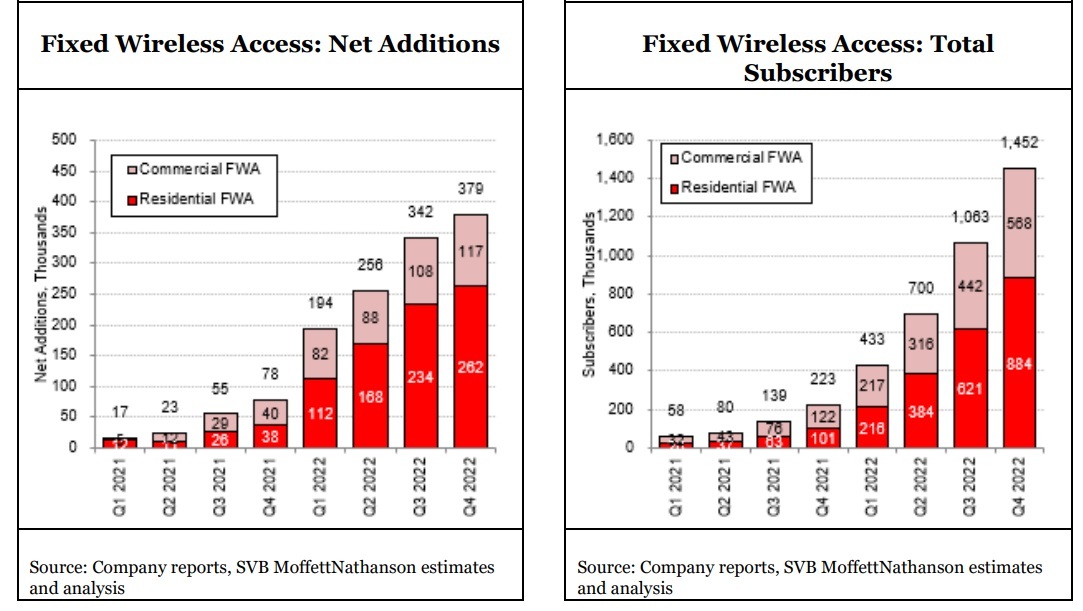 Verizon FWA coverage is expanding and starting to narrow the gap with T-Mobile, according to an ISI Evercore study released earlier this week. The study found that Verizon's use of C-band spectrum for FWA services, which provides a coveted combo of reach and capacity, is also climbing rapidly.
Speaking on today's earnings call, Verizon CEO Hans Vestberg reiterated guidance that Verizon expects to have between 4 million and 5 million FWA subs by the end of 2025, enabled by its current build and capital plans.
Capacity questions
Verizon expects its C-band deployment, which is ahead of a plan to reach 250 million points of presence by the end of 2023, to provide ample capacity for FWA subscriber projections and future bandwidth requirements. Vestberg said the majority of new FWA subs are being added to the company's C-band spectrum.
"We're adding far more capacity to our network than the peak usage increase we're expecting in the fixed wireless market," Vestberg proclaimed.
He also suggested that Verizon could split cells to provide more capacity toward FWA. "But that's very far away from now. We have ample capacity for the guide and much more than that," Vestberg said.
Some analysts are less bullish about Verizon's longer-term FWA prospects with respect to meeting capacity demand as well as the business' broader economics.
"They will have excess capacity in markets with low demand, and capacity constraints in markets with lots of demand," New Street Research analyst Jonathan Chaplin argued in a research note. "We suspect 4-5MM subscribers is realistic, but they will have to increase spending to go further."
Chaplin is also doubtful that Verizon can get an "attractive return on higher spending for FWB [fixed wireless broadband] – the revenue per GB [gigabyte] is likely lower than the cost to manufacture the GB."
Still, FWA "remains Verizon's most promising growth area," according to Craig Moffett, analyst with SVB MoffettNathanson. "Indeed, it remains the most tangible revenue stream from 5G," he said in a research note.
Fios sees broadband gains... and more pay-TV pain
The theme of Verizon's residential Fios story remains unchanged, with the company adding fiber subscribers and shedding more pay-TV customers.
Verizon added 56,000 residential Fios Internet subs in Q4, up slightly from a year-ago gain of 51,000, ending 2022 with 6.74 million subs. Those Fios broadband gains in Q4 were better than the +41,000 expected by analysts.
With digital subscriber line (DSL) losses of about 16,000 included, Verizon added 40,000 consumer wireline broadband customers in Q4, up from +30,000 in the year-ago quarter. That extended Verizon's consumer wireline broadband base to 7.01 million, up 1.9% year-over-year.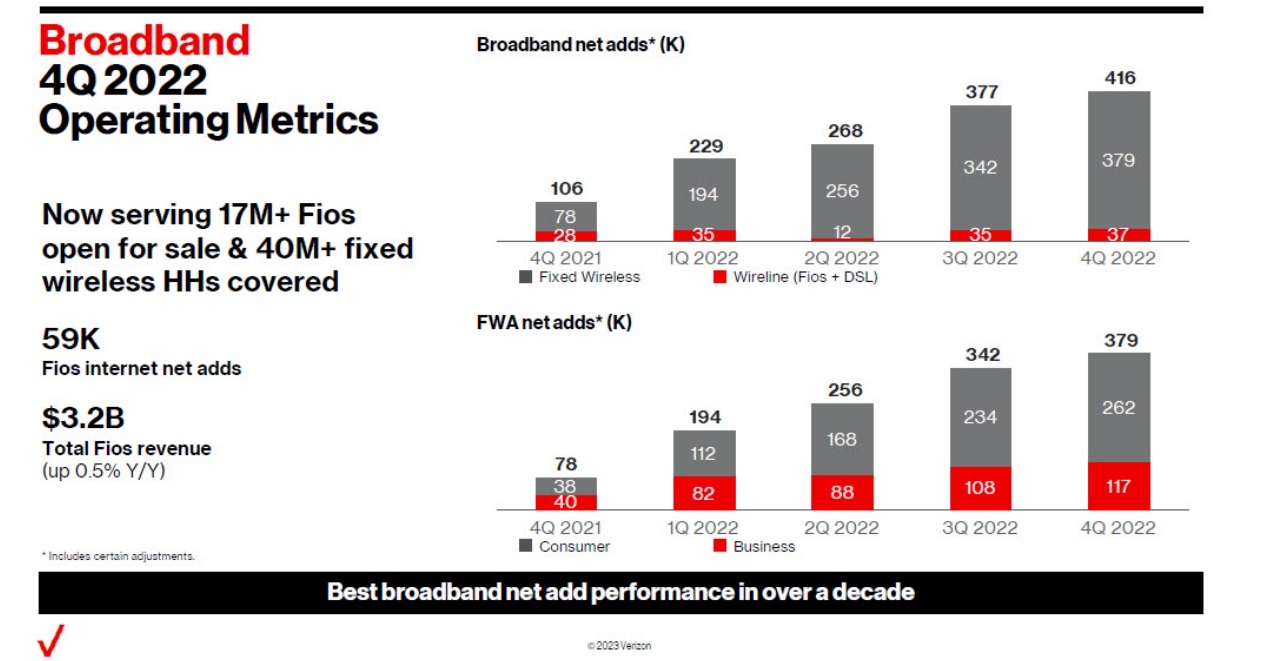 Thanks largely to FWA gains, Verizon posted about 1.3 million broadband net adds for full-year 2022.
The company also met its plan to expand its Fios footprint by 550,000 new locations for all of 2022, ending the year with 17.1 million Fios locations.
"You can expect fiber expansion in the years ahead," Vestberg said.
Verizon shed another 80,000 residential Fios video customers, up from a year-ago loss of 69,000, dropping its grand total to 3.23 million.
On the financial front, Verizon posted Q5 consumer Fios revenues of $2.91 billion, up just 0.1%. Total operating revenues in the consumer segment rose 4.2%, to $26.77 billion.
Business service revenues rose 1.2%, to $7.9 billion. The small and midsized segment saw revenues climb 5.5%, to $3.28 billion, but global enterprise revenues dipped 4.2%, to $2.42 billion. Wholesale revenues rose 1.7%, to $662 million.
Related posts:

— Jeff Baumgartner, Senior Editor, Light Reading
EDUCATIONAL RESOURCES

PARTNER PERSPECTIVES
- content from our sponsors