The Cable Show That Wasn't
The Cable Show That Wasn't
The 'Near Future' is a little disheartening. If you're wondering what the near future looks like according to the cable industry, I can tell you one thing: It doesn't involve women.
That wasn't my only takeaway from The Near Future event hosted by CableLabs and the National Cable & Telecommunications Association (NCTA) last week in Washington, DC, but it's the one I need to address first. Of roughly a dozen speakers during the half-day conference, not a single one was female. There was a female hosting the event, and a few women appeared as props in futuristic scenarios, but there were no women sharing ideas and expertise on stage in a conference that was supposed to offer a glimpse of what the future has in store.
In fairness to the event organizers, they claim to have invited female speakers. It's just that none accepted. I'm also highly aware of how difficult it is to find women in cable who aren't in marketing, or, quite frankly, on the journalism side.
But those challenges aren't an excuse. First, the event was most definitely not about cable, but rather about how technology and media will change our lives in the near future. Are you telling me there are no women doing interesting, groundbreaking work in virtual reality, medicine and technology in education?
Second, if the women who were initially invited to speak didn't accept, then the NCTA and CableLabs should have found more to invite. In the sales world, you don't get credit just for trying to meet your quota. There's no "A" for effort. The same applies here, especially when the message the cable industry is sending is that women have no role to play in future innovation. Women aren't necessary, and they probably aren't wanted either.
We might have been in DC for The Near Future event, but it felt like a Silicon Valley boys' club.
Want to know more about cable market trends? Check out our dedicated cable services content channel here on Light Reading.
Alright, with that out of the way, I do have some good things to say about The Near Future conference. It was intimate (a few hundred people). There was almost no talk of politics and the "current regulatory environment." And the content was interesting.
Figure 1: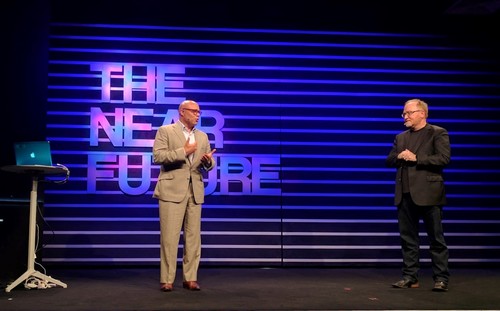 Michael Powell, CEO of the NCTA, and Phil McKinney, CEO of CableLabs, co-hosted The Near Future event.
The best and worst thing about the event is that it really wasn't The Cable Show, which the NCTA cancelled for 2017 after years of declining attendance.
That's good in that it moved discussions beyond what can be quite stodgy talk of set-tops and DOCSIS upgrades, but it's bad in that there was no practical linkage between the applications that were shown on stage and what the cable industry should be doing to help bring that future to life. There were oblique references to increasing broadband capacity and lowering network latency, but everyone knows that's where the cable industry is headed. There wasn't talk about how the cable industry should be working with new micro-factory deployments, or smart city ventures, or research institutions. There was no connecting of the dots.
From an attendee standpoint, I was impressed by some of the industry bigwigs I saw around the event. I spotted Cox Communications Inc. President Pat Esser from a distance, and ended up in a seat right in front of Cox CTO Kevin Hart. I'm pretty sure I saw Charter Communications Inc. CEO Tom Rutledge at one point, and I definitely walked by Federal Communications Commission (FCC) Commissioner Mignon Clyburn. However, there was minimal time during the event to network, and no real way to schedule sit-down conversations, which is something I used to count on at The Cable Show.
I did enjoy the talks on stage and it was fun to try out the various virtual reality demos. I also think we all need to shake up the paradigm now and then, if only to encourage new ways of thinking. On those fronts, The Near Future event succeeded. (See The Near Future Is Here.)
However, I would have liked the event to have a little more of The Cable Show woven in as well; maybe a dose of the present to go with the near future.
And next time, can we also aspire to put women on stage? The cable industry may be mostly men, but as long as we're envisioning things that haven't happened yet, let's try to add women to the picture.
— Mari Silbey, Senior Editor, Cable/Video, Light Reading
Subscribe and receive the latest news from the industry.
Join 62,000+ members. Yes it's completely free.
You May Also Like
---